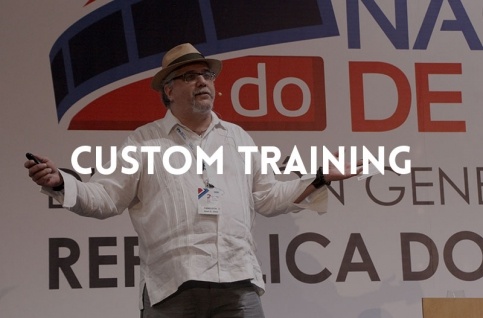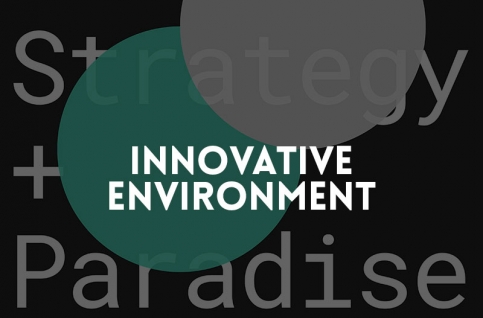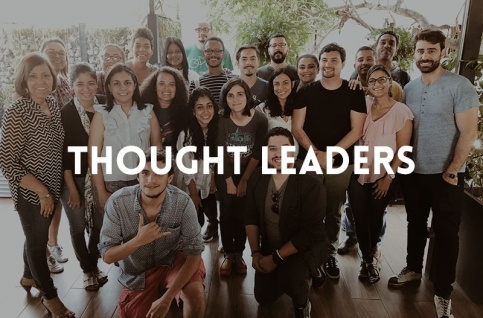 Of, By And For The Industry Insider
CUSTOMIZED TRAINING ENGAGEMENTS LED BY THOSE AT THE TOP OF THEIR FIELDS.
At Miami Ad School we pride ourselves in providing the most up-to-date, inspiring curriculum to our students. Students who go on to become titans of the creative industry. For the first time ever, we're offering our proven education style for brands and agencies to take advantage of in the pursuit to level-up their creative and organizational skills. Through our vast network of alumni, professors, and mentors we have access to the highest caliber instructors who have a passion for helping businesses—large and small—reach their goals.  
---
We cover the full spectrum of Creativity and Business
STRATEGY — BRAND — IDEATION — CREATIVE DEVELOPMENT — DIGITAL TRANSFORMATION
---
Nothing Short of Rockstars
Here's just a taste of the industry professionals participating in Miami Ad School's corporate training program.
Kevin Allen
CEO of re:kap, McCann/IPG Leader, MasterCard Priceless Pitchman, Bestselling Author, Harvard lecturer and Cannes Lion Dean
With decades at the top of advertising giants McCann-WorldGroup, the Interpublic Group and Lowe and Partners Worldwide, Kevin worked with such brands as MasterCard—developing the globally famous "Priceless" campaign—Microsoft, Marriott, Smith Barney, Nestle, L'Oreal, Lufthansa and Johnson & Johnson, and was an early part of Rudy Giuliani's team that prepared the way for the successful Mayoral election and turnaround strategies for the City of New York. During his highly successful 25-year career he pitched and won in some of the toughest environments and was credited with three industry turnarounds, including McCann Erikson, IPG and Lowe where he brought over $1 billion in revenues and helped his companies become number one in new business performance.
An academy instructor at the Cannes Lions International Festival of Creativity and Eurobest Festival, and a visiting lecturer at the Columbia University Graduate School of Business and the European Business School at Regents College London, Kevin is a featured speaker at companies like Google, Microsoft and has appeared on BBC.
Jorge Murillo
VP / Executive Creative Director
Alma DDB
Jorge is a Boston-born, South Florida-raised Creative Director who's spent the past 20 years working at ad agencies in Miami, Los Angeles, San Francisco, and New York on everything from Microsoft to McDonald's. His work has been showcased at Cannes, The Clios, El Sol, The One Show, Radio Mercury Awards, and best of all at his son's 33rd-grade class career day. For the past 10 years, he's been mentoring the next generation of creatives at the Miami Ad School.
Willie Diaz 
Brand Consultant and Creative Director / 
Creative Chairman, Miami Ad School Punta Cana
Born in New York, and raised in Miami, Willie is a Creative Director dedicated to creating compelling, useful and beautiful brand experiences.
As a valued member of the VSA Partners design team, Willie played an integral role in the brand and creative development for a variety of clients including Converse, Motorola, Harley-Davidson, Cole Haan, Fidelity Investments, First Data, Xerox, Conduent, and IBM. Most recently as a Creative Director on IBM and Xerox, he has led award-winning brand and digital design engagements, including annual reports, corporate communications, event design, identity development, employee engagement and first-of-a-kind digital marketing platforms and products. Along with work published in Graphis, Communication Arts, and Print magazine, among others, he has been recognized numerous times for his work including One Show Silver and Gold pencils, ADDY awards at both national and regional levels including a Best in Show award. 
Most recently, Willie has leveraged his background at the intersection of brand and advertising to co-found Miami Ad School Punta Cana with the singular mission of putting Latin American creativity on a converging path with where the American and European advertising industries will be in the future. In addition to his role as Creative Chairman of MAS PC, Willie continues to consult for brands—large and small—who are looking to bring their values and story to life in new and compelling ways. 
Stephen Jurisic
Former CCO and Co-founder of john st. / 
Creative Dean, Miami Ad School Toronto
Stephen graduated from OCAD, and over the next 10 years established himself as one of Canada's top art directors working at Bozell, McCann, Saatchi & Saatchi, Ammirati & Puris, before founding john st in 2001. While at john st., Stephen championed the agency's emergence as a digital leader in social, interactive, and mobile. 
Stephen has worked on campaigns for Coca-Cola, Lipton, Sprite, Molson, Unilever, Labatt, Toyota, War Child, Guinness, MSF, 
Mitsubishi, ING Bank, Home Hardware, President's Choice, and WWF. His work has been honored by the Cannes Lions, The One Show Pencil, ADCC, Marketing Magazine, Communication Arts, and D&AD. 
He has also chaired the Marketing Awards, served on the jury at the Cannes Lions, acted as an advisory for Applied Arts Magazine, and is an Academy member judge for the Webby's Awards.
Since January 2018, Stephen has been serving as the Dean of Miami Ad School Toronto. Stephen's goal is to help build the reputation of the school and create a curriculum that is more relevant to today's industry. He's also helped to bring on an esteemed group of instructors from the best companies and creative agencies in Canada. 
Stephen loves, in no particular order, his son, his dog, Batman comic books, and his wife Eva. Stephen also gives amazing Instagram.
Aaron Sanchez
Associate Creative Director, Linkedin
Aaron's brief career in advertising has brought just enough adulation to make him (moderately) confident while leaving plenty to learn. He is currently working as a freelance creative director and copywriter.
Most recently, he has worked as a creative lead on the Brawny Paper Towels, Peet's Coffee and American Giant accounts while also providing creative direction to campaigns for Clorox and Qualcomm. He's been a part of nationally recognized campaigns for Xbox, Domino's, Kraft, Adidas, and Infiniti. He's won shiny awards from Cannes Lions, The One Show, Clios, Art Director's Club and SXSW, yet he still has trouble communicating how to reset the wifi to his parents. 
Prior to working on the agency side, Aaron spent five years with GE, where he was a part of the prestigious CLP marketing training program. 
Aaron is an instructor at Miami Ad School, a global advertising portfolio program and he has lectured at Gonzaga, the University of Colorado and the University of San Francisco. He spends his free time cycling, snowboarding, backpacking, building furniture, cooking and avoiding writing bios.
---
Modular Content, Bespoke Learning
Whether it's a day, a week or a quarter long bootcamp—we believe in the concept of bespoke learning. Every engagement with Miami Ad School is completely custom based on your needs. No two workshops will ever be a like. 
It all starts with one question—What does your company need to improve? From there, we work together to put together the best combination of structure, instructors, topics and location to ensure a training experience your teams will never forget. 
---
Don't just take it from us. Here are some of the companies we've worked with.
We've helped companies—large and small—reinvent, reinvigorate and refresh their creative practices. Here's just a couple examples of sessions we've held. 
MASTERCARD — DOLLAR SHAVE CLUB — SCOTIABANK — SAUDIA ENERGY EFFICIENCY COUNCIL — MULLENLOWE INTERAMERICA — UNIVERSITY OF ARIZONA — HLK AGENCY
---
"Partnering with Miami Ad School inspired our team to exchange many ideas and thoughts, fostering collaboration towards further strengthening our Brand and the way we work together. Miami Ad School's expertise and creative environment were key in driving our Marketing and Digital leaders from 10 countries to come together and decide the path to reach our marketing vision."
– Nicole Avery, VP, Global Brand & Media Management, Scotiabank
Have A Question? Just Ask.
Corporate Training Courses in Punta Cana

Brand Building in the Digital Age
Strategy for the digital space is very different from the strategy we use to create an out-of-home campaign. We take you from experience-first and then to execution.

Writing for the Digital Age
The PR press release has quickly given way to the tweet. Learn how create impactful stories when we only have short-form content delivery mechanisms at our disposal.

Modular Content, Bespoke Learning
We work with you to put together the best combination of structure, instructors, topics and location to ensure a training experience your teams will never forget.