ARE YOU AS A MARKETER, READY TO TRANSFORM A BRAND INTO A SOCIAL CHARACTER?
Brands are constantly changing, and looking for new ideas and ways to reach their audience, but now Social Media has opened a door for the audience to reach back. The monologue it's over. It's time to hear and respond. It is time for interaction and social engagement. It is time for Social Media. Are you as a marketer, ready to transform a brand into a social character?
As Rick Liebling, Head of Global Marketing at Unmetric Inc. and instructor in the Social Media program said: " Today social media is the oxygen of advertising. Without it, campaigns live in a vacuum, excluded from the conversation that transforms an idea into part of culture."
But becoming part of the culture is not easy for a brand; it requires the brand to transform from a "thing" to a "being". The brand needs to show character, emotions, and even have the capability to respond within seconds to situations that are impossible to predict, and at the same time, represent golden opportunities to show their audience who the brand is and most importantly, why people should care about their product or service.
Roberto Salas & Nick Panayotopoulos, Miami Ad School graduates and Senior Creatives at 360i, made America's favorite cookie, a trending topic that is still making noise.
"During the Super Bowl XLVII blackout, people immediately turned to Twitter. We responded within minutes. The Oreo Blackout tweet wound up receiving over 400MM earned media impressions, more than the number of viewers who tuned into the live TV broadcast.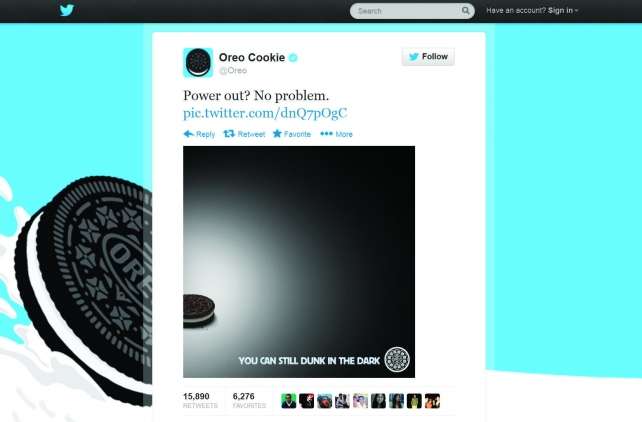 Social media is a marketing tool that is extremely fast and effective and has the ability to obtain in seconds, data and behavior from the user, and use this data to create immediate engagement.
Miami Ad School will help you obtain in only 12 weeks, the skills you need to become a social media expert. We will teach you how to do research, create strategies, collaborate with teammates and present your ideas in front of a real-world client.
Start your career in social media.
Apply now!