GET TO KNOW THE ARTISTS WHO ARE COMING TO CREATE WITH US
Featured artist:   Louis Masai from The United Kingdom
"My subject matter focuses on animals. In my series, Last of My Kind, I document critically endangered birds with references to extinct musicians. The idea for this series of work was to question why humans often fail to recognize a disappearing species yet mourn the death of a celebrity.
My recent documentation of endangered creatures is raising awareness of statistics and on occasions brought the notion of activism to light. The visual language of a mural can reach such a wide audience because people, moved by the amazing art, share images of my work with their social networks via Instagram, Facebook and Twitter. "
Last year, when the school was still under construction, Louis Masai painted three Edward's pheasants (only 50 left) on one of the walls. "Look at how he creates the texture of feathers by repeatedly overlapping his Masai tag," said Pippa Seichrist, Co-Founder/Co-Director and Head of Development and Innovation at Miami Ad School.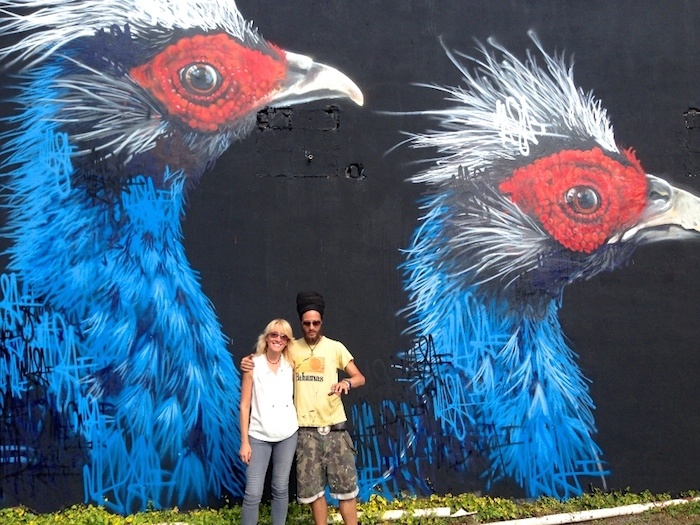 The Threesome – Miami Ad School
Only 50 Edward's pheasants left in the world. #last of my kind
Twitter @LouisMasai
Facebook Louis Masai Michel
Instagram @LouisMasai
Miami Ad School will unveil the artists' murals at our Grand Opening party, Soak Up, on December 5th, as part of the Art Basel festivities.  Attendees will have the chance to not just SEE art, but DO art. Guests will learn to back jump and play exquisite cadaver with street artists including Kislow, NYCHOS, Seth the Globepainter, Dome, Alex Senna, Louis Masai, Omen, Sheryo, Yok, Morik, Aber and more.
Next featured artist: Kislow from Russia