WHEN YOU HAVE BRIGHT, CREATIVE STUDENTS BRAINSTORMING AWARD-WINNING IDEAS FOR YOUR BRAND DON'T SIC YOUR LAWYERS ON THEM.
Instead do what Pandora did; say Thank You!
When Miami Ad School students, Frank Garcia, Giulia Magaldi and German S Rivera won a gold Clio a One Show Award and an Applied Arts Award for their class project, "Underground Stations" inspired by Pandora, the music streaming and automatic recommendation service, congratulated the creative team, by publicizing the students' innovative work on LinkedIn.
Lizzie Widhelm, Vice President of Digital at Pandora thought the students' work was brilliant. Erika White, Director of Public Relations at Pandora shared the integrated campaign with the broader internal team.
Pandora sent the young copywriter and art directors a thank you package that included t-shirts and a handwritten note that read, "Giulia, German, Francisco& Rhea… Thanks so much for spotlighting Pandora!!! We are so impressed & flattered by your amazing work… keep it up."
"It is super nice when you see and feel the human side of a brand. Our project Underground Stations has given us nothing but amazing joy. Thank you Pandora for taking the time to write a personal note congratulating us on our work and for the gifts. Thank you Miami Ad school for making this possible." posted Frank Garcia on LinkedIn.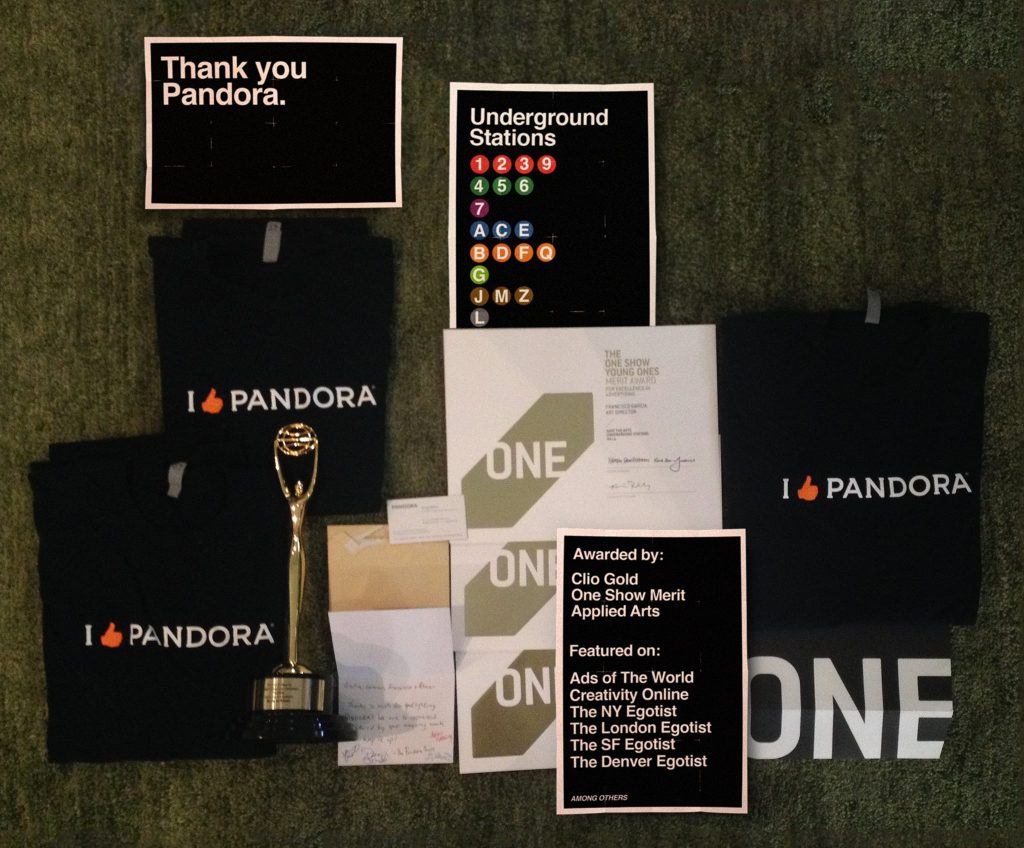 Sadly, Pandora's appreciative attitude is unique.
Too often a brand's team of lawyers discovers the students' award winning ideas published in the student section of an advertising, award-show website and, incredibly, the brand's lawyers send the students a legal notice claiming copyright infringement. At the same time the brand's marketing department is scratching their heads trying to find ways to promote the brand's story to the millennial audience. It is counter-productive to send these creative millennials cease-and-desist letters. Free ideas! Free strategy! Free creative execution! These students were passionate about a brand. Instead give them a hug, a pat on the back. Or offer them a job.