The 48 Hour Repack at M.AD School of Ideas
Last weekend, a few M.AD grads gave up sleep (and their time off) to do something big: a 48-hour, high-speed, package design sprint.
It's the 48 Hour Repack, from The Institute of Packaging Professionals (IOPP): a student design competition created to highlight the skills and talents of tomorrow's packaging professionals. The prizes? Cash, scholarships, opportunities...oh my.
This year's edition was sponsored by HiCone (the largest supplier of supplier of plastic-based multipackaging systems beer, soft drink in the world, The Coca Cola Company, and Anheuser-Busch InBev (the largest brewer in the world). Judges include John Manderfield (Vice President Creative Design at Altium Packaging), Lisa McTigue Pierce (Editor of Packaging Digest Magazine), and Christine Yeager (Director of Annual and Long-Range Planning at Coca-Cola North America). It's a veritable who's who of the packaging industry.
And take note: packaging will be a trillion-dollar industry by 2023.
We had 7 teams compete this year. Here's what they submitted:
Team 1: Bon V!V Hive Pack
Members: Daniel Sanchez, Emily Sparks, Lexie Canario, Mia Carroll
The BON V!V Hive Pack comes from a place of ambitious environmentalism. With our planet's health at risk and bee populations in massive decline, the team took a creative leap to reimagine the way BON V!V is sold.
The product, a spiked seltzer with natural fruit flavors, by definition relies on the underappreciated labor of Earth's bee population. That's where this team found their inspiration. The result? A fun play on traditional 6-packs that does justice to the bees.
The visual design is lovely—a hexagonal pattern that pays homage to the hive. The print proudly displays the journey a honeybee undertakes in pollinating flowers, as well as the commitment to 100% recyclability.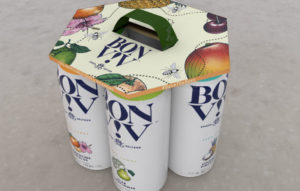 The whole design is functional as well: no matter how the product is stacked, weight distribution remains even. That's not all. In their pitch, the team goes on to explain:
"The FSC-certified paperboard dieline is cut from a single sheet containing two hexagons and six border sections with tabs to connect. The top hexagon has a rectangular die cut in its center for the handle to thread through. The bottom hexagon holds the cans with secure tabs in which the cans can be popped out of. In addition, it is designed slightly longer than the top with a creased valley on the edges to allow extra space. The addition of this crease enables the carrier to comfortably carry the Hive Pack. The interwoven nature of this handle mechanism keeps the Hive Pack secure when holding, but it is still stackable on a shelf, pantry, or fridge."
Team 2: Korkbu by Hi-Cone
Members: Marissa Morrissette, Melina Lenticchie, Sarah Busby, Lauren Thompson, Samantha Thomas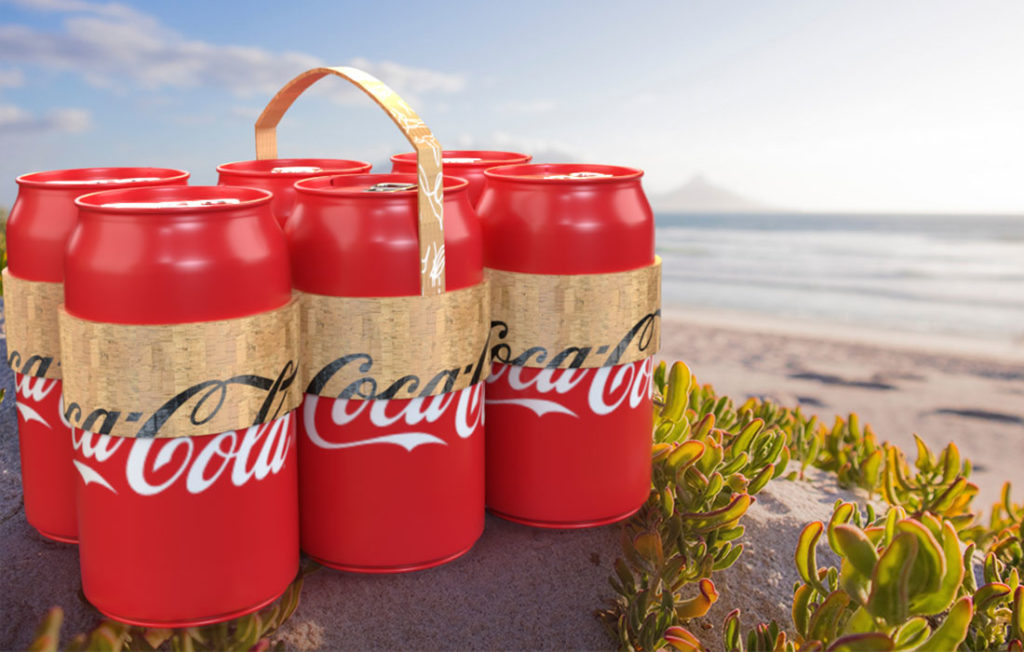 When the Korkbu team put pen to paper, they were guided by two overarching aims:
Create a storytelling opportunity for HiCone as they work with future clients
Choose materials and processes that safeguard Earth's natural habitats.
As the team points out, "The best way to ensure something doesn't end up in a landfill is to encourage consumers to reuse."
The result shows how that philosophy guided their work. The final product employs cork, a highly recyclable material, and an algae-based adhesive that binds cans together during shipping...yet breaks down under direct force. Even the name, Korkbu, emphasizes these choices: it comes from a portmanteau of Kombu (a type of seaweed) and cork.
Graphically, the team continues the theme. The handle of their package boasts line drawings to represent the many biomes a customer is helping to protect through their purchase.
And of course, the whole thing comes with a digital component: when a user scans the code displayed on the package, they're introduced to one of the animals the package seeks to protect. Meanwhile, the variety in available designs encourages repurchase: a customer has the opportunity to collect all 3 types—land, air, and sea.
Team 3: Keep Our Mountains Blue
Members: Emily Herringdine, Alex Martens, Olivia Quick, Mary Mattson Lewis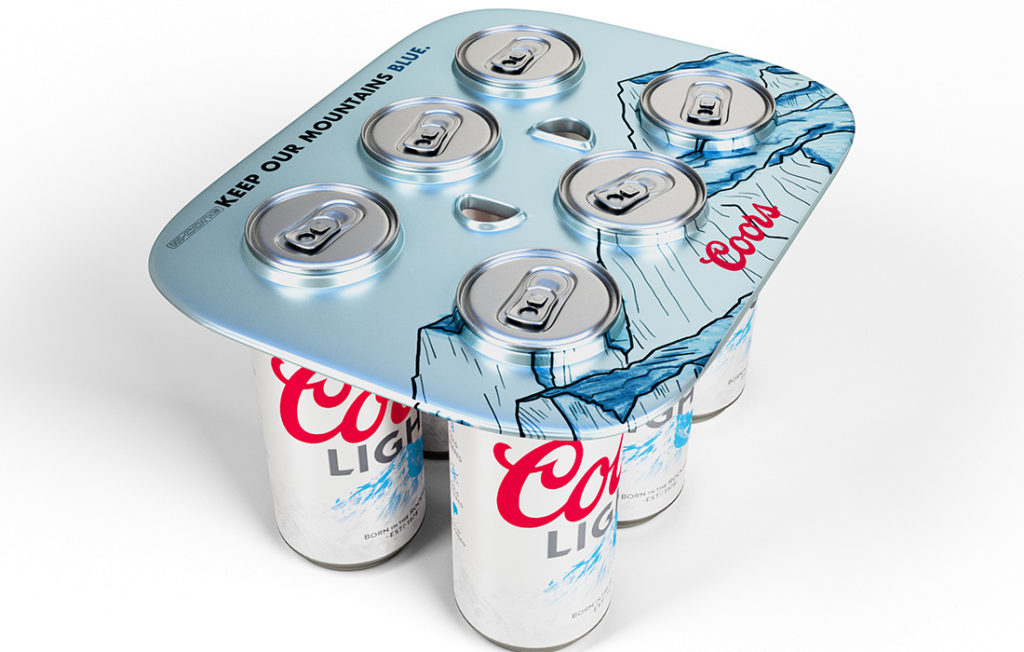 The Keep Our Mountains Blue team started their pitch with a statement like an atom bomb: "When we recycle plastic, it takes 450 years to biodegrade...that's not very sustainable."
Aluminum, meanwhile, has an infinite lifecycle. It's processed and back on the shelf within 60 days. It's also easier for users to recycle, with no need to separate materials.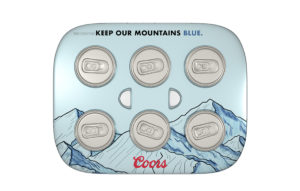 As the team points out, all those facts lead naturally to a single solution: one unit, and one material.
What they've come up with would be the first 6-pack packaging made from recycled cans. To showcase their idea, they pitched the example of Molson Coors: an environmentally-conscious brand with a history of innovation.
The branding works beautifully. Coors is famous for its cold-activated, color-changing mountains. The new packaging would emphasize that iconic piece of design. The team notes, "we expanded on the idea that if we don't start with the packaging process, the mountains cease to remain blue. To enjoy our beer, we have to start here: Keep Our Mountains Blue. Reuse."
Team 4: The Prism Package
Members: Rachel Broyles, Maggie Weidner, Abigail Hellman, Caroline Serrano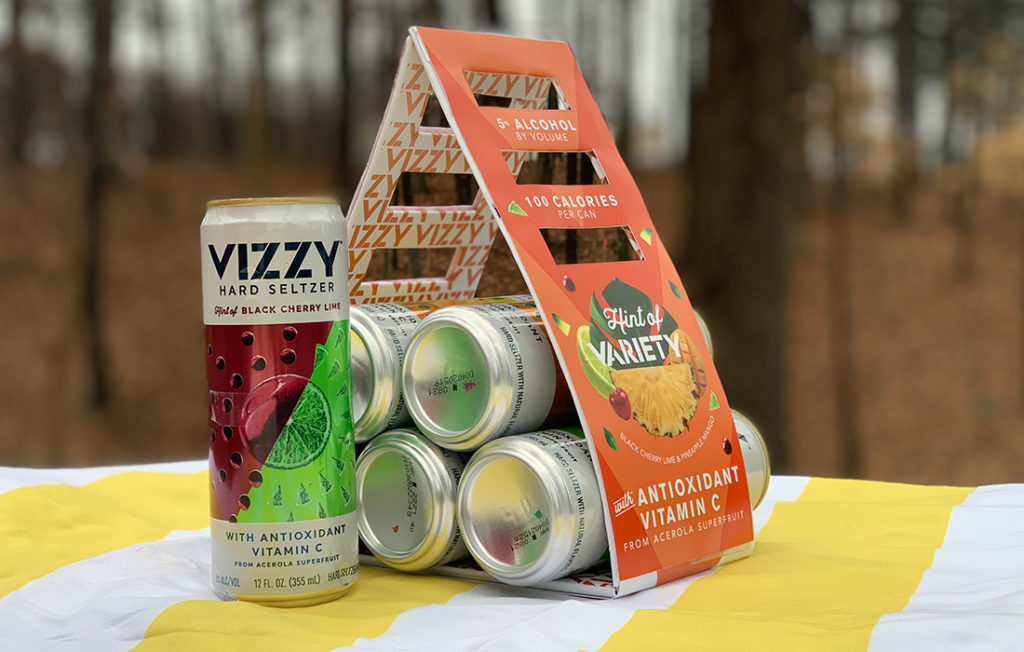 The Prism Package is all about recycled paper. Made from 100% recycled, corrugated paper (that biodegrades in just 3 months), the final result is actually sturdier than traditional cardboard...while weighing less (and thereby shipping at a more cost-effective rate). That's not the only way the package helps the environment, though: unlike traditional soda packaging, where handles pop-out, the handles here are completely cut away from the design. The result saves on material...while lowering weight yet again.
Meanwhile, from a branding standpoint, the triangle shape is a perfect match to Vizzy: a unique and high-impact brand in a fairly monotone market. The Prism team explains:
"To further connect this package to Vizzy, the Prism Package is being used to introduce a new Variety 6 pack that is entitled "Hint of Variety" to play off their existing copy used to describe their flavors. Up until now, Vizzy has only had 6 packs of one flavor or large packs of a variety of flavors. For a consumer who is more likely to be casually drinking with friends, rather than needing a massive party-sized pack, this is a great addition to their product line. Reflecting the existing can design, the package features graphics of all of the flavors forming one fruit that spreads from the center to other areas of the package, which mimics the dramatic slant that they have between their fruits on the cans. It also shows real images of the fruit to remind their audience of their health focus."
Team 5: BABE Rosé
Members: Emily Pruitt, Jessie Daley, Olivia Jennings, Aaron Prince, Amanda Brannon
BABE Rosé is known for an irreverent sense of humor. This package is designed to emphasize that character.
The colors, choice of type, symbols, and slogans all enhance the image of a brand known for cheek. Lines like, "Rage. Recover. Recycle." help reinforce the environmentally-conscious choices in the packaging...while simultaneously adding to the brand's story.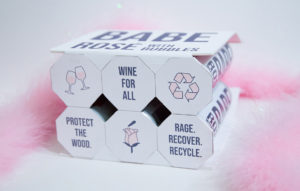 Here's how the team described what they put together, "Our design follows the basic rule of home building: sturdy foundation and walls to support weight and gravitational pull. One of the driving factors of our design was a functional, detachable base that could double as reusable coasters to encourage reusing and recycling. The cans are glued to the coasters using a water-soluble glue that would dissolve when the can begins to produce condensation.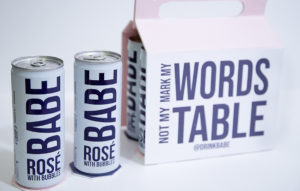 We used BABE's colors, type, and symbols in order to brand the packaging to match their usual style. The package's sides fold to connect into a handle at the top to optimize portability and convenience for the consumer. We needed a sturdy material that could withstand the weight of six cans while adhering to the baseline weight of 3.5 grams and decided to construct the packaging from lightweight cardboard made from previously recycled materials. Cardboard is recyclable in every U.S. state, making it a viable material for curbside pickup and ready to be reused again. Our design puts the fun in functionality, inviting BABE's consumers to enjoy and recycle."
Team 6: Vampire Squid
Members: Bethany Knapp, Jacqueline Carliss, Stephanie Williams, Maura Dupre, Adila Wahdat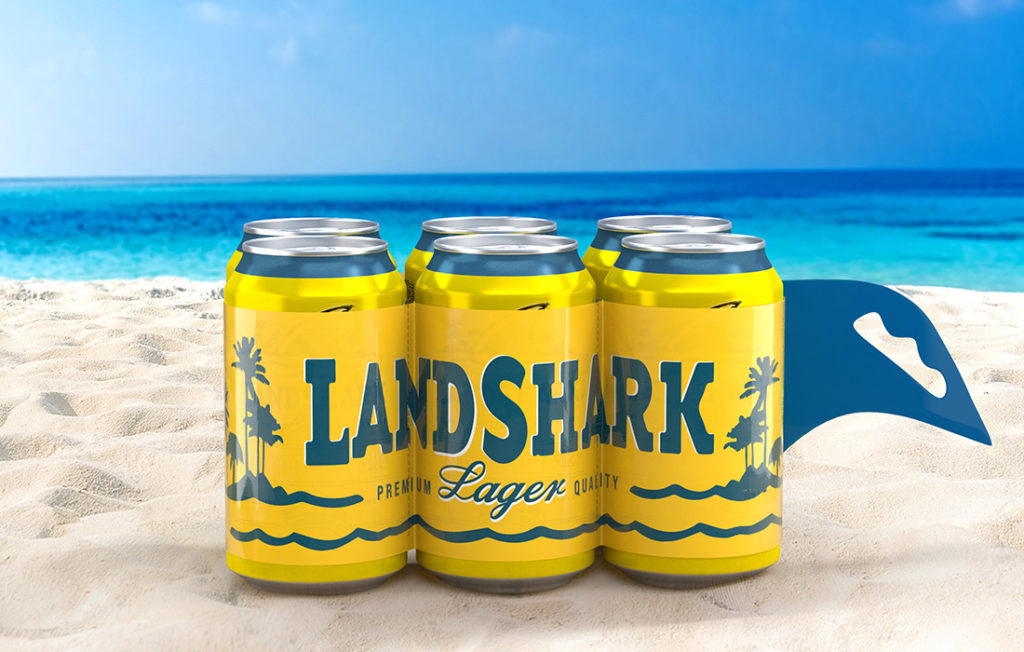 Going by the moniker Vampire Squad, our sixth team took a zero-waste approach to developing a beer tote for Landshark.
They call it the Shiver Pack: a beach-friendly creation from EcoLoop recycled plastic. As the team puts it:
"The Landshark Shiver Pack is a biodegradable and recyclable solution keeping sharks safe from post-consumer waste. Whether you're headed out on the boat or lying in the sand, the sleek fin-shaped top and shark bite handle is easy to carry and ready when you are. Each can is individually protected with sturdy, recycled EcoLoop plastic. When it's time to grab a lager, just pull on the perforated ring to remove the can. This perforated strip will stay attached to the packaging, an all-in-one solution to keep your trash in one place. Best of all, proceeds from Shiver Pack sales will support the Shark Conservation Fund. Once you've finished your pack, simply fold up and toss into the nearest recycling bin."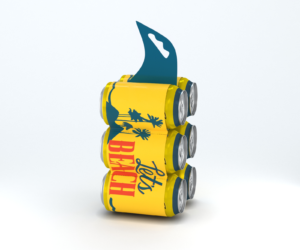 For a brand like Landshark, the solution is brilliant. The design obviously plays with their eponymous mascot, while addressing a serious issue: The International Union of Conservation of Nature has said that over shark species face a serious threat to survival, at least in part due to sea pollution from single-use plastics. To combat these issues, the Vampire Squid team aims to produce their packaging with EcoLoop plastic, made from used carrier bags and films from previously used packaging products. As they note in their pitch, "The use of the EcoLoop plastic cuts down C02 emissions by over 40% when compared with new bags created from other processes. The EcoLoop process also uses 80% less fossil fuels compared to other plastics. Adopting this new age material into the Landshark brand means a cleaner beach for vacation lovers and sharks alike.
Team 7: Four of a Kind
Members: Lauren Chiappini, Joanna Cotter, Kyra Smith, Alice Wannamaker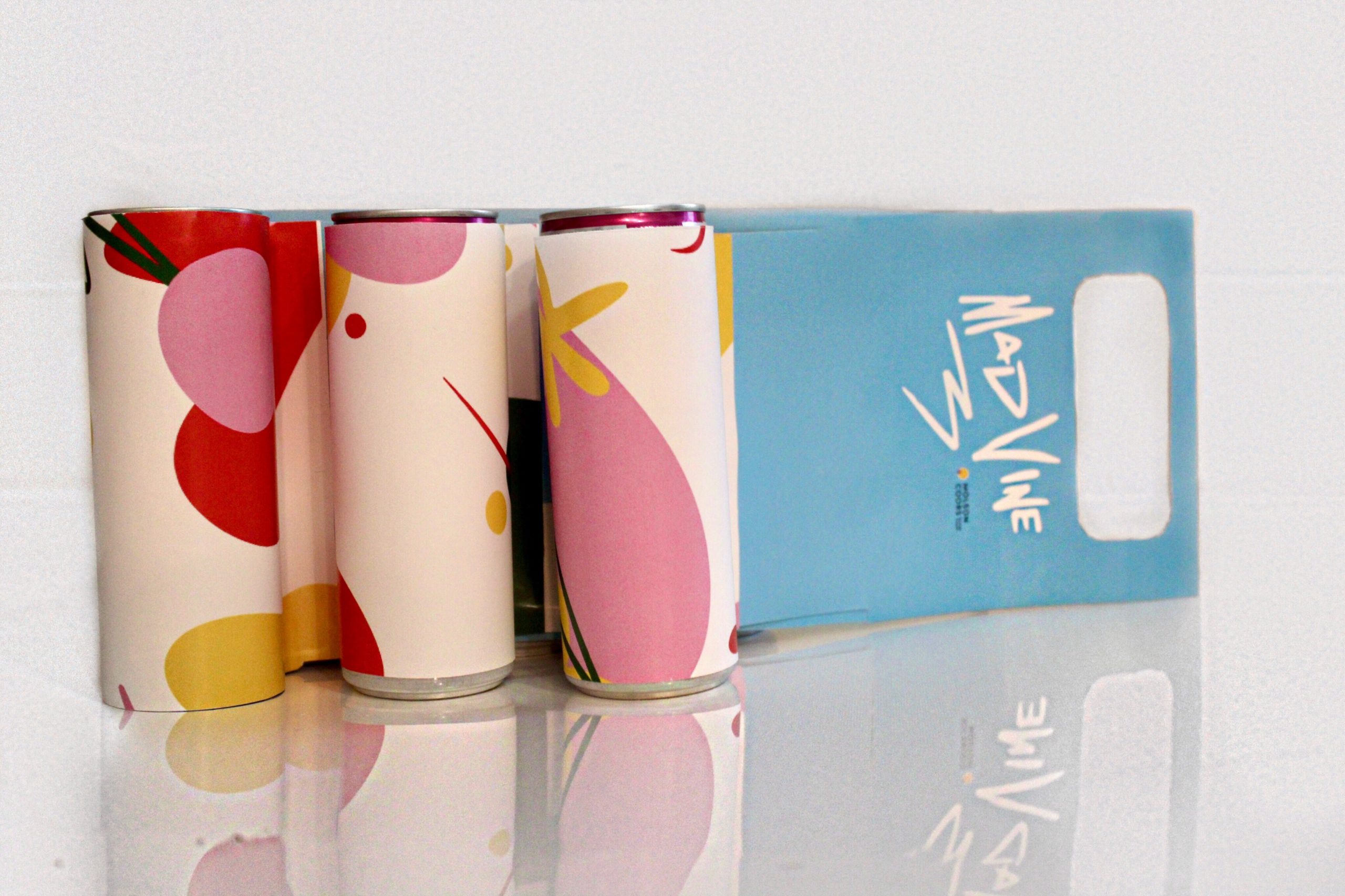 The Four of a Kind design team had a simply stated goal: improve curbside recyclability in a striking, sleek, and sustainable way.
Their chosen brand, MadVine (by Molson Coors) is an ideal match for that ethos. Their diet sodas are plant-based with zero calories, zero sugar, and zero artificial ingredients, marketing to an eco-friendly target audience.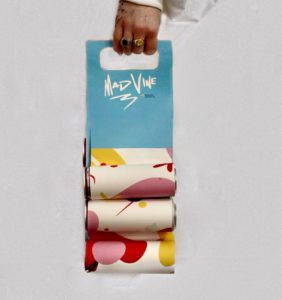 The outer packaging features a blue stem and a raindrop shap. The team's thought? To bring nature's beauty back into the design. As they note in their pitch, "We wanted to highlight Molson Coors' roots in Germany in a bold, playful, and geometric way. Our packaging illustrates German design mixed with MadVine's signature colors of yellow, pink, red, blue, and green.
The design on the front of the handle is simple to create balance and mimics MadVine's signature logo. As you flip it over, the consumer will see a nutrition label for our packaging with fun copy. In 2014, Molson Coors led all alcohol companies by voluntarily placing a nutrition label on all of their brands and we wanted to support this through our own label."
The package design, though, isn't just about striking visuals. It employs a bamboo material, with the advantage of immense strength, durability, and versatility. The result is a multipack solution that maintains a low carbon footprint and is curbside recyclable for at least 60% of the continental U.S. to meet the FCC Green Guide standard