GIVE US ONE OPPORTUNITY, WE WILL GIVE YOU A CAMPAIGN
Miami Ad School often works with global brands on a variety of projects. The school has a program called SWAT Team – this is a rapid reaction creative solution team. In this case Miami Ad School was enlisted to work on a project with Burger King through their agency Alison Brod Public Relations from New York City. Burger King commissioned artist Mr. Brainwash to create a mural in the Wynwood Arts District in Miami, FL during Art Basel Week 2014 and had the Miami Ad School students documented the creation of the mural and created a social media campaign for the project.
The project was on an extremely tight deadline – one week to ideate and present to the client, one day to film all the assets and one day to create the final social media campaigns. Nine groups of students pitched the client on a variety of solutions. In the end, the client selected two teams to move forward with executions for the project. Miami Ad School delivered three completely executed social campaigns to Burger King.
The teams delivered a campaign that included two, 2 minute "feature" videos, Instagram videos and stills, photographic documentation of the mural, multiple teaser trailers, Vine videos and three spinoff videos. All in less than 72 hours!
To inquire about how the Miami Ad School SWAT Team can assist your brand in reaching the millennials – contact Mark T Smith – [email protected]
The proceeds from the SWAT Team projects go the Miami Ad School's scholarship fund.
Burger King / Mr. Brainwash at Art Basel 2014 – "Art is Everywhere". Campaign created by Miami Ad School students.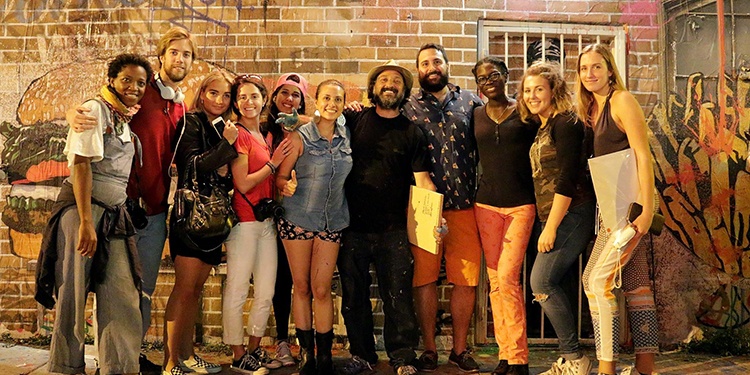 Miami Ad School students and Mr. Brainwash. From left to right: Tandiwe Zulu, Hawley Martin, Louise Ulrich, Geraldine Ramirez, Tairi Ortiz, Daniela Alarcón, Mr. Brainwash, Constantine "Tino" Gonzalez-Kakouris, Adenike Akinbisehin, Charlotte Bent and Diana Perez.