FOR THE DREAMERS AND CREATORS OF TOMORROW
Creativity, talent, enthusiasm, dedication and passion, are some of the characteristics that allow a person to succeed in the advertising and design professions. At Miami Ad School we are extremely proud to announce that eight of our portfolio students won the American Association of Advertising Agencies Operation JumpStart Scholarship.
This scholarship that awards each students with $10,000 towards their education, has granted financial support to aspiring multicultural art directors and copywriters since 1998, helping more than 250 students to achieve their dreams and today has given a powerful "JumpStart"  to four art directors and four copywriters who shared with us why they chose to be part of the creative world.
"I think the reason I want to become an art director is because it's not a job; it's more of a hobby. I love what I do on a daily basis and wouldn't change it for anything. Coming up with an idea doesn't have rules or a specific recipe, which, in my opinion, is what makes it more exciting. You never know what groundbreaking idea you'll have next, while taking a shower or driving home at 4:00am. It's great. " Andy Tamayo, ad
"I always dreamt of being a famous soccer player. After I realized I wasn't good enough, I found out the only way to make that dream come true was using something called Photoshop. I masked myself next to Ronaldinho. It looked very real. Later, someone told me I could get paid for that." Santiago Lastra, ad
"Words have the power to move and inspire. I wanted to find a career where I could do just that and so much more. I found it." Anna Xiques, cw"I'm currently pursuing the art direction track but in the distant future I'm hoping to eventually become a creative director of my own agency which would blend advertising, fine art, and social activism…(we'll see how that'll work out). Coming from a fine arts background, it wasn't until I graduated from my undergrad that I realized I enjoy generating ideas but also needed to create in an arena that is more easily accessed by the everyday people. I was swayed by Miami Ad School's credibility and flexibility in terms of locations and curriculum." Leeya Jackson, ad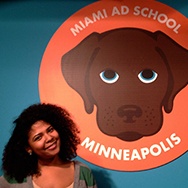 "I tried other things but they just weren't me. I need to have the freedom to be weird, to be creative, to be me." Jennifer Garcia ad
"I wanted to be a copywriter because I love writing. I grew up with a love for reading books and over time I wanted to start telling my own stories. Being a copywriter allows me to do just that- just with fewer words!" Paul You, cw
"Words and storytelling have an infinite power and the ability to tap into that power to better connect with a business and brand perspective." Fola Fayanjoula, cw
"The spontaneity, emotional resonance, master craftsmanship and artistry behind creative work… jostles the creative mind in me. This is where I need to be." Sean Watts, cw

If you are a multicultural creative mind and looking for a career in advertising contact us to hear about our programs and the 4A's scholarship.