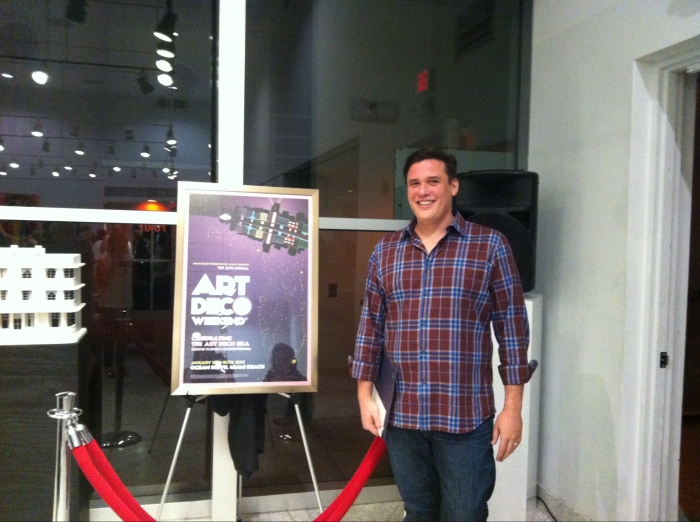 Portfolio School Student Wins Miami Beach Art Deco Poster Contest
MIAMI AD SCHOOL ART DIRECTOR MATT KERN'S DESIGN DISPLAYED THIS WEEKEND
A few years ago, the Miami Design Preservation League decided to open a competition for their annual Miami Beach Art Deco Weekend promotional poster. Previously created by commissioned artists, the contest gives an art student the chance to win the Barbara Baer Capitman Design Scholarship and have their design showcased in a global forum. For three years straight, Miami Ad School students have not only placed throughout the honorable mentions and final spots but they have also taken the top prize including Matt Kern, this year's winner.
Matt made the trek to Miami Beach from Dallas a little over a year ago to start portfolio school at the Miami Ad School's Miami location. He had already worked in graphic design and even has his own business, but he wanted to bring his technique and creativity to the next level. It seems to have paid off. Not only has Matt won awards in international advertising competitions such as the D&ADs, but now he adds the honor of having his design forever showcased amongst other talented artists' work and even immortalized on merchandise like magnets, t-shirts and coffee mugs.
This year's theme needed to incorporate not only the usual deco style but also a nod to Florida's 500th birthday. Matt's inspiration came from a couple of different sources and, went through the usual, endless revisions but he thinks it was definitely worth it. While flipping through a National Geographic magazine, Matt came across a photo. "Maybe a Jeep ad or an article of the Sahara Desert," he says, "the top 10% of the page was of sand and dunes and a little sliver of sky. On the sand was a Jeep of some sort tearing apart the road. The 90% underneath was a lake which showed the immediate reflection of the land and car, but mostly beautiful blue sky. I thought it was such an interesting angle to take a photo and eventually decided that it would make an interesting layout for my Art Deco poster."
To incorporate the Florida aspect, he took inspiration from the actual map of the state. While driving a friend and fellow classmate to Atlanta, long story, he "noticed all the dots representing cities, and somehow made a connection that they could be stars and they could exist on the ocean's reflection on my poster." Matt's creativity and insight from different aspects of his life helped him with his design. He is back in Miami this week from his internship in Amsterdam for the artist meet and greet during Art Deco Weekend. Make sure to stop by if you are in town to chat with Matt and get an autographed copy of the poster.
UPDATE:
Matt will be at the event on Friday the 18th from 2-4, Saturday the 19th from 4-6 and Sunday the 20th from 11-4.