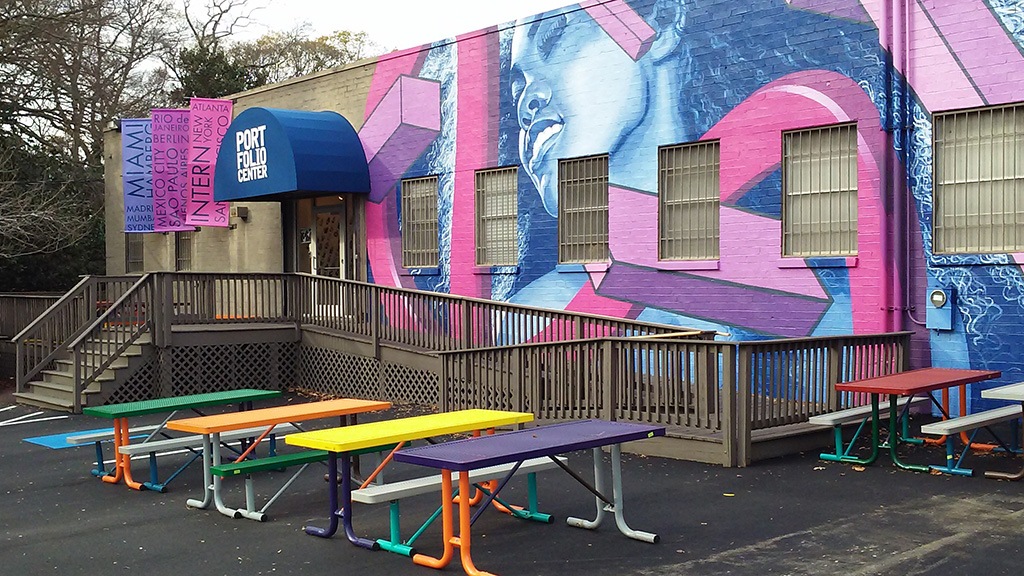 A Glimpse Inside One of the Top Graphic Design Schools in Atlanta—and the World.
Peek Inside One of the Top Graphic Design Schools in the World. It just happens to be in Atlanta.
Some of the most creative, inventive and successful people in the world have walked through the front door at Portfolio Center and honed their craft, and you can be next. You'll take classes, then brainstorm and present your ideas in the very same rooms as:
Facebook Global Creative Director, Andrew Keller (copywriting graduate)
PlayStation Principal Designer—UI/UX Product Lead, Brennan Boblett (graphic design graduate)
Twitter Global Group Creative Director, Jayanta Jenkins (art direction graduate)
Rag Bone VP Creative, Marissa Kraxberger (graphic design graduate)
Goodby Silverstein Partners Chief Creative Officer, Partner, Margaret Johnson (art direction graduate)
The school feels like a cutting-edge co-working space, graphic design firm and tech startup, all at the same time.
It's a scientific fact that environment has a huge impact on people's ability to create and invent. At Miami Ad School @ Portfolio Center you'll have your own private studio area and spaces all over the school where you can collaborate with your creative partners. When you're ready to bring your idea to life, head to the fully-equipped Maker Space which is perfect for 3D fabrication, or the Content Creation Studio to shoot photography or stop-motion animation videos.

Some award-winning design work from Miami Ad School @ Portfolio Center.
Imagine, Make, Write, Draw and Create... for Live Clients
We believe students learn best by doing and often working with actual clients. Imagine creating designs for Ponce City Market, social media assets for an international coffee company, or advertising campaigns for the National Park Service! Our students work with live clients all the time. You'll graduate with the skills, confidence and connections you need to step into your dream job. When asked if you've graphic design work experience, your answer will be, "Yes I do."
 "To put it simply, the quality of the thinking and the level of creativity, passion and insight was nothing short of remarkable. The students displayed experience well beyond their years."
—Ian Rowden • EVP, CMO @ Wendy's
Intern while you're in school.
Portfolio Center is part of the Miami Ad School network of advertising and graphic design schools, with connections all over the world. You'll have hundreds of opportunities to intern. You can intern in New York, Berlin, Tokyo, Paris—and a dozen other cities—at world-class companies like:


Start your graphic design career in Atlanta! Find out How to Apply.