DESIGN should be called FUTURE and It's Yours
Todd Simmons, IBM's Vice President of Brand Experience and Design
IT'S TONIGHT!... at the Hill Auditorium at the High Museum... our Seminar.
We are hosting Todd Simmons, IBM's Vice President of Brand Experience and Design. Todd has been named one of Fast Company's "Fast 50" Influencing of the Future of Design and is one of the Most Creative People in Business.
The evolution of design is upon us and opportunities evolving are indicative of just how thoroughly design and business are melding. There's more and more overlap between management and design.This is the first of a four part series PORTFOLIO CENTER (Miami Ad School's location in Atlanta) is sponsoring on exploring the evolution of design in business and what role designers play in making a company successful.
IBM's legendary Chairman Thomas Watson in a lecture at the Wharton School of Business in 1937 imagined,"Design is Good Business." Guess the idea seemed utopian then — but NOT anymore. Because it's design that is the fire stoking the engines of industry and informing every part of the business cycle... from product development to marketing to user experience.
Todd is the first Designer to hold an executive title in IBM's 100+ year history. So the designer goes into the C-Suite bringing ideas that coalesce with marketing functions. You might wish to know, this is a business first — even old Paul Rand was only a contractor to IBM. This is an awesome seminar for each of you (the entire business community in Atlanta is excited as well). It is so big in its nature Portfolio Center is co-sponsoring the design series with the Museum of Design Atlanta.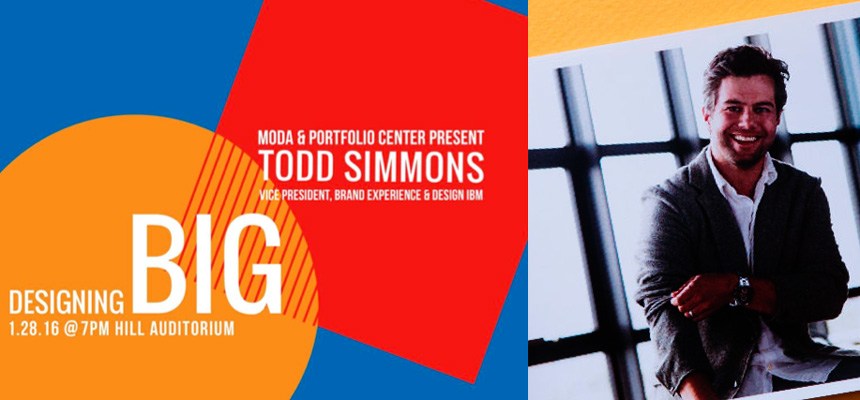 We hope you can make it. There will be a lot of industry VIP leaders attending including: the Principal of Amsterdam Capital, Jamestown, Reynolds Capital Group, The Roseview Group, the Design Director from the Guggenheim School of Space Engineering at Ga Tech, the President of the Atlanta City Chamber of Commerce, Head of the Nebo Agency, Orange Sparkle Ball, Director of Kinetic Ventures Venture Capitalist, the Founder of Square Feet Studio, the Founder of Footsmart, the Director of the Futures Council, Architecture and Design Director of Knoll, the CD of Interface, Reg. Director of Maharam Global Fabrics, the founder of Design Collective, the Head of School at the Children's School and the President of the American Institute of Architects just to name a few.
If there were an alternate for the word DESIGN today it no doubt would be called future. And it's yours - so come and grab a piece of it tonight at this awesome event.