My First Week as an Account Planning Student at Miami Ad School
Boot Camp Graduate Kiran Carpenter Recalls Her First Week in the Program
Classmates traveled from around the world to join the Account Planning Boot Camp. We were a diverse class of world perspectives and experiences from Mexico, Germany, Brazil, Spain, Puerto Rico, India, Bulgaria, Venezuela, Israel, Japan and the U.S. As we wrapped up week one and quickly kicked off week two, I was amazed at how fast the week flew by and how much we had already experienced, learned and done.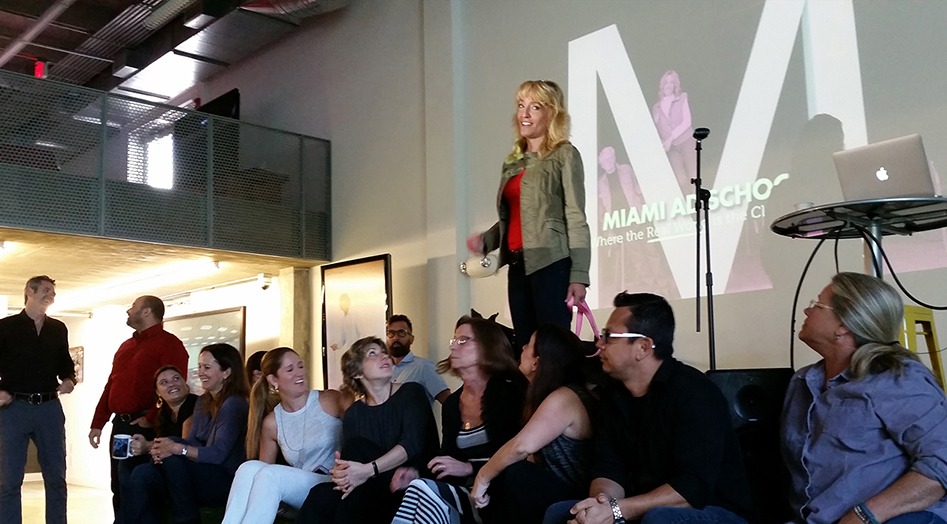 We kicked off the week with an orientation and an Industry Hero talk. Miami Ad School graduate Justin Kramm, ACD / Senior Copywriter at Chemistry Club, joined us to speak about his copywriting career and the value of not quitting "your night job." He told us that it's important to have those "passion projects" because they are great creative outlets. It also might be our quirky side projects that get us noticed by clients and agencies.
Right away, we started building our account planner 'toolboxes' with a Nuvi training and a Brainstorming Techniques class. During the program, we used Nuvi, a professional, real-time social listening program, to help inform our research. In the Brainstorming Techniques class with teacher, Mark Smith, we experienced group exercises that we used in our teams to help get ideas flowing. When we finished, we also had some useful techniques for better enabling the creative brainstorming process while helping to cultivate more open, collaborative, team dynamics. This was a great class to have before meeting our art director and copywriter teammates on Wednesday evening.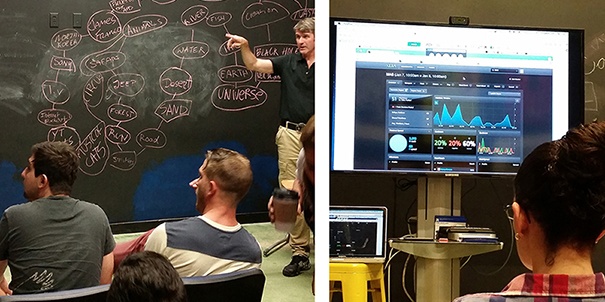 Our Pitch Class teachers, Serena Berra and Jerrod New, gave us our first group assignment, an awards submission for the YCN_WeTransfer competition.
The deadline? One week.
Needless to say, this was the moment when things got real and we had to buckle down quickly to get to know our teams, figure out our roles, come up with an idea and then execute some killer creative. Three brainstorming sessions, one evening of constructing an amazing costume prop and a photo shoot later, we were tired, but pretty happy and are looking forward to getting feedback on our work.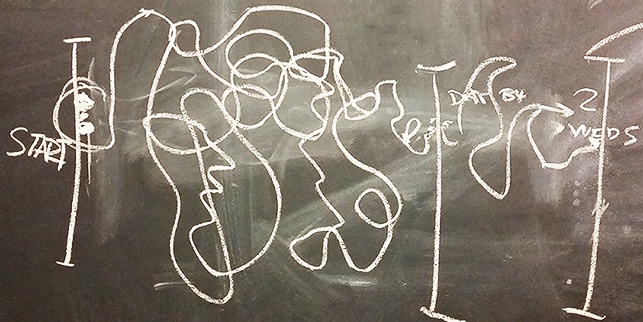 Our account planning heroes, Christopher Owens, Brand Planning Group Head, and Alicia Fisher, Brand Planning Director, at the Richards Group, arrived on Friday and kicked off a three-day overview of What is Account Planning and gave us an introductory talk about brands, briefs and developing successful planner-team relationships. We then had a client briefing on our next project, one that I was excited about. We would be working on an awareness campaign for an innovative start up which is a design forward, home décor brand who works with master artisans and designers from around the world to create limited edition, ethical, modern, home goods. We gave our first presentation about the brand the very next day. This is truly a fast paced program but what this did is help us to think quickly and act in the moment. It also simulated the agency world that awaited us. Where we secretly a little nervous? Oh yes, but this is why we chose the Ad School. We were learning by doing.
(By the way, according to Christopher, this is what account planning looks like if you don't bring your creative team into the process early and just wait for "the briefing." I think I'd like to get them involved earlier rather than later!)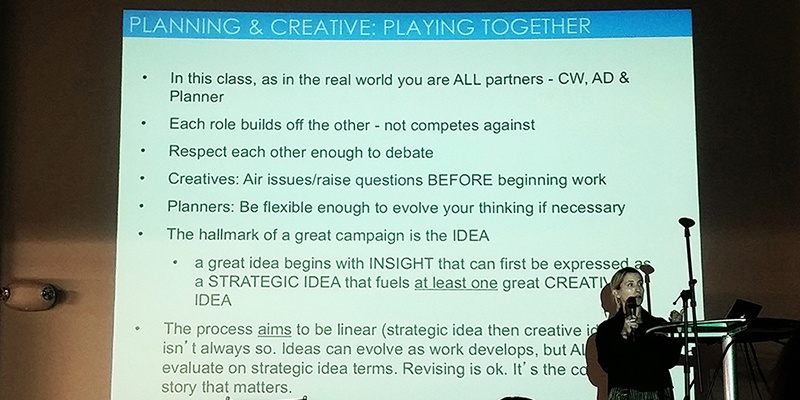 It was a fun yet very busy week full of learning. On top of that, it was also one of starting new friendships with each other and our teachers. This was unexpected but, in the end, a very valuable networking opportunity. Great creative is a team sport and the advertising business is a relationship business. Since we only had a short time at the school, getting to know everyone quickly is important. It was also more fun. The school did a nice job with this by fostering activities, like the First Quarter Friday BBQ, Soccer Sundays and giving us the extra nudge to invite our weekend teachers, and the whole class, to get together outside of class. As a result, we were definitely on our way building some great new relationships while learning, practicing and building some great portfolios.
Are you ready to start your career as an account planner? The next Boot Camp in San Francisco starts July 3rd.
Apply Now! Deadline is May 26th.