Portfolio Center and Miami Ad School are Actually Siblings
Both Schools, brainchildren of Ron Seichrist, are finally reunited
Ron Seichrist was working as a creative director when he conceived the idea for Portfolio Center. For a decade he had interviewed young people, who while educated, were missing the portfolio and skills needed for a career in advertising and design. Since he had started his career as a designer, transitioned to art director and then copywriter before becoming a creative director, he knew all the skills young people needed to learn to be successful in the industry. Instead of exercises and theory, his students worked on realistic projects and were taught by instructors who were working in advertising agencies and design firms. He introduced all sorts of new educational concepts at Portfolio Center including the first program in the world to train copywriters. Then he teamed art direction students with copywriting students simulating the team experience in agencies. This seems obvious now but in 1978 this was groundbreaking.
After selling PC a decade later, he and Pippa Seichrist, his wife, founded Miami Ad School in 1993. His real-world training concept continued at Miami Ad School where the Seichrists started the first strategy training program and teamed the account planning students with an art direction/copywriting team. The students work on live briefs for brands including Starbucks, Ford, Burger King, Visa and UNICEF. Next they transformed Miami Ad School into a global network with school locations all over the world. The school's network gives student the opportunity to study and intern in up to five cities where they learn all the latest trends, work with real clients and develop connections with over 100 industry professionals.

We're excited to announce that Ron's brainchildren, Portfolio Center and Miami Ad School, are reunited. Portfolio Center is now part of Miami Ad School's global family. PC students can now study and intern all over the world and Miami Ad School students can take advertising and design courses in Atlanta. Together Miami Ad School + Portfolio Center have trained over 10,000 designers, art directors, copywriters, illustrators, photographers and strategists now working at companies all over the world including: Ogilvy, GAP, Apple, Facebook, Target, Google, IDEO, Saatchi & Saatchi, R/GA and VML.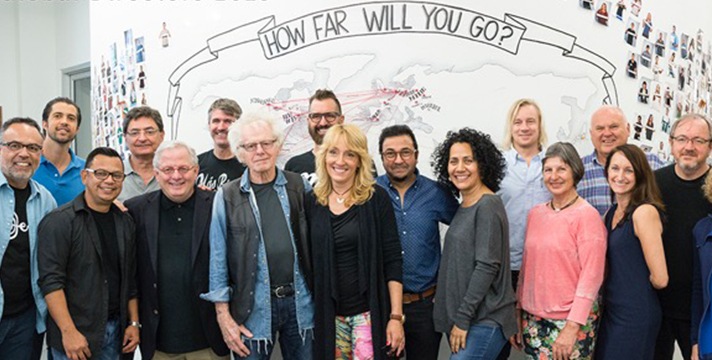 The directors from all of Miami Ad School's locations around the world: San Francisco, Mexico City, Sao Paulo, Rio, Atlanta, Miami, Mumbai, New York, Berlin, Hamburg, Sydney, Madrid, Buenos Aires and Lima.

"It just feels right to have Portfolio Center as part of Miami Ad School. It's where Ron came up with the idea of a global network where students could live and learn in different creative cultures around the world. When he first came up with the idea it was the 70s and the concept was ahead of its time. The internet hadn't been invented and the world was still too big and intimidating to young people. It took email, craigslist, Google, Orbitz and FaceBook to make this educational concept possible. Now it's easy for students to spend a year in Atlanta studying then go intern in Berlin and San Francisco then finish their portfolio in New York." – Pippa Seichrist
"We remember our "first times" more than any other. In a sense Portfolio Center was my first kiss: I was young, dumb and very lucky but the kiss was sweet and unforgettable. What a gift to my life to be back where it all started." – Ron Seichrist
Here's How to Apply to Miami Ad School
Or Apply to Portfolio Center