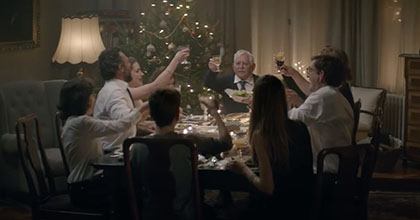 Why Do We Love Sappy Christmas Commercials?
My Mom and 40 million other people liked these two viral videos that will have you hitting your share button.
If your mom is like my mom, she frequently shares videos with you. People share videos as a way of staying connected. It's a way of sending someone a little message that says, "I was thinking of you. You were on my mind and this adorable, unbelievable, silly (enter the appropriate descriptor) video reminds me of you."
My mom sends me funny animal videos, creative videos and videos demonstrating the good in mankind. I'm glad those things make her think of me. Each video she sends is like a little present because each one will give me a few seconds of wonder, delight or giggles. (Occasionally there are so many little presents in my inbox I get overwhelmed and can't reply right away. She knows I will respond with a comment as soon as I can. And I know when I forget to reply she will remind me that I should at least send a smiley face in a timely manner. Your mom is your mom at any age!)
Mom just shared a cool video with me that turns the beeps created by grocery-store checkout registers into a Christmas chorus. The spot has gone viral with over 40 million views on YouTube. She was excited when I told her the video she loved was created by Jens Pfau, a Miami Ad School Hamburg graduate. Jens is now Executive Creative Director at Jung von Matt and created the Christmas commercial for one of Germany's biggest supermarkets, Edeka.
100 hours of video are uploaded to YouTube every minute!
We asked Miami Ad School grad, Jens Pfau, why his stories are so popular and how to create a video that goes viral.
MAS:  Jens, you seem to have a good sense for ideas that will go viral. What's the secret?
Jens:  Your story needs to come from your heart. You need to produce it exactly the way you would love to watch it, the way your friends would enjoy seeing it. If you execute your idea the way the budget permits, you will stumble. If you execute it the way the client wants it to be, it's probably too "correct" to go viral. In short, have the guts to defend your idea from beginning to the end. But, always be kind when fighting 😉
MAS:  What is the most fascinating part of your job?
Jens:  Overcoming making plain advertising. There's no better reward than realizing that your work moves people.
Here is another spot Jens created that has gone viral.
(No need for my mom to send me this spot. I'm going to visit my parents on Friday.)
Are you ready to start your creative career?