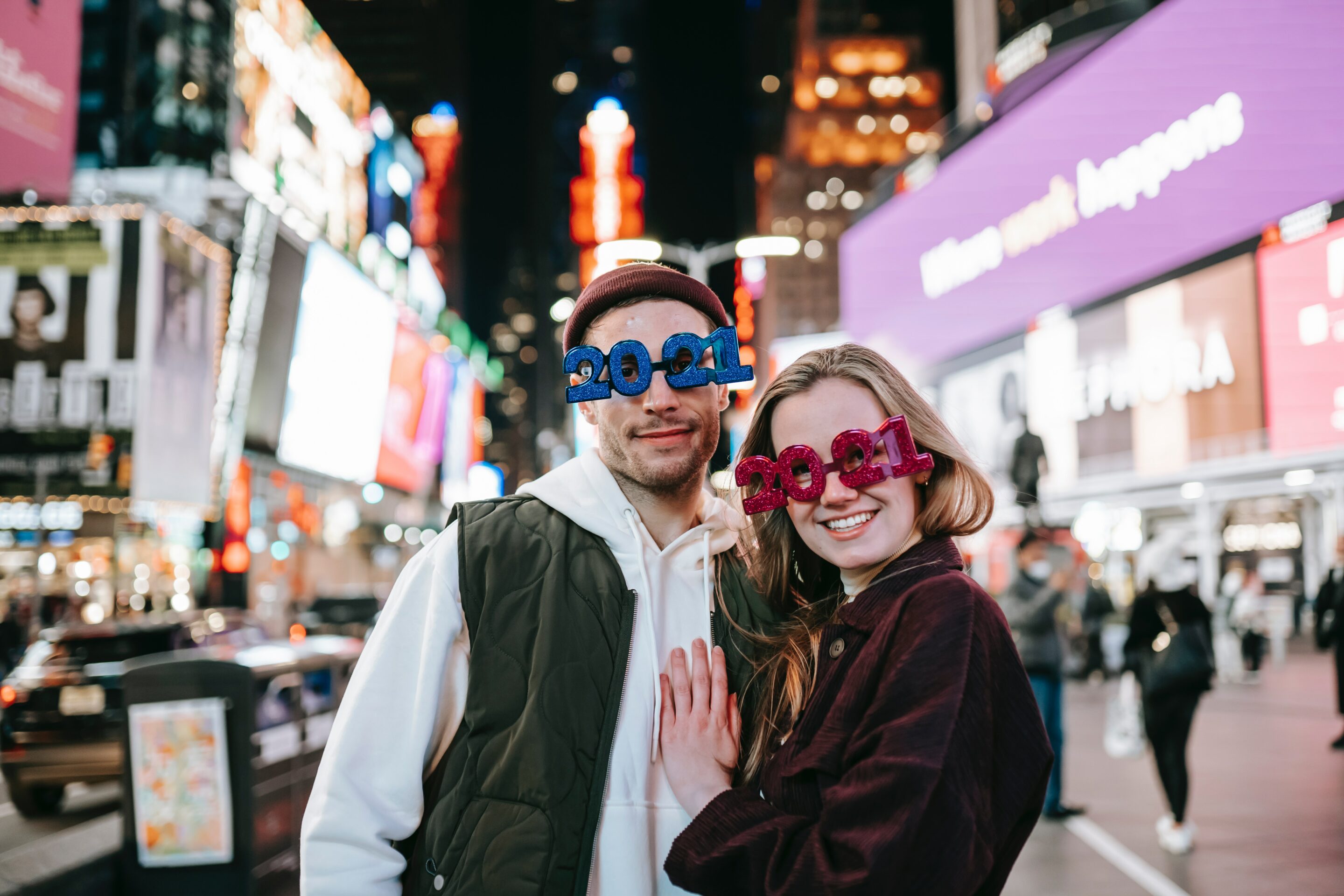 20 of the Best Ad Campaigns from 2021
Hey, we can all admit 2021 wasn't easy. Ups and downs. Twists and turns. But, as always, difficult times saw creative minds reach for new heights. And the advertising world, that means plenty of fun, creative, next-level campaigns.
Some got tongues wagging. Others created instant feelings of nostalgia, but they all hooked people in.
As companies got more creative this year, we had a hard time narrowing down our favorite ads for the year; however, we finally selected the 20 best. Keep reading to see if your favorite ad made the cut.
20. Tesco, 2021 Christmas Advert
Regardless of where one stands on vaccination, the Tesco ad designers knew it was going to send tongues wagging. Santa showing a vaccine passport lasts only a few seconds, but people on both sides were more than willing to weigh in on Santa's vaccination history. However, the rest of the 90-second spot is gold. Featuring everything from a cramped airplane to a wholesome family dinner all to the tune of Queen's "Don't Stop Us Now," the ad inspired holiday cheer amongst people on both sides of the Atlantic while making more and more people appreciate what they have this holiday season.
19. Bhima Jewellery, Pure as love.
One of the most innovative and heartwarming ads of the year, Bhima Jewellery's Pure as love campaign focuses on a trans woman and how her life changes with jewelry. The ad opens up with a young man opening a jewelry box, with his father and mother finding out he wants to transition. She plays around with makeup, gets her ears pierced, grows out her hair and eventually begins wearing saris, with the full support of her family. At 90 seconds, the ad has no dialogue or words, simply showing the woman living her best life with her family supporting her every step of the way. Ending with "Pure as love," the ad is inspiring, groundbreaking and tugs at the heart strings.
18. Peloton, Mr. Big
https://twitter.com/vancityreynolds/status/1470121571058601985?s=21
So this one has a lot of backstory, but we'll cover it quickly. The new incarnation of Sex and the City, And Just Like That featured Carrie Bradshaw's (Sarah Jessica Parker) husband, Mr. Big (Chris Noth) dying of a heart attack on a Peloton exercise bike. The company saw shares drop and quickly contact Ryan Reynolds' Maximum Effort, who produced an ad in less than 48 hours showcasing Noth with Reynolds providing the narration. Ending with a cheeky, "He's still alive," the ad may have helped Peloton's share prices rebound. Finally, Reynolds himself tweeted it out, ensuring his 18.4 million subscribers got to see Noth was very much still alive.
17. Doritos, Nunca Es Tarde Para Ser Quien Eres
Released roughly two months ago and already garnering nearly 20 million views, the Doritos' animated ad takes place during Dia de Muertos (The Day of the Dead). A family visits the grave of their patriarch, only to have him appear to them. While he loving talks to his living family, he introduces them to his spiritual partner, a man. His family quickly accepts both men in their lives and, for a brief moment, the man and his partner look like they did while alive. This ad pulls on the heart strings for multiple reasons, but shows that it's never too late to be who you are (which is also what 'Nunca Es Tarde Para Ser Quien Eres' means in English).
16. Apple, Start Up
You've most likely played around with an Apple product at least once in your life, and the sounds that come from their products are more than recognizable. From the clicking noise as you scrolled through an iPod in the 2000s to the quintessential Mac start sound, Apple became solidified in the public consciousness so much that their sounds are recognizable. Playing on that Apple hired artists-producer A.G. Cook to create a song from their sounds, and Start Up was born. Featuring nothing but Apple product sounds, the song is catchy while bringing back feelings of nostalgia for those who have used Mac products long before the iPad was even a glint in the late Steve Jobs' mind.
15. Burberry, Open Spaces
A long time ago, luxury brands were considered far too snooty to create something fun, but with the rise of the digital age, these brands are finding they must connect with a younger audience in their ad campaigns. Burberry has once again hit the mark with their Open Spaces film. Featuring a group of friends clad in the brand's signature garments, they soar over fields, forests and the White Cliff of Dover with the same fluidity one would expect to see on the moon. The lush color palette matches the brand's values of being a trailblazer, creating a short video that is sure to stand the test of time.
14. Mr. Peanut, Shake It Like Dad
Anthony Anderson has quickly shown he's a force to be reckoned with in the comedy world, and he brings his same brand of fun humor to this Father's Day commercial for Mr. Peanut. Talking about how dad's are strong, masters of six remotes and can drop cringe worthy jokes, the commercial can't help but make anyone who views it laugh. Furthermore, Mr. Peanut expanded upon the usual Father's Day standbys of overly sappy or power tool tropes by making dads as fun and interesting as they are in real life. We're confident in saying this is probably one of the best Father's Day commercials of all time.
13. Amazon, Alexa's Body
With over 75 million views, the Michael B. Jordan starring ad is hilarious and sexy. Featuring an Amazon employee selling an Alexa, she sets the stage by declaring the ad couldn't have a better body, only to start imagining if her Alexa looked like Jordan. Hijinks ensue as the woman quickly falls in lust with her device, much to the dismay of her husband. One of the funniest parts actually takes place about halfway through the ad, when with a group of friends, the woman asks Alexa to "dim the lights," resulting in Jordan taking off his shirt to show a chiseled physique. Fun, sexy and imaginative, this ad is one of the best the tech giant's released in years.
12. Fisher-Price, Chatter Phone
Playing off the sleek phone commercials we're used to, Fisher-Priced introduced their Chatter Phone with Bluetooth to great fanfare. Opening with "The past has arrived" and showcasing features like colors, eyes and numbers, the Chatter Phone's nostalgia doesn't feel out of place against the ultra-sleek color palette and graphics. Users flocked to Fisher-Prices Instagram to find out when their "first mobile phone" would be released at Best Buy.
11. State Farm, Drake from State Farm
When State Farm released their Jake from State Farm ad a decade ago, they quickly took the world by storm. "Uhhh…Khakis?" and "She sounds hideous" were quickly solidified in the American lexicon (in addition to sparking endless memes). Playing off this popularity, the insurance giant decided to create Drake from State Farm. With Paul Rudd and Drake playing as stand-ins, the ad may not have produced memorable lines like the first one; however, it did give viewers a good laugh during the Super Bowl.
10. Surfshark VPN, Various
Surfshark VPN offers customers a way to easily change their VPN, and they're using micro-YouTube accounts to get their ads across. YouTubers must include the same scripted elements in their content, including showing how easy it is for users to switch between countries, but are able to create the actual ad in their own style. Lore Reloaded, featured in the above video, scripted out a Star Trek themed skit revolving around Surfshark and alien invaders. Appearing in numerous videos with sometimes hundreds of thousands of views apiece, Surfshark's able to get its message across in a non-skippable format that YouTube viewers actually want to watch again and again.
9. HBO and Zumbrota Ford, Last Week Tonight
Like the Mr. Big commercial, this one has a bit of a backstory. John Oliver called out local car dealers for using the same scripted commercials, changing little more than the location. He then issued a challenge to car dealers, saying he would write them a better commercial. Zumbrota Ford, one of the dealerships featured on Oliver's segment took Oliver up on the challenge. In exchange for getting the ad written, owner Steve Johnson of Zumbrota Ford had to agree to produce it sight unseen. He did, it ran on Oliver's Last Week Tonight and Johnson sold several Fords while also going viral.
8. Toyota, Jessica's Long Story
The 2020 Olympics and Paralympics were finally held this year, and Toyota brought the latter to the forefront. Featuring Jessica Long, a 13x Paralympic gold medalist, the ad shows how Long was adopted from Siberia and born with a genetic condition that would require her legs to be amputated. As Long swims through the water, viewers see recreations of her challenges and wins, ending with Long's mother saying she wants to adopt the baby girl, saying, "It might not be easy, but it will be amazing." This ad is sure to make anyone feel emotional.
7. Oatley, Wow Wow No Cow
Toni Petersson, Oatley's CEO, intentionally made this ad look homespun and low budget. He sits in an oat field, simply singing "Wow Wow No Cow" to his audience while playing a recorder with some Oatly on it. While not the highest budget ad on our list, it still packs a powerful advertising punch and the "Wow Wow No Cow" song will likely get stuck in your head for a few hours.
6. Iceland, Introducing the Icelandverse
Mark Zuckerberg receives plenty of criticism for everything from his appearance to his way of speaking, and Iceland capitalized on that with "Introducing the Icelandverse." Iceland took advantage of this with the Icelandverse campaign. Showing what one can do when they visit Iceland, an actor plays off Zuckerberg's awkward Meta announcement by being as awkward as possible in a futile effort to connect with "humans." Funny while still making you want to visit the country, this ad will make anyone laugh.
5. Anheuser-Busch, Let's Grab a Beer
From ruined weddings to missed plane rides to funerals, we have plenty of things that make us want to throw our hands up in the air and grab a beer, which is exactly what SuperBowl commercial leader Anheuser-Busch focused on in their Let's Grab a Beer ad. The second ad in the series (which can be viewed here) focused on reconnecting after COVID regulations were lifted, ending with "Welcome Back, America." These 90 second uplifting stories are what we've come to expect from the brand, and we couldn't be happier to see them back in the saddle.
4. McDonald's, BTS Meal
BTS became a global phenomenon, and McDonald's gladly used that to their advantage this year. Creating the BTS meal, the fast-food king used the band members to introduce each aspect of the meal. With a bright, fun color palette and the most popular boyband in years, McDonald's created an ad that is sure to attract plenty of customers to the Golden Arches.
3. Kohl's, Spring Into Action
This cute, fun commercial was just what many wanted to see this year. When a little girl draws a hopscotch game on the street, anyone who passes it can't resist playing. However, her main target is her mail deliveryman who regularly looks glum. When he walks upon the game, even he can't help but to participate. Uplifting and fun, the bright and sunny cinematography more than sells the company's fun and sweet message.
2. Geico, Scoop There It Is
https://www.youtube.com/watch?v=vDAg3VkZPg8
Tag-Team, singers of Whoop There It Is, came in for Geico to help with dessert in this fun commercial from Geico. Playing on their famous "What are you waiting for" tagline, the hip-hop duo sing a witty roughly 20 second rap about different ice cream flavors with the chorus line of "Scoop there it is." Bringing back feelings of nostalgia while making us also want to change our auto insurance? We consider that a win.
1. BLK, "Vax That Thing Up"
BLK is the largest dating app for Black singles, and they partnered with Juvenile, Mannie Fresh and Mia X to create a dating ad that tells singles they'll look great after they "Vax that thing up." Fun and sexy, while also doubling as a PSA, the ad is sure to make more than a few people go, go, go, go get the shot.  
2021 saw a host of different ads get released. As this year comes to a close, we're excited to see what companies bring forth in 2022. What was your favorite ad of the year? Let us know in the comments below!