Start Your Graphic Design Career In Sao Paulo.
OUR DESIGNERS ARE RESTLESS
Who does Graphic Design needs to have a restless mind. Because he chooses more than a profession, he chooses a lifestyle. In addition to keeping an eye on trends and details, you have to keep an eye on ideas. Learn new ways to solve increasingly complex communication problems. Here it is like this: besides the brand, packaging, graphic piece. It can be an environment, an interactive tool, a movie. Everything can be design. Here the designer learns to be a conciliator. Joining the simple to the complex, the common to the extraordinary, the commercial to the authoral, the classic to the modern. Turning every piece into a unique job.
---
CONCEPTION, DESIGN, IMPLEMENTATION AND PRESENTATION
We set up a curriculum that brings together the fundamentals of graphic design with new disciplines (user experience, motion and digital) and creative thinking. And as a good creative, your job is to have good ideas. You will be able to work in places where your good ideas are welcomed: design offices, advertising agencies, producers, among countless other possibilities. And before you can put the pen in the paper, scissors in the fabric or fingers on the keyboard, ideas need to flow cohesively. Creating concepts will help you focus on the solution and is the stepping stone of how you will continue with your project. When you have the concept, the next step is a plan. Inspiration comes from everywhere. Objects found can be typography, architecture can influence the layout. Understand your environment so that it helps you improve the aesthetics of your design. To put your ideas into practice, whether by hand, on the computer or even with a 3D printer, you will learn about execution, about exploring different media that will complete the impact of your message. And you will also learn to present all this. It will show your executed design for teachers and colleagues. This practice will prepare you to introduce to your co-workers, creative directors and clients.
Program Length & Class Times
The graphic design program is a two-year (8 quarter) program. Each quarter is 10 weeks in length followed by a break. There are 1,200 classroom hours, with 4 classes per week, from 7:30 p.m. to 10:30 p.m., and there may be classes on Saturdays, from 9:00 a.m. to 12:00 p.m. or from 1:00 p.m. to 4:00 p.m.
Tuition and Cost of Living in Sao Paulo
Tuition of R$ 9.435,00 is due quarterly. It takes eight quarters which is 2 years to complete the graphic design program. Total tuition cost for the program is R$ 75.480,00. Miami Social School is available to students coming from social classes of lower income.
To live near the school, the cost of accommodation it's about R$ 3.000,00. The cost of feeding it's about R$ 1.000,00.
Language
All the classes are taught in portuguese. But it is important that our students speak english, so they can participate on the international awards.
Internship & Studying Abroad
Through the Quarter Away, in the 6th quarter of the two-year program students can study or intern in an advertising agency or company. This allows students to apply the skills they've learned, expand their network of industry contacts and get real-world experience. Look at the Internships section of the website to see the different options and read stories from our students about their amazing experiences.
And through the Quarter Brazil, in the 4th quarter of the two-year program students can study or intern in an advertising agency or company in Brazil.
Diploma & Job Placement Assistance
This is a two year diploma program with the primary purpose of developing a professional portfolio through classes and real-world experience to gain the skills needed for an entry level position in the creative industry. Graduates have the opportunity to attend portfolio reviews and interview with multiple agencies, design studios and companies. Miami Ad School also supplies graduates with job leads throughout their career. Our institutional graduate placement rate is near to 100%.
Starting Salaries for Graphic Design Graduates
The starting salaries turns around R$ 2.000,00 for junior graphic designers. But it depends on the agency/company and the benefits included.
Have A Question? Just Email Me.
I can walk you through the admissions process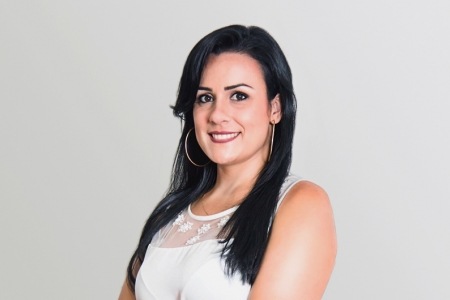 Viviane Fermino
ADMISSIONS ADVISOR
+55 11 5081-8338
EMAIL ME
Rua Voluntários da Pátria, 301, 4º andar, sala 401. Botafogo, Rio de Janeiro
Design Courses in Sao Paulo

BRANDING 1
Here you will understand the vision of branding and the process of creating a brand. It will learn how to translate the values of a company, product or service into a brand that differentiates itself in the market, is relevant and connects with the consumer. And it will delve deeper into the branding process by studying existing practices, trends, competition, and benchmarks.

BRANDING 2
We will deepen the concepts of branding, learn more about brand architecture and understand how to tailor a branding architecture to a new initiative. So we will practice how to derive existing visual languages by creating something new.

INTERACTIVE CONCEPTS
Communication platforms have expanded and you, as a future designer, need to understand how your projects behave, from the print to the iPad and SmartPhone screens. You will learn the principles of interactivity applied to traditional media and digital media. New technologies, such as augmented reality, QR codes, RFIDs, are exploited to provide more tools for the development of creative solutions that surprise consumers everywhere: whether it is at the point of sale, packaging of products or when the consumer is in movement.

POP CULTURE
A creative can not feed itself on advertising alone. The world is full of influences and the creative industry is huge. Let's talk about pop culture. More and more propaganda and pop culture mix. More and more advertising wants to be part of the pop culture of a society. You have to move to produce pop culture for brands and products. And what exactly is a pop product? We will deepen this discussion and investigate various cultural and artistic phenomena, from comics to cinema, from literature to music. Part of the class includes guests as musicians, entertainers and cartoonists, who share their practical experiences with the students.

DESIGN AND LAYOUT
Presentation and discussion about the principles and fundamentals of graphic design. References, trends and benchmarks of the market will be presented through practical exercises and case analysis of contemporary design.

EDITORIAL DESIGN
One of the most emblematic topics of graphic design. The concepts of grids, integration of illustration, photography and typography serve as a basis not only for the layout of magazines, newspapers and books but also for the new digital media.
BASIC PACKAGING DESIGN
More than a means of storing and transporting a product, the packaging symbolically identifies the product and enables consumers to have an affective relationship like that. In many cases, the consumer does not dissociate the packaging of their content, which are both expression and attribute of content. For many companies, this is the only means of communicating your product with the market. Learn how the technical and communication aspects relate to a good packaging design.

ADVANCED PACKAGING DESIGN
Deepening the study of packaging design, identifying the critical elements for a successful project: target audience, sales channel, product differentials, trends, costs and global markets.

DESIGN INFLUENCES
A journey through the facts that marked the history of modernism and graphic design as a communication force. How cultural movements influenced the aesthetics and the process of design development these days.

BRAND EXPERIENCE
You will learn how to drive the value of the brand and its visual features for a complete experience that delights and surprises. Be it developing a store, a wayfinding project or an event. In projects, we will develop three-dimensional perception and explore other senses beyond vision.

BASIC PHOTOGRAPHY
Learn about basic photography skills: how the camera works, lenses and what type of film to use for different types of conditions. Learn to use the camera for creative viewing. We totally discourage the use of photographs from banks of images. The student should become a good photographer and never rely on a catalog of photographs taken by other people.

CREATIVE PHOTOGRAPHY IN STUDIO
Like Elvis, the titles did not die. Dig deeper into print media and study in detail how to make a good title. Today, who knows how to make titles has become an object of desire in big agencies. Copywriters who shine with visual ideas, also dominate titles like nobody else. Be one of them. And do not even think that creating two, three titles will suffice. The rule of the game is: do more!

EXPERIMENTAL ILLUSTRATION
Reflection on style and language, basic illustration technique exercises, perspective, anatomy, light, shadow and colors. And the relationship between agency and image producer, costs and contracts.

VECTOR IMAGE AND EDITORING
You will learn the characteristics of the vector image with the Adobe Illustrator program and the basic techniques of desktop publishing with Adobe InDesign.

VISUAL IMPACT
You will be encouraged to explore new possibilities and visual languages, creating and combining techniques. Question the set, change the processes and learn by doing. A living space for experimentation with the aim of creating amazing visuals.

INTERACTIVE DESIGN
Technology is increasingly integrated into people's lives, and the role of the interactive designer is key in this process. It is up to him, on the one hand, to organize and simplify complex information, and on the other to create unforgettable environments and experiences.

GRAPHIC LANGUAGE
The abc of the art direction. Our goal is to train the art director specifically in formal aspects of the function, such as uses of typography, photography, illustration and other graphic elements. The student will understand and know how to determine weights and hierarchies of these graphical elements in the elaboration of pieces, establishing the best way to express a particular concept or idea of campaign in diverse media formats, traditional or not.

CINEMATOGRAPHIC LANGUAGE
Creation with production vision. You get information about storyboards, camera technique, sound effects, music, basic editing understanding, and how to plan a pre-production. And, after all, you still have to think of brilliant ideas from scripts and produce them. Let's get you a creative who knows how to give your opinion and help a movie director in the production of commercials.

BASIC IMAGE MANIPULATION
Learn the basic features of the bitmap image, such as resolution, size, dimension, color depth. And the techniques of editing, image processing and illustration in the Adobe Photoshop program.

ADVANCED IMAGE HANDLING
Further study on imaging techniques. Understanding workflow, blend modes, layer masks, transparency, applying arts, retouching human skin, complex assemblies, etc.

MOTION DESIGN
Graphic design in motion. Movie openings, video clips, vignettes and graphics packages for television. You will learn how to think in time and create an audio visual piece.

CREATIVE THINKING IN DESIGN
Before you worry about how things will look, you need to find an innovative solution to a problem. How to draw attention and get your message across in the midst of so many stimuli? How to conquer not only the mind but the hearts of people and create a lasting connection? Let's discuss different techniques, methods and ways of thinking about the problem and the solutions.

GRAPHIC PRODUCTION
Learn the printing and finishing techniques on the market, the pros and cons of each method and how to take advantage of these features to enhance your idea.

3D PROJECTS
To design an environment, an animation or a new product, 3D is an increasingly necessary tool in the day to day of the designer. You will learn the basics of modeling, texturing and lighting to apply to your projects.

BASIC TYPOGRAPHY
The use of typography is one of the most important foundations of visual communication. You will study the history of classical and contemporary typologies and understand the characteristics that define types and their applications.

ADVANCED TYPOGRAPHY
Let's research past and present leaders in typographic design. The student reviews the history of types and the extraordinary old designers of graphic types. The student applies what he has learned to a variety of unique projects.

STUDENT COMPETITIONS
Our test of fire. You will study winning ideas and why they were awarded. And as a class exercise, you participate in major international student competitions. Our students have already won several international awards. It's your turn. Is it a big challenge or not?

TYPEFACE DESIGN
Let's produce a typographic font. The creative process begins with the calligraphy, goes through the studies of form and proportion and ends with vectorization and production of the source file.

USER EXPERIENCE DESIGN
With the growth of social media, cell phones and tablets, the user experience is becoming increasingly important so that the interactions with the brand in these environments are harnessed to the maximum. You will learn interaction design techniques, usability, information architecture, and design thinking. These concepts will help you develop websites and applications that are innovative, easy to navigate, and that present information clearly and intuitively.

PORTFOLIO REVIEW
You have reached the end of the course. Let's evaluate your two years of school and select the best pieces that will make up your portfolio. To select, by the way, is also to make new pieces. No one leaves school without a portfolio, at least, great. It's the rule. It will be much more arduous than you think. The goal is to develop a portfolio that honestly reflects your skills and strengths. It's the overhaul, a check-up of everything going well or if we need to change anything. We work with very small classes with a design supervisor. What's more, in addition to portfolio orientation with a super creative, you'll have a lesson with a headhunter who will give you tips on how to introduce yourself to the market. There will also be a class on how to put personal projects in the portfolio. And in the end you will present your portfolio in an event that mixes portfolio night with graduation.