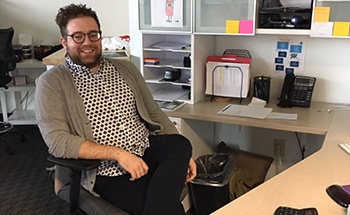 24 Creative Opportunities You Might Not Know About
Have a career you're passionate about
If you're like most of the young people wetalk to, you're in a hurry to find a career or change the one you currently have.You want to work hard at something you're passionate about. But how do you know what youroptionsare? How do you know which career will be the right fit for you?
There are lots of creative opportunities you may not have heard of yet Here are links to a few of the ad agencies, design firms, consultancies, digital / tech companies that hire our graduates and a grad who works at each.
Where do you see yourself?
Advertising Agencies
OgilvyRaj Ramamurthy, Senior Art Director|art directiongrad
Wieden + KennedyJessica Shrisftman,Senior ArtDirector|art directiongrad
Leo BurnettBowen Mendelson, VP Creative Director |copywritinggrad
Design Firms
Carbone Smolan Dave Decepida, Design Director |design grad
Principal Design Ally Lack, Cofounder |design grad
Circa Design Laura Deleot, Partner |design grad
Digital Companies
360iTaylor Roberts, Jr. Art Director |art direction grad
R/GANikita Sokolow, Junior Copywriter |copywriting grad
SapientJun Bae, Senior Designer |design grad
Consultancies
McKinsey Stewart Vann, Director Experience Design |design grad
Brighthouse Mary Elizabeth Morse, Art Director |design grad
EYMinsoo Pak, Partner/Principal Innovation Realized |art direction grad
Publications
New York Times Melissa Jun, Design Consultant | design grad
The Bitter SouthernDave Whitling, Co-founder, Creative Director |design grad
W Magazine and Vogue MagazineJason Raville,Creative Director |design grad
Technology Companies
Facebook Pablo Jimenez, Creative Strategist |art direction grad
Google Creative Lab Bridget Prophet, Creative Director |copywritinggrad
YouTubeEsty Gorman, Creative Agency Lead|strategy grad
Brands
Rag BoneMelissa Kraxsberger,CreativeDirector|designgrad
Apple Eamon Gilravi, Designer, Writer|copywriting grad
Uber Brennan Boblett, Stealth Director |design grad
Grads who became entreneurs
Circus MaximusRyan Kutcher, Founder |copywriting grad
Mundoloco CGIGaston Gorali, Co-Founder, CEO |copywriting grad
Son SonsWade Thompson, Founder and Creative Director |design grad
Miami Ad school could transform you and give you the skills you need for a creative career.
Next session: Starts on January 2nd. Priority application deadline: November 26th. APPLY NOW