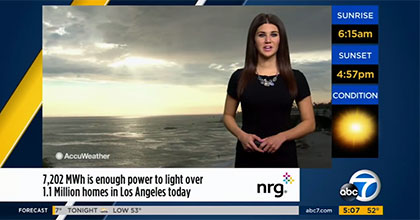 Graduates at Droga5 Bring Home a Lion
German and JJ Come Home with a Lion from Cannes for their Breakthrough Work for NGR Energy, One of Dozens of Lions our Grads Won this Year
Miami Ad School grads German Rivera Hudders (AD) and JJ Kraft (CW) brought home a Bronze Lion from Cannes for "Solar Forecast" for NRG Energy.
The project, which was recognized in the Creative Data category, is a great example of the new and unconventional ways today's creatives are telling brand stories.
Combining the almost uniquely American weather-monitoring obsession with the solar energy data NRG complies on an ongoing basis, the duo added solar energy forecasts to standard weather reports from various media outlets. So, in addition to knowing that it's going to be 72° F and sunny in LA today, viewers found out how much electricity the sun would be providing. This draws attention to NRG and to the potential of clean, renewable solar energy in a way that created interest and added value to the viewer. In the context of a weather report, the solar forecast stands out while being seamlessly integrated.
Every brand has a story, and every story can be told in just the right way and in exactly the right setting. We can show you how.