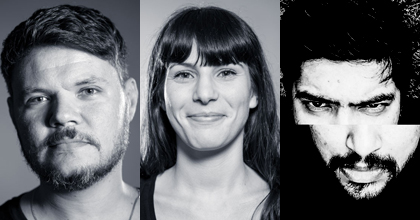 How To Be The New Hire Agencies Need
Agencies are always on the lookout for new talent. Winning awards—like Miami Ad School students just did at the Clios—is a great way to get noticed.
In the world of creative careers, competition is intense. There are tons of talented people looking for work or freelancing with amazing portfolios. How do you stack the deck in your favor when looking for that crucial first job?
Encouraging students to enter award competitions has always been a priority for Miami Ad School. We've long known that award-winning work adds credibility to a portfolio. Award competitions are the "peer review" of the industry, and receiving recognition from the pros while still in school is a terrific boost to any creative's prospects.
The fact that so many Miami Ad School alumni can be found at the highest levels of the industry is due, in large part, to Miami Ad School students being the most-awarded in the world. The competitive advantage is obvious.
Award-Winning Advice From Those Who Know
Art director Giulia Magaldi and copywriter Frank Garcia—junior creative team at Droga5—have three solid pieces of advice when it comes to creating award-winning work:
Some competitions issue calls for entry with a specific brief attached. In these cases—always stick to the brief. This may seem to go without saying, however that's precisely why it needs to be said.
The best ideas are often the most obvious solutions that somehow have never been done before. The kinds of ideas that make people say, "Why didn't I come up with this?" as they smack themselves on the forehead.
Use media in a way that hasn't been done before. Don't confine your creativity to the content; deliver your message creatively as well.
Giulia and Frank know a little bit about winning awards. They've won at the Clios, The One Show, The New York Festivals, Young Guns, ADDYs, Graphis and many more.
Soham Chatterjee is one of Miami Ad School's most-awarded grads. As a student, he won 79 national and international honors. He's now a Creative Copywriter @ Leo Burnett in Chicago. He's got a few tips too:
Look at other award-winning work.
Also check out work that did not win a Gold. Figure why it didn't in comparison to the one that did.
Dig out those old dust-laden Archives and CAs, flip through them whenever you can. That'll give your brain practice.
Don't do what you have seen. Do better than what you have been seeing.
If you get goosebumps looking at an idea, try to beat it. If you get goosebumps looking at your own idea, do it anyway.
Put in the time cracking the code to win awards. See what wins where. See award-winning work in the context of the categories it wins in. It's important.
Think of one idea everyday. Even if you're down and out.
Look around you. The best ideas come from your surroundings. Be an observer.
Most importantly, be passionate and hardworking towards the work you do. Worship it like you worship your soccer/football/baseball/curling team.
Collaborate with people from different backgrounds. Team up with different people every time. Work alone sometimes too.
Get a trustworthy and immensely creative mentor to look at your work. Make his or her jaw drop with your ideas. Get their feedback and make the work better.
Believe in your idea, fight for it, but know when to take a step back.
Here's the latest crop of awards our students have won—these Clio award winners were just announced:
The first day of school is also the first day of your creative career. Get started on your future today.