Make Your Vote Count: Miami Ad School Grad Saves Lives With Creativity
Vanessa Marquez and her partner Jon Ransom at Gyro: New York need your vote to share their life-saving campaign to help reduce infant mortality rates in Africa
Find their video at The Drum. "Gyro: Bennison Care Wear."
Like it? Give it 5 stars!
Pippa: How did the idea come about? Was it the client's or yours and your partner's?
Vanessa: We came up with the idea while working with Bennison on their branding. We realized how important Bennison's donations to the relief agencies in western Africa are. Seeing how the footed pajamas provide a simple solution to a newborn's fluctuating temperature, it only made sense that we provide help in keeping the pajamas clean.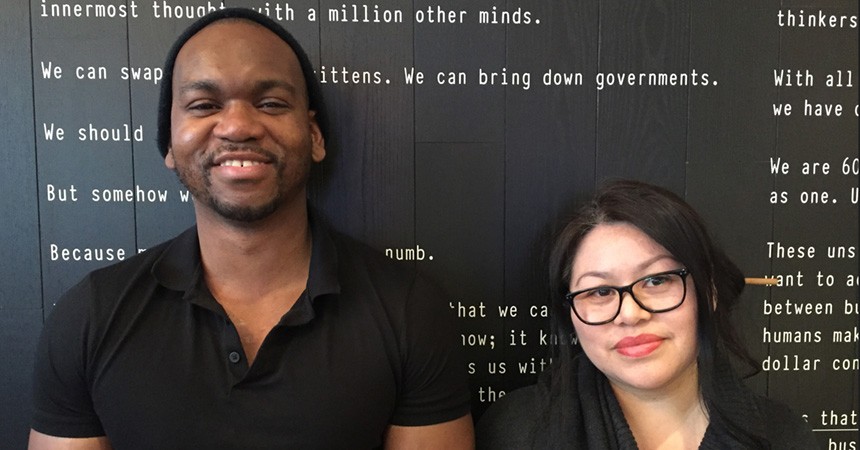 Vanessa Marquez and her partner Jon Ransom.
P: Did you have to research the soap-infused-cloth technology?
V: Yes, it's actually soap paper! A soap-sheet manufacturer, which creates promotional items used in beauty and hotel brands, supplied the paper. We tested several batches to find the right thickness to determine which paperweight would dissolve the easiest. During the process, we noticed that it only took a small amount of paper to wash each pajama, meaning each package could be used for multiple washes. To make it easier to determine how much paper was needed for each wash, we used a die-cutting machine to create perfect, perforated squares.
Afterward, to ensure we didn't pollute the environment with adhesive or other materials, we used a heat-sealing machine to melt the paper together around the edges, creating a package.
P: You've been out of school for four years. Where has your career path taken you since graduation?
V: After graduating from Miami Ad School, I got a job offer from gyro: New York. Goodbye Miami, and hello Manhattan! I work on the B2B side of things… I've worked on projects for TDAI, Lincoln Financial, BlackBerry, Bennison, IRC and currently Hilton. Aside from advertising, I've lent my design services for nonprofit organizations that help rescue and rehabilitate animals in Virginia and North Carolina.
P: What advice would you give someone looking to get into advertising?
V: Look at the agency's culture. This is where you'll spend most of your day and you want to be somewhere where you are doing great work and are surrounded by awesome people. Work hard, do more than what is expected and be nice!
P: What type of advertising do you think is the most effective? 
V: Definitely advertising with substance. Brands that tell meaningful stories are the ones that I pay attention to.
P: How would you describe gyro?
V: gyro is unique B2B shop, it's a place that encourages ideas that are humanly relevant, and that makes the difference.
P: What's a typical day like as an art director at gyro? 
V: It starts with coffee, there is no day without it! We have a morning meet with my team and off to work we go. The days vary because we also like to have fun, so you have days in which we have office activities, like Beer Thursdays or musical performances.
P: What's your favorite thing about your job as an art director? 
V: I work with great, talented people who have a lot of confidence in me. That allows me to work with a good deal of freedom and enjoy the work I do.
The New York City offices of gyro.