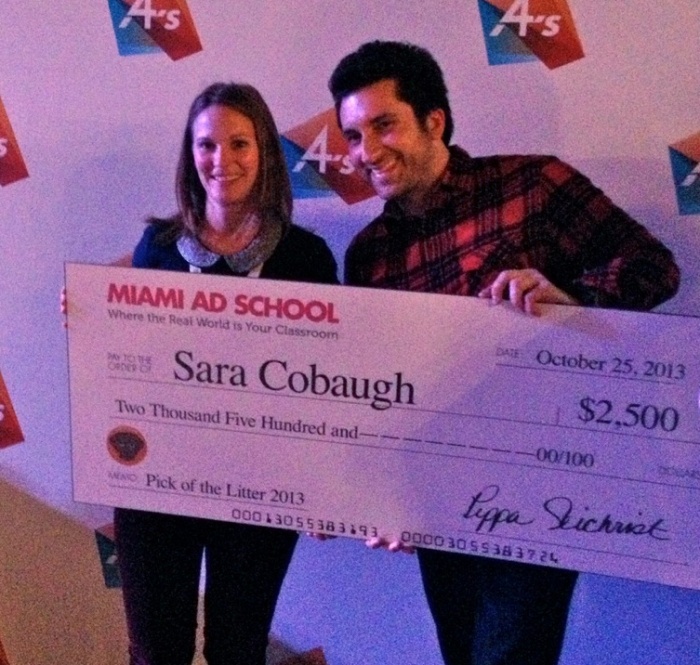 Sara Cobaugh, Account Planner at McKinney, Wins Pick of the Litter
SHE ALSO REVEALS HOW WE CAN BREAK THE CASH V. PUPPY STREAK
Miami Ad School held its annual Pick of the Litter contest, a celebration of outstanding planners with less than three years strategic experience, at the 4A's Strategy Festival in Nashville. On October 28th, Sara Cobaugh, an account planner at McKinney, took home the top spot. She had a choice between $2500 and an adorable, cuddly, lovable chocolate labrador with some spending cash for treats - she took the cash.
Sara's brief was for Meijer, a discount retail chain in 5 states in the midwest. As she points out in her submission, she needed to wow the client, inspire the creatives and prove that strategy could help this brand compete against big stores like Walmart. She did that and more. As judge John Roberts, founder of Truth Collective said of Sara's work, "through her case study for Meijer, Sara demonstrated outstanding enthusiasm, smarts, vigor, and passion."
In the 14 years that Miami Ad School has held the competition, only one person - the first winner - has taken the puppy. We now have a plan to change that next year. On McKinney's blog, Sara said that "if they had the puppy there looking at me with a sad puppy face, things might have turned out differently." Well, we now know what to do next year! If you would like to see the winning brief and the two runners up, head over to the Pick of the Litter site where we've archived all winners since the beginning of the competition.
Congrats Sara!
Judges:
Nigel Rahimpour, Group Planning Director, Saatchi & Saatchi
John Roberts, Partner, Truth Collective
Marian St Laurent, Founder, Heavy Symbols
Daniel Berkal, SVP Innovation, The Palmerston Group
Runners up:
3rd Place - Sandra Rivera, Latinworks for Texas Lottery
2nd Place -Stephanie Morrow, Kirshenbaum Bond Senecal + Partners for Vanguard
Sara accepts her big check from Michael Chatfield, PRO Director, Miami Ad School New York.