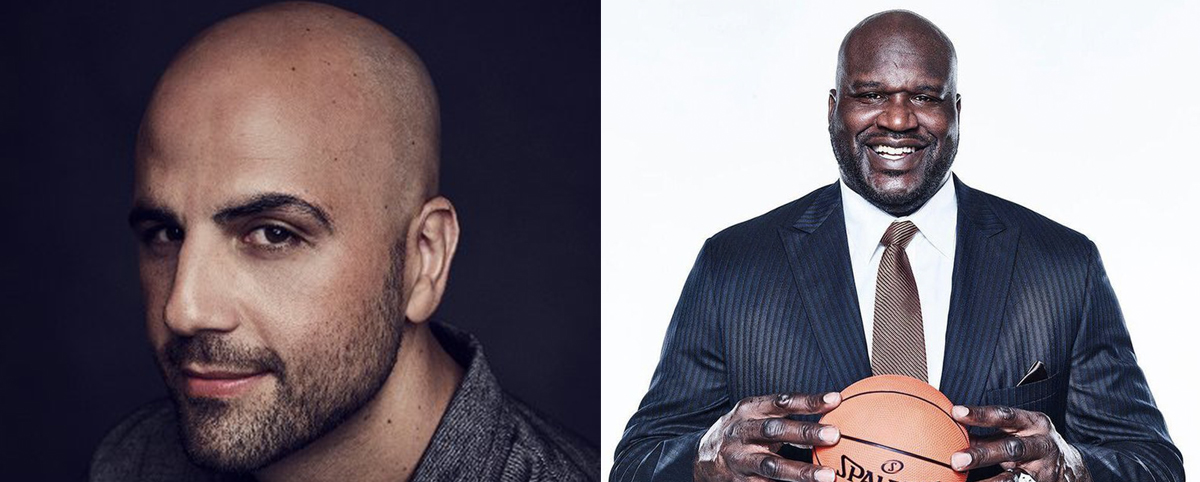 The Inspiring Shaq-Backed Agency With a M.AD Connection
It's called Majority, and this won't be the last you hear about it.
This week, NBA legend Shaquille O'Neal helped out M.AD grad Omid Farhang (and now Majority CEO) in founding a new agency dedicated to building a diverse workforce. The promise? Majority will create a talent pool of 75% black, brown, female, and LGBTQ creatives—minimum.
It's no surprise Shaq is focusing on the marketing arena. In his playing days, he was already a magnetic showman. Since retirement, he's become the enthusiastic face of some iconic brands and a near-guarantee for wide-spread publicity.
Omid is no slouch himself: since his time studying at M.AD, he's won multiple awards as the CCO at Momentum Worldwide, along with time spent at Crispin Porter + Bogusky and Creative Artists Agency. Along the way, he's made an indelible impact on the American creative scene, with work for household names like American Express, Verizon, and Coke. And today, he's the co-founder and CEO of Atlanta's most exciting new agency.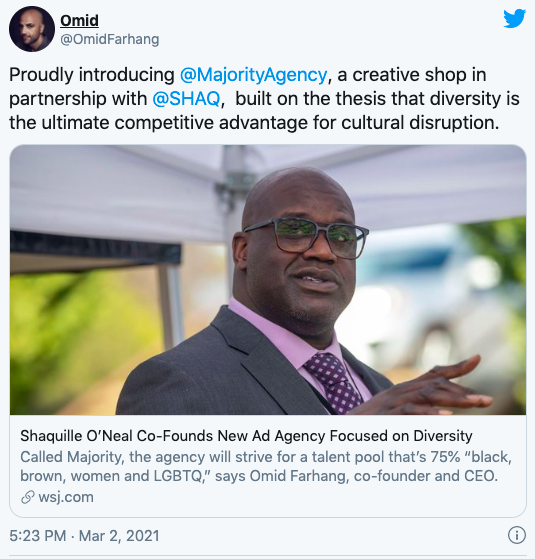 Why "Majority"?
The new agency's name is the key to what they're about. As Omid told Shoot Online, "In advertising, we're really good at telling clients to disrupt the status quo. Yet when it comes to talent, for over a century, we as an industry have accepted the status quo of abysmal representation across race, gender, and orientation. Majority's model emphasizes diverse talent, not just for a more equitable world, but on the thesis that diversity is the ultimate competitive advantage for cultural disruption."
The agency itself is Atlanta-based, where both Farhang and O'Neal spend most of their time. That should be an advantage when it comes to finding hires—in recent years, Atlanta has been ranked highly against comparable North American cities for its tech and creative talent. And beyond local hires, Atlanta's growing reputation as an American hub city should help with recruitment across the nation.
To quote Omid in conversation with MediaPost, "As I looked at the leadership of the biggest agencies in Atlanta, I couldn't help but notice that what makes Atlanta so special wasn't properly reflected in the leadership of many agencies here."
What the Future Looks Like
Majority's services won't be narrow: as a full-service agency, they'll work in advertising, art, product, branding, interactive experience, and even outright activism. It's precisely the holistic approach to brand storytelling that forward-thinking teams around the world are adopting.
They'll also be building an entirely new roster of clients, starting with goPuff, the on-demand delivery app for daily essentials.
As for the day-to-day operations behind-the-scenes, Farhang will be CEO and the go-to man for most decisions. O'Neal, meanwhile, plans to join the creative process on a case-by-case basis, stepping in when his expertise and interests align. As Farang told the Wall Street Journal, "He will help open doors, connect dots, create opportunities, celebrate successes, and advance the overall agenda of the agency wherever possible."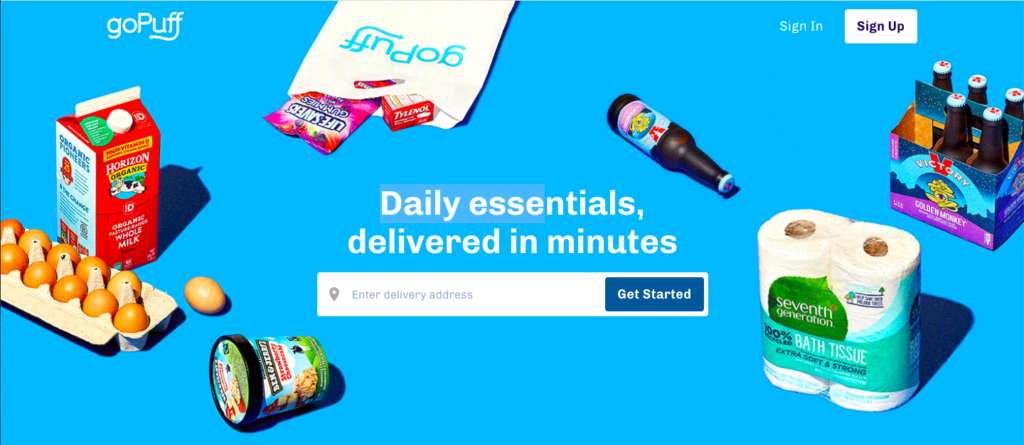 The Creative Power of Diversity
In reviewing this story, Fox Business reported an important fact: according to a September report from the American Association of Advertising Agencies, Black creatives make up just 5.8% of the agency business...of whom 68% are working entry-level or admin positions. The statistics for Asians, Latinos, and other minorities are similarly depressing. As we at M.AD have been declaring for years, it's abundantly clear that the advertising world is missing out on a plethora of powerful voices.
At a time when the United States is continuing to grapple with the implications of racism, exclusion, and bigotry, it's never been more important to acknowledge the moral imperative to include the voices of everyone in important conversations. And it's never been more radical to focus on the overwhelming power that comes from embracing diversity.
Research supports that claim. For example, last year, NPR profiled social scientist Adam Galinsky—whose research has shown a diversity-creativity connection. According to Galinsky's studies, those who build deep connections with individuals from other countries tend to score significantly higher on accepted general creativity tests. It's just one example of how science is bearing out an intuitive connection: those who take the time to embrace various influences tend to reap the benefits of more valuable creative connections. With so much of creative thinking (and idea generation in general) based on the work of pattern recognition, it's really no surprise.
You can see that line of thinking in Omid's approach to the business. He says their aim is "to help create a more equitable world, but also on the thesis that diversity is the ultimate competitive advantage for culturally disruptive creativity. That was the genesis and premise."