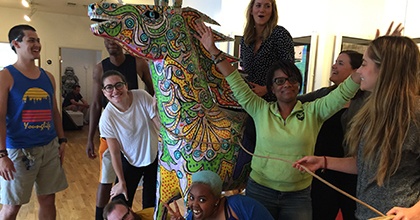 Two Creative Spirits and A Unicorn
Miami Ad School welcomes Portfolio Center into our global network.
Q: Why on earth did you, the co-founder of Miami Ad School, give Portfolio Center a unicorn?
Pippa: I actually graduated from Portfolio Center. That's where I learned art direction. Now, many years later, I'm excited that Portfolio Center is joining Miami Ad School's global network of 14 schools. Portfolio Center students can study at Miami Ad School locations around the world and participate in our global internship program. Miami Ad School students can take classes and intern in Atlanta, Portfolio Center's home. There are new opportunities for everyone.
Q: OK, but why a unicorn?
Pippa: That's easy! Everyone knows unicorns are mystical, beautiful animals with magical powers. All throughout mankind's history these lovely creatures have done wonderful things like appearing out of the fog to save princesses or turning water into pure, fruitful, life-saving nectar. Unicorns know right from wrong and can determine guilt or innocence. The unicorn's voice is sweet and delicate and their hooves so light they won't disturb a leaf or an insect.
This gift unicorn is even more magical because it was painted with symbols of love and laughter by a group of outsider artists in the North Georgia Mountains. Created for the wedding of two of the artists the creature celebrates the coming together of their creative spirits just like the joining of Miami Ad School and  Portfolio Center.
The Portfolio Center students say that at night, when everyone leaves the school, the unicorn is in the lobby. In the morning, when they come for class, the unicorn is often in a different place in the school. I like to think the unicorn is lonely and looking for them.
Another part of unicorn legend has it that if you kiss one you will be rewarded by a dream of extraordinary ideas. If that doesn't happen, perhaps you kissed the wrong end!
Apply to Miami Ad School or Portfolio Center and learn to come up with magical ideas and kiss unicorns.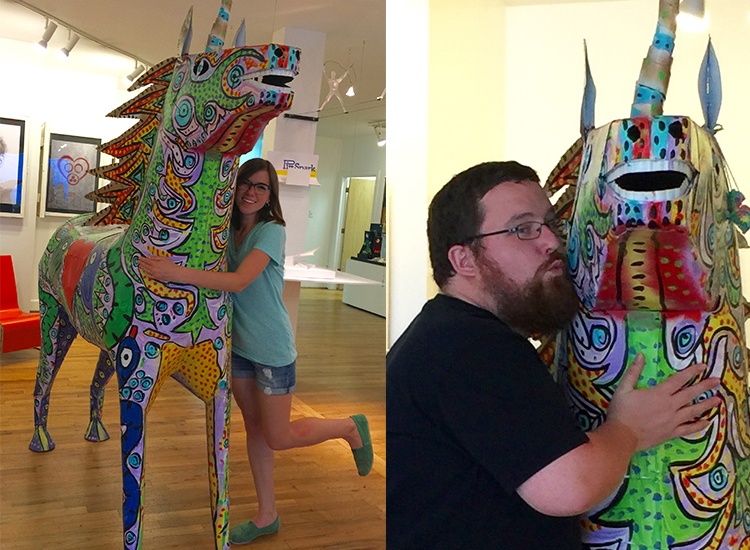 (Music Credit: Frank Garcia, Miami Ad School graduate)