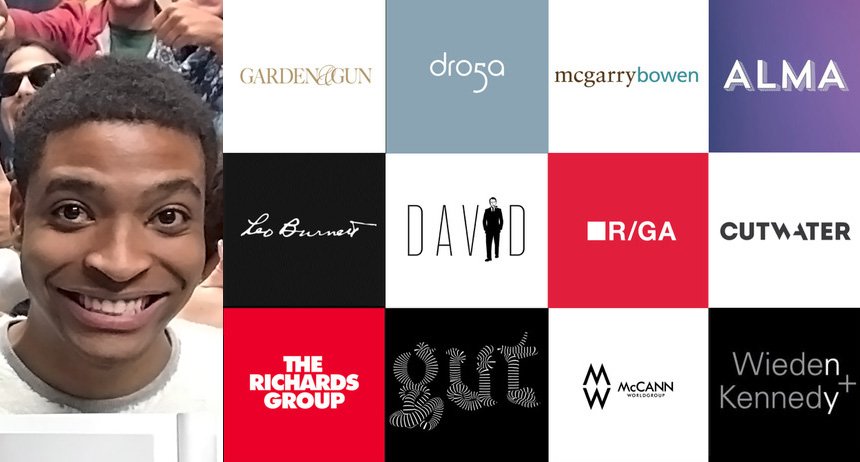 Where Do You Want to Work?
Here to Help You Land the Job Of Your Dreams
Through Miami Ad School's internship program Kadeem Roper interned at agencies in Prague, Toronto and New York. When he graduated Leo Burnett hired him as a copywriter.
Here are the most recent Miami Ad School graduates and where they work.
Many of these new hires met their future employers at one of Miami Ad School's Portfolio Reviews. Some were hired as a result of impressive internship performances and some by teachers who knew they had spotted someone they wanted to work with. Still others found their opportunities via the Job Leads for Life program that provides graduates with hundreds of job leads every year—at all industry levels—throughout their careers.
Megan Plevy • Junior Copywriter
R/GA, New York
Anastasia Lara • Junior Account Planner
DAVID The Agency, Miami
Jorge Valdez • Art Director
Marca, Miami
Lauren Solberg • Art Director
YR, Miami
Wonsik Cho • Junior Account Planner
GUT, Miami
Matthew Ta • Junior Art Director
ARGONAUT, San Francisco
Hampus Elfström • Creative
Uncle Grey, Copenhagen
Oscar Gierup • Creative
McCann, New York
Diana Freidman • Art Director
Wieden+Kennedy, New York
George Loftus • Copywriter
Michael Patrick Partners, San Francisco
Brent Flentje • Content Strategist
WONGDOODY, Seattle
Vicky David • Art Director
Cutwater, San Francisco
Belén Márquez • Art Director
Droga5, New York
Gabriella Cappelin • Junior Art Director
Alma, Miami
Kristina Samsonova • Junior Art Director
McCann, New York
Kadeem Roper • Copywriter
Leo Burnett, Chicago
Charlie Fuentes • Art Director
The CSI Group, Montvale, NJ
Victor De Jesus • Junior Copywriter
Heat, New York
Danielle "Ama" McKinley • Brand Planner
The Richards Group, Dallas
Carolina Skarupa • Designer
Garden and Gun Magazine, Charleston
Nellie Santee • Copywriter
DAVID The Agency, Miami
Rebecca McAfee • Senior Strategist
mcgarrybowen, New York
Max Anderson-Goldstein • Copywriter
Grey Group, New York
There are three ingredients in Miami Ad School's job-placement secret sauce. First is the environment: 16 locations around the globe that draw together the most creative students around to collaborate in the pursuit of creative careers.
The second is experience Miami Ad School's internships are unparalleled. 852 internship opportunities per year as of the date of this post. Copywriter Kadeem Roper, who was just hired by Leo Burnett in Chicago, is a great example. He took full advantage and is graduating with a year's worth of experience at YR in Prague, Toronto's john st., DDB in Berlin and Ogilvy Mather in New York.
The third is your network. You'll graduate with a LinkedIn profile chock-full of valuable industry contacts—faculty, guest speakers and your intern colleagues and supervisors among them.