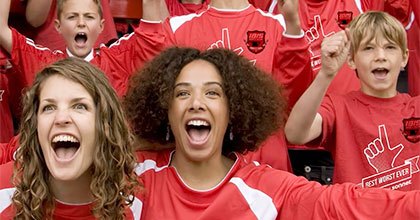 You Too Will Have Award-Winning Work in Your Portfolio
It's easy to be intimidated by all the award-winning creative work out there. The thing to remember is that all those superstar creatives were newbies once upon a time.
As an aspiring creative, viewing all the award-winning work online can be, well, kind of scary. You want be that creative who's winning awards and whose work is going viral. But how do you get there? How can you become the award-winning creative you want to be?
In our 25-year history, 8,000 graduates have proven that you can go from "noob" to creative genius. They all started with desire and a dream but they needed a place to develop and thrive—Miami Ad School.
"The expert in anything was once a beginner."

–Helen Hayes
You'll create award-winning work that will get you national and international exposure. Work that will get you noticed and—more importantly—get you interviews so that you can land a job you'll love. Isn't that what it's all about?
Here's some fresh-from-the-judges-table, award-winning work from the 2018 awards season. Yes, you too can create work like this. You can gain the skills, build the confidence, and meet the people who will inspire you. You can do it. All you need to do is get started.
Sonnet Insurance– "Best Worst Ever" • Gold Winner, 2018 One Show Young Ones | Belen Aragon, Hannes Rath and Boreum Kim; Art Directors and John Speer; Copywriter
Adidas– "The Striped Stumps" • Gold Winner, 2018 Clio Sports Awards | Sanjana Ranka; Art Director and Kalle Wanhainen; Copywriter
Sonnet Insurance– "Peace of Mind Registry" • Gold Winner, 2018 One Show Young Ones | Marina Ferraz, Rebecca Friedman; Art Directors and Emily Kaufman; Copywriter
Moleskine– "Imagine" • Gold Winner, Golden Award of Montreux | Stefanie Berkmann, Boris Schreurs; Art Directors and Davide Cocchiara; Copywriter
Adidas– "Adidas Atmos" • Gold Winner, Gold Winner, 2018 Clio Sports Awards | Runda Dong, Ela Kallonen; Art Directors and Maddie Rosenberg; Copywriter
Adidas– "Oxy Courts" • Gold Winner, Golden Award of Montreux | Ope Aluko, Felix Ebell, Christophe Lefevre-Henzel; Art Directors and Aditya Sunilkumar; Copywriter