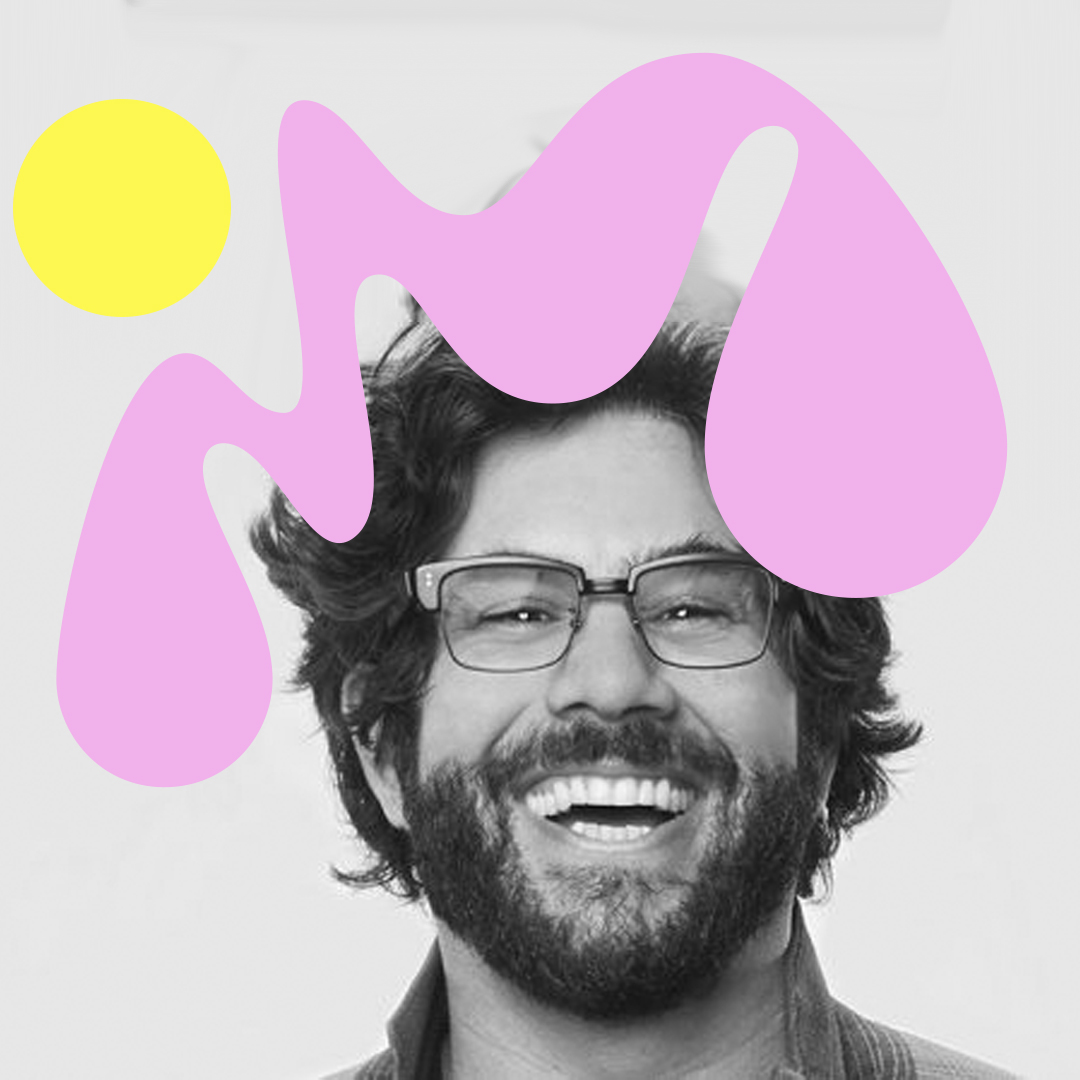 The Life of a Copywriter: An Interview with Adam Reeves
By Evan Soloman NYC
This entry is one in a series of interviews conducted by M.AD graduates with creative leaders around the world. For more in the series, check out similar interviews with Jenny Lam or Rodrigo Jatene.
---
Evan: How did you first hear of M.AD, and what made you choose the school?
Had one credit internship at a company in public relations in Binghampton. Someone handed me the brochure for the school after being there for a few months. Thought of joining because I thought it would be cool to be paid to write jingles.
Evan: Can you elaborate on the Emmy you won?
We were nominated for an Emmy for a video we made for Adobe Photoshop. It had all the hallmarks of a good film: interesting to watch, good story, great soundtrack (it was Aerosmith). It was filled with art from Adobe's social network, created by normal users. The alchemy of picture, words, and music is where the magic of film lies. I'm proud not only because it was a great film, but it was created as a solution to a brief. It was to celebrate 25 years of using Adobe Photoshop and change its negative perception of people just using it to make fashion pics look better.
Evan: What's your experience making film in general?
I've made over 100 hours of commercials that you wouldn't notice. Within that, there's 10-20 min of awesome material. Being on film sets and part of film production is one of the best parts of my job. It allows me to work with tons of different people and experience different things, like working with famous people to blowing stuff up to working with animals. I still like making big ideas. Filming day is like game day; there's a lot of preparation that goes into it, but must go with the flow.
Evan: Out of all the projects you've worked on, what's your favorite?
The Adobe Photoshop project was a high mark. So was an HBO project I did earlier in my career and was the closest I got to pure film and making it all about the story. When you like the respective brands and products, it's a lot easier. The work for the NBA over the years was not the best creatively, but was great to work with those people.
Evan: Out of all the places (agencies) you've worked at, what's your favorite?
Goodby. I worked there twice and it has one of the best creative cultures in the world. It's impressive that a company of its size can have the culture mixing camaraderie, intensity and intention of purpose to make great work. It's the best day to day work I've experienced. Also a company called Kessles Kramer out of Amsterdam. Got the internship through the school. They operate on another level and it's very small. When you work at big agencies (in terms of scope of work and clients), they operate differently than small boutiques, but both can be great. I would like to work in a boutique shop again at some point.
Evan: What's your favorite ad campaign in general?
The Think Different campaign was a great mentality campaign that's still drilled into my head today. A mentality campaign begins an ad campaign. "Think Different" goes into every aspect of their product from the retail store to the box the product comes in. Apple's campaigns even today are still interesting. We strive to make campaigns with legs. Another oldie but a goodie was "I Love This Game" by the NBA. I like the spirit of campaigns that talk to people in a positive way. A lot of ads now have become one-off pieces of content and less about what's great about the product and more about just enjoying the ad. Nike's ads are of course amazing and they work with the best athletes.
Evan: How do you think your job has morphed from copywriting to now?
The morph has gone from a pure creative to a creative manager or leader. I try to make it about making work as much as possible, but it's more about leading the team and getting the right work to get purchased by the client. There's a lot more responsibility for me to protect the ideas and my team and also to create room for the team to do their thing. Now my conversations are about how we can do stuff and why, but for the first 10 - 15 years it was mostly about the work. For the first part of your career, you should focus on showing everyone how good you are.
Evan: What do you think is currently more marketable in today's market: Copywriting or Art Direction?
I'm biased because I'm a copywriter but I think they are both marketable but in different ways. Visual content is amazing and all my favorite movies are very visual but they all start with great ideas. If you're a great art director, you will always have work. There are so many channels to fill and there are so many people who need that. Thing about copywriting is many people can say they do it and think they do it well, but to come up with great ideas or strategic thoughts and turn it into a great hook or phrase is a great skill. Brands and companies will always need copywriters to find their voice and help marketing departments find their brand and a purpose. From that end, copywriting is high end marketable. In terms of the small copywriting stuff, like headlines, we have seen a shift with companies turning inward towards AI. For the best people, there's always going to be work on both sides. There's probably more art direction work out there, which isn't directly related to marketability.
Evan: Between Art Direction and Copywriting, Which gives you more of a leg to go up the ladder on?
Titles are different at every agency. Looking at the process, 80% of the conversations we have are about the words. We talk a lot with the clients, which usually falls on the writer side of the brain. All documents are words. We go into lines and slogans, then we go into scripts and headlines. Visual ideas come into the process and a lot of the time are the best answer to whatever the client is asking for, but a majority of the process is words. The copywriting side is more intensive and sets up work for the art directors. There are art directors that lead teams and communicate well with the client too, though. A lot of times we work together because the art direction informs what we want to do, but in terms of what you're talking to the clients about is the words.
Evan: What do you think is the key to success in advertising?
Persistence. There's a cliche for you. My friend and mentor Jeff Goodby recently told the whole world in his lecture that it's the business of rejection. You come up with ideas and say "I've seen that before", you show it to your partner and they say "Nah I don't like it", you show it to your boss and they go "They'll never buy that", you show it to the client and they say "That's crazy", you show it to the production company and they say "It's too much", and that's assuming all the things go forward. You're often being bested and beat by others in your agency or other agencies and clients have their own ideas. You get re-briefed often because of various reasons. There's an awful lot of rejection, especially when starting out and learning your craft and the business. You need a thick skin. You need to be a good person to the core. You need to work on your skillset tremendously. You need to be in the right rooms for the right opportunities.
Evan: What do you think is your biggest failure and why? How did you get back on your feet?
Personally, I have lots of failures, like losing pitches and being asked off business. I'm lucky in that I haven't had a huge failure. Well maybe that's lucky, maybe it's not. Any time I come home with a piece of film or something that isn't quite working, that feels like a failure because you work so hard to get one idea on the table and organize everybody. There are a few times where I didn't quite come home with the goods and I felt like I got a lot of egg on my face. There are times when you feel like your team did great work and you feel on top of the world, and it's a rude awakening when you're told you're the second choice.
Evan: What is your greatest success and why?
Another cliche. I'm spending a lot of time with my children, and they seem like lovely people, so that's a success. Being able to leave a place like Goodby and being welcomed back is one of my successes. Not a particular piece of work but knowing that the 5 years of hard work I put it was recognized to the point that they wanted me back. Also the few times where everybody told us we couldn't do the thing we were trying to do and we did it and everyone says it's amazing feels great. We did a Dali VR campaign, where you could tour a Dali painting with virtual reality. We learned how to do it on the fly, and built it all in house. People were learning new skill sets and we were buying new computers.
Evan: Makes me think of Lebron. You left and came back and they welcomed you back.
If you made that the headline of this, that would make me really happy. I've actually gotten to work with Lebron, and it goes to show the amazing experiences that this job can provide, which gets lost in the day to day.
Evan: When do you get time to relax? Do you? What's your work-life balance like?
I make time for life. I meditate. I exercise. I play with my kids, my family. I think you need to do that. I would've answered that differently 15 years ago, even 5. Having kids changes your perspective. Having this job is different than being in the throws of the day to day creative stuff. I approach it as I'm always working and I don't always have to be at the office freaking out. Early in my career, I was able to put all my energy into working and wasn't very interested in relaxing. I still went out and had fun, but a lot of my energy went into earning those opportunities. Now I still put my energy into the work. I just do it more surgically. I worked for a guy named Michael Scarborrow, the ad school set me up with him after I graduated, and he used to walk around and tell us to stop writing. We had to have things to write about. He used to tell us to work in intense bursts of creative energy. When you're writing, nothing else in the world exists, but you don't always have to be writing. This is what I'm talking about with creative culture. The best companies understand that being yourself, having humor, humanity, camaraderie are important parts of making great creative work. In those big moments, you put your all into it. When production is going on with strict deadlines, I tell the family I'm going to be late, but when I'm not, I cycle down. Understanding when to put in the effort is just as important as putting in the effort.
Evan: How do you keep the creative juices flowing and avoiding writer's block?
Like my friend in Boston, I like to ride my bicycle. I meditate. I play the drums. Those three things help me get out of my head a bit. When you do those things, your brain kinda checks out of what exactly you're doing and you transcend. Those physical activities clear the head. I like to watch films and read a lot of books. I'm old in that way. Not all the films I watch are in theaters. The trick is we're all borrowing feelings so borrow from the best sources. I go to art galleries and museums. I try to see the best films and the best books, and not just fiction. I try to hang out with young people and diverse points of view from my own. It's one of the advantages of being at an agency.
Evan: How do you think advertising has changed since you left school?
In some ways it's changed a lot. I don't think we knew what YouTube was and certainly didn't make work for instagram, Snapchat, or TikTok. We didn't think you could put a film out and millions of people could watch it without paying for it. The delivery mechanisms have changed a lot. I was going to say taking photography class isn't as relevant, but I'm not sure how true that is, depending on one's own artistic level of education. Education helps. If you want to elevate in the business, you have to have a good visual sense, even as a copywriter. Even if you're not driving it, you need to know when to get out of the way. Advertising has changed a lot but the core has stayed the same. Having ideas that showcase something in a new way to stop them in their tracks has not changed. Just the form of it has changed, from print to digital media. There's also a lot more seats at the table. Diversity has increased a lot in the industry. It's changing the work for the better.
Evan: What is your "I made it" moment?
I remember when we made that HBO project, which was 30 pieces of film in a cube and we were working with all these amazing directors. I distinctly remember looking at my partner, we were at universal studios, Dr. Seuss Whoville was behind us, as was the plane from Lost, and we were submerging a mime in an ice cream truck into the lake in the middle of universal studios. I turned to my partner and said "It's never going to get better than this". That was the coolest moment. It wasn't when we won the award. We had worked so hard to come up with that stuff, sell that stuff, to work against our team and friends in the agency, and with all the rewrites. We put in so much effort and for it to be so much fun. I just felt like "Holy shit I could've never done this on my own".