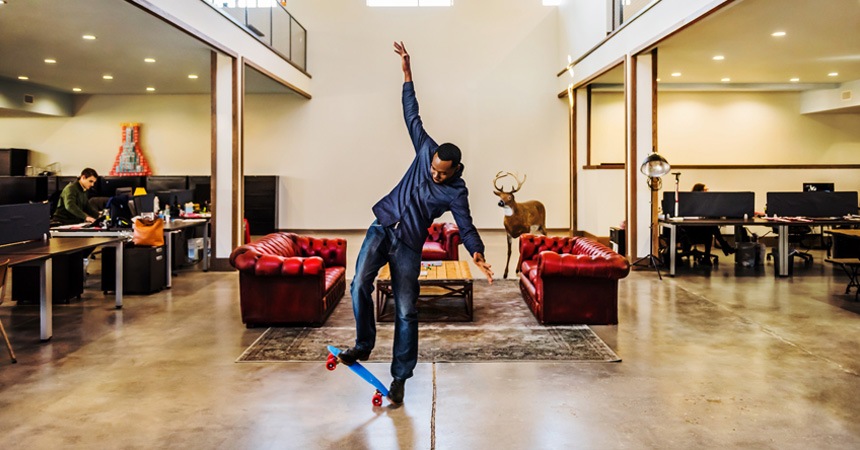 828 Internships Per Year and Counting
Atlanta Creative Shop Chemistry Joins the Roster of Ad Agencies, Design Firms, Social Media Platforms and Brands Partnering With Miami Ad School to offer our students real-world experiences.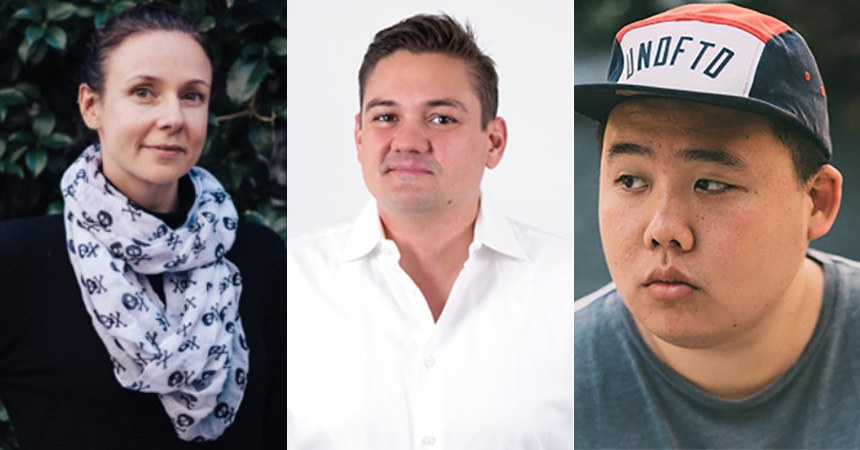 Chemistry Executive Creative Directors (and Miami Ad School @ Portfolio Center grads) Anja Duering (AD) and Carl Corbitt (CW) and Senior Brand Strategist David Choe.
Pippa Seichrist: The agency has a great name, Chemistry. Do you have a favorite element?
Anja Duering: Ha! Great question. At Chemistry we focus less on the periodic table and more on the fundamental elements of our clients' brands. What single part of them defines their story. For example, my defining element would be traveling. I love being on the go, living among and experiencing different cultures. Before I had kids, I would pretty much move every two years, somehow opportunity would come knocking and I had to answer it. This way I lived in Germany (ok, not by choice, I was born and raised there), Italy, Hong Kong, Amsterdam, and in the US (Los Angeles, Atlanta, Boston, Miami, and Boulder).
PS: Every agency is different. What sets you apart?
AD: Everyone gets to work on pretty much everything. There are loads of opportunities. Just come and grab them. Egos can be parked outside, no time for that, we are all in it to make the best work we can and push the boundaries, together. Prima donnas just slow us down.
Carl Corbitt: We all work really hard to help our clients say and make interesting things. Sure some of these things run as commercials or on a billboard. But our goal isn't to make a billboard ad. Our goal is to make something interesting.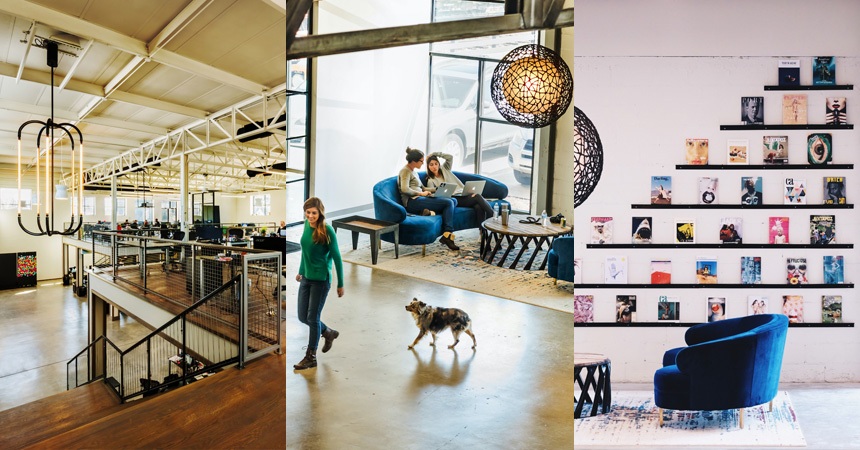 Chemistry's West Midtown Atlanta digs.
PS: Can you tell us about some of the clients you work with?
AD: The work speaks for itself. Here are some examples:
Flower Child: It's a great restaurant concept that is pretty new and needed a brand story and look. We're in the middle of organizing photo shoots—lifestyle and food—for the launch work.
Atlanta United: They are on their way to the playoffs again this year, leading the category, so this will be huge. We are just about to kick off this project, update the look and come up with ideas to spread the excitement.
Red Bull Music Culture Clash: We're in the middle of finalizing the new creative for this year. Hint: we are working with FRKO this year.
Atlanta Botanical Garden: Guess who is getting a new website that will blow your mind. Yep.
Chemistry: We are in the middle of rebranding ourselves. Probably the hardest client I have ever worked on.
David Choe: Some of our favorite work… Obviously, our work with Atlanta United is some of our best, and we are so proud of what we've been able to do in that partnership. It's awesome to have a brave client, willing to take the risk.
See some of their creative work here.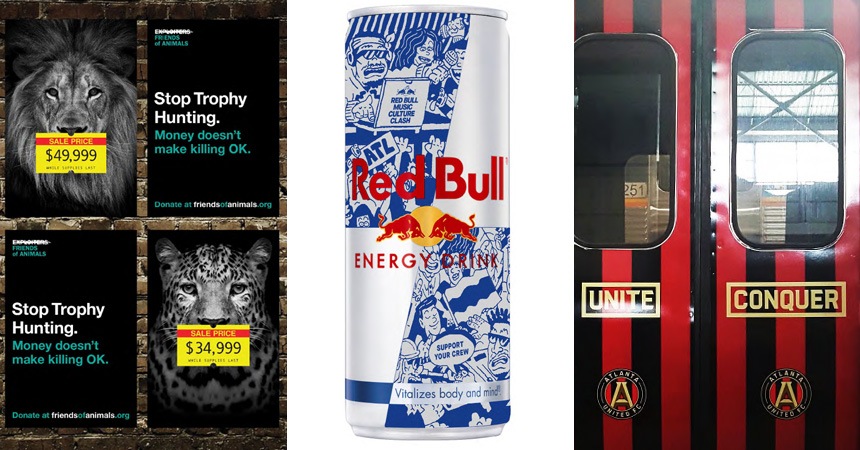 Some of Chemistry's work for Friends of Animals, Red Bull Music Culture Clash and Atlanta United.
PS: We are so excited to be partnering with Chemistry. What are some examples of the projects students will get a chance to work on?
DC: The students will be entering into a lab in the truest sense. We are always experimenting and trying new things out. From creative strategic platforms to shooting content, the students will be able to see all that it takes to move a brand forward.
AD: With Atlanta United heading to the playoffs again this year, finalizing work for this year's Red Bull Music Culture Clash, reworking on our own identity and the new website for Atlanta Botanical Garden, our lab is going to be plenty busy. Oh, and we're working on rebranding the Hawks.
PS: What are the most important qualities for young creatives to have?
AD: Be open minded, self-motivated, and driven. Love what you do and do it well.
CC: Create solutions to problems. Some people meet a problem and stop and wait for someone to tell them what to do next. Great creatives meet problems and create new ways to overcome them.
AD: A good example is if you need to find an image, but can't find the right one? Well, take it into your own hands and have a little photo shoot, take the initiative and make it happen. This doesn't mean we aren't there to help you, but if there is a problem, come up with solutions. When it comes down to it, that's the job of a creative.
PS: Who at the agency will mentor the students and what are some of the important skill sets the students will learn?
AD: Carl and I used to be students at Miami Ad School @ Portfolio Center, we actually met there. So, it has always had a special place in our hearts and we always try, time-allowing, to teach, critique or mentor interns.
I can offer 15 years of experience in getting people talking about brands with disruptive work. I started my career in a converted broom closet at Arnold Worldwide, then grew some chest hairs at CP+B, where I art directed the Cannes Grand Prix-winning GTI "Fast" campaign for VW, helped develop the Corporate Identity Standard for the Geek Squad and Sprite brands, along with work for Burger King, Miller Lite, Coke Zero and Nike before becoming VP/ACD on Volkswagen and Geek Squad.
After this I worked on global campaigns at Wieden+Kennedy in Amsterdam, and then returned to the States to work with my friends at Goodness Mfg. and 180LA and now Chemistry, working closely with my friend and former Portfolio Center teacher Chris Breen.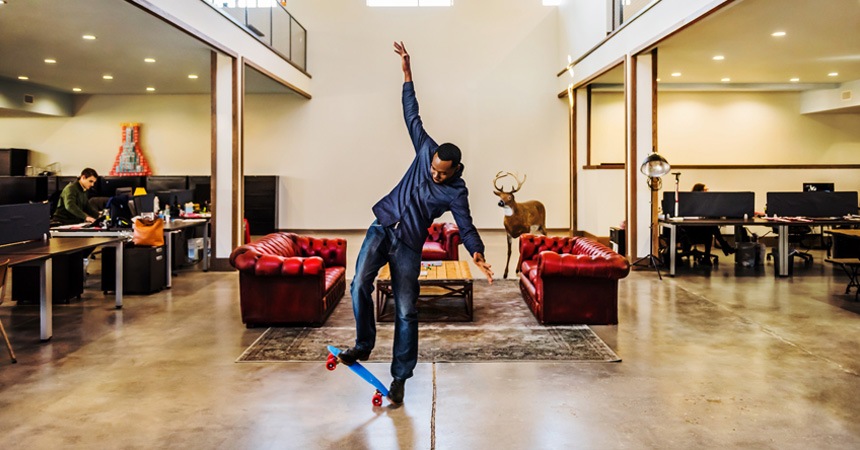 A staffer blows off a little steam.
I started my career as a designer and love anything visual. For me design is a language that I use to tell a brand's story with. I am into the details and the workings of things and love driving you nuts with it.
CC: Anja and I treat our students like we would anyone else in our creative department. We expect a lot, but we strive to create opportunities for great work to get made. One of our recent students just won six Lions at Cannes this year. So, we must be doing something right.
AD: Every day has potential at the lab at Chemistry. Sometimes you will be part of an impromptu photo shoot as a model (maybe even a hand model) or just helping out. Other days you might just help me on an urgent request from a client. There will be donuts from time to time, since our head of production has a sweet tooth (photographers/directors/production companies will come in to show their work, often carting a few dozen to curry favor) and you might be sent into the field to interview people or take pictures.
PS: Besides the work you create, why do you like to come to the office every day?
DC: I come to the office every day because I feel that I'm playing a part in building something special. Yes, we are an ad agency, but more importantly, we are contributing to the vitality and the life of our city.
AD: Free candy, free coffee. What else? JK, definitely the people, loads of inspiring people with amazing stories to tell. Just ask Choe what he does besides strategizing (hint, it's food related) or ask Charline if you can use her hot water maker to make a tea and discuss how France is doing in the World Cup or what font she is into today.
CC: We are lucky to work with people who honestly care about each other and work to make the impossible happen. And that's pretty special.
Come work in advertising before you work in advertising.
Learn how to apply.
BONUS: See Anja and Carl speak at Miami Ad School back in 2011.