Are You a Promising Strategist Who Could Use $1,500?
Enter your genius strategy and inspiring brief in the "Pick of the Litter" competition.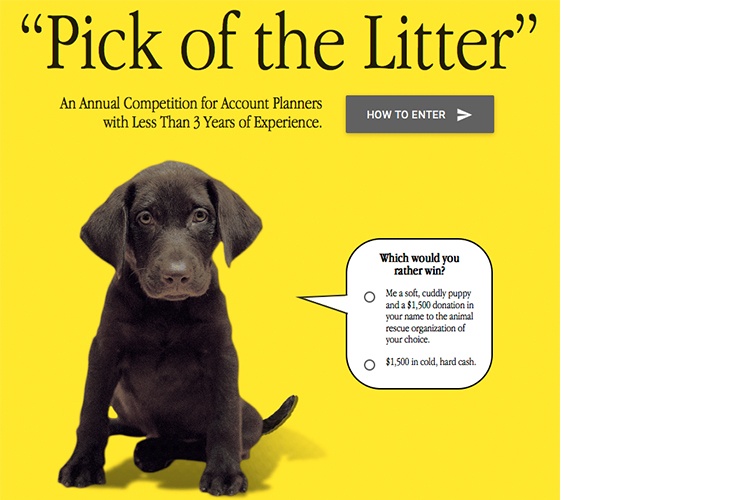 The account planner with the winning case study receives $1,500 and has the opportunity to present on stage at the 4A's Strategy Festival on October 4th. Money & recognition…two things all young strategic thinkers need as they start their careers.
Why in the world is the competition called "Pick of the Litter"?
The winner of the competition gets to choose their prize; $1,500 in cold, hard cash -or- a soft, cuddly puppy and a $1,500 donation in their name to the animal rescue organization of their choice. In the 15 year history of the competition only the first "Pick of the Litter" winner selected the puppy. The winner had two boys and they wouldn't let Dad come home without the puppy! Lucky, the prize pup, enjoyed his new home with a big fenced in yard.
Miami Ad School's Boot Camp for Account Planning sponsors the competition.
The 12-week strategy training program (offered in Miami, New York, San Francisco and soon Atlanta) is a one-of-a-kind opportunity to launch your career in account planning. Each week your instructor is a different strategic expert from the top agencies and companies in the country including: Droga5, Ogilvy, Google, 360i, Big Spaceship, R/GA… You will be teamed with an art direction / copywriting team and work on a live brief. There are over 1,000 graduates of the account planning course working all over the world. The school has an extensive placement program with agencies contacting us daily with their hiring needs.
Look! The judges are really smart.
Michael Fanuele, Chief Creative Officer, General Mills
RP Kumar, EVP, Global Director, Strategic Planning, Insights and Research, Ketchum
Christopher Owens, Brand Planning Group Head, The Richards Group
Oliver Gibson, Strategic Planning Director, Grey Group
FIND OUT HOW TO ENTER NOW!
If you have questions email: info@miamiadschool.com