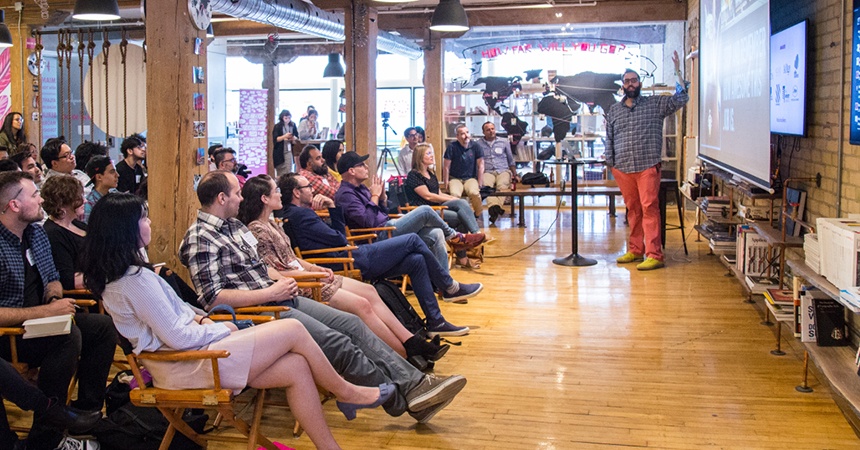 Confessions of a Creative Director
Ever wonder what it takes to become a creative leader at a world-famous agency? We sat down with Patrick Maravilla – a writer and creative director with an incredible journey to the top.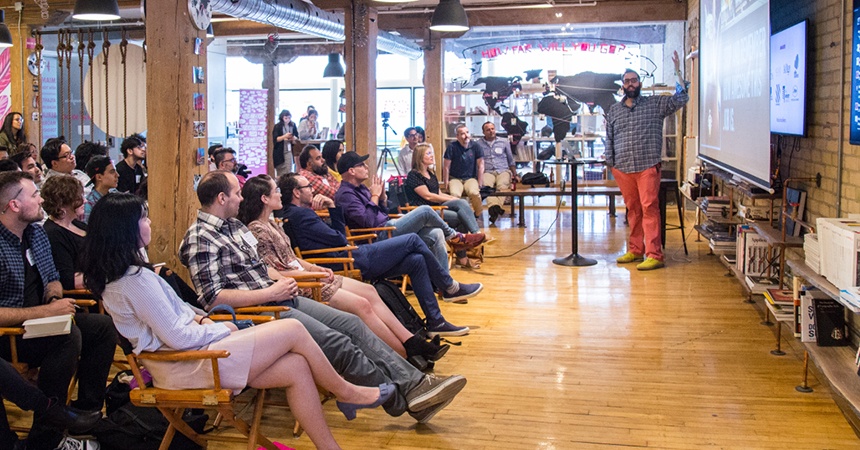 Patrick Maravilla captivates the crowd at a packed Industry Hero Event. Photography by Andrew Pieroni.
A Little Bit About Patrick
Patrick has an incomparable skillset that has led him to great success in his creative career. Growing up in Alaska, he's had a pretty full life and has gone from comedian to copywriter, creative director and SVP. Claiming to have once bought Tom Morello a drink, then bragging about his Guitar Hero winnings; Patrick is a new-age creative with lots of energy, wit and an impressive background. He can grow a beard that makes LeBron James' best friend jealous and he sold his first screenplay in 2013 (although he's still doing rewrites). Fun facts include teaching and performing improv comedy for 19 years and buying David Hasselhoff breakfast once.
Confession One: How I Got Into the Industry
An incredibly creative (and pretty humorus) mind, Maravilla began with a love for creative writing and improv comedy, but what kind of career could he make out of that? Advertising proved to be the perfect landscape for his creative output.
"I really wanted to be a creative writer and I was writing sketch comedy in college and then I found that there was a job that lets you write sketch comedy and then film it."
An avid supporter of the advertising industry, Patrick sees it as a place where are meets business.
Confession Two: Back to School
After graduating his undergrad, he was hired in New York, but decided to go back to a portfolio school after realizing he wasn't doing the work he truly wanted to do.
I wasn't able to do the kind of work I really wanted to so then I stepped out of the industry and went to an ad program/graduate course like Miami Ad School that was able to get me the networking and the portfolio I needed to take the next step up."


Confession Three: Mind Your Network
A network is crucial and in a dog-eat-dog environment, it's difficult to create the relationships you need to stay afloat. Maravilla shared advice for any new, eager and aspiring creative.
"When I got out of ad school I was super competitive—I wanted to sell every brief, I wanted to produce every commercial, I wanted to be the writer that wrote the headline that got into the awards annuals or I wanted to be the writer that wrote the commercial that did this or that—and I think that cost me. I missed out on a lot of good friendships and good relationships because of that. I had my priorities a little mixed up."
Confession Four: A Great Mentor
Mentorship is a crucial and incredibly helpful part of the industry, but how do you land the right one? Instead of zeroing in on just one person, Maravilla looks to everyone as a mentor.
"I try to learn from everyone—and I think creatives by nature like to feel they're appreciated (you do that from getting positive reinforcement)—so if you find yourself growing under someone and looking at things better and different, it's probably a good idea to stay close to that person. You should be able to learn from everyone and everyone should be your mentor. Even now I'm senior but I still look at people that I work with and way 'Oh, that's a good idea,' or 'Oh, that's a good way to do that.'"
Confession Five: Rock It in the Real World
Now, Patrick Maravilla is the copywriter and creative director for dozens of award-winning advertising campaigns including big-time Super Bowl TV commercials with stars like LeBron James, Paul Rudd and Seth Rogen. See some of them below!
"The Big Pitch" commercial for Samsung
The journey to your creative career awaits. Learn how to apply.
A version of this post originally appeared on the Miami Ad School Toronto blog.