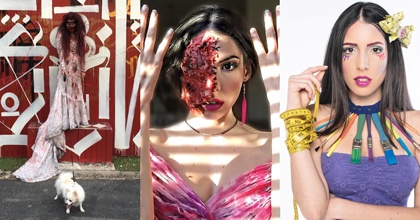 For a Zombie Art Director, It's the Best Time of the Year
Art direction student Janneth Carolina Rodriguez's alter ego Zoe the Zombie builds an online following of lovers of things creepy and gory. Here's a look at her latest short film.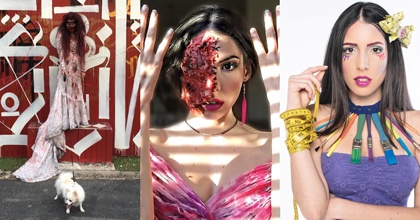 L to R: Janneth Carolina Rodriguez, Janneth Carolina Rodriguez and Janneth Carolina Rodriguez.
Janneth Carolina (Caro for short) is a fifth-quarter art director with a secret life. You see, she also goes by Zoe the Zombie and, as her nearly 9,000 Instagram followers can attest, she is the real deal.
As a budding special effects (SFX) makeup artist—specializing in the "gore" category—it's no surprise that Halloween is Caro's (and Zoe's) favorite time of the year. We caught up with Caro to discuss her new video Tinder and to get the "why" behind her bloody passion.
How did your fascination with Halloween and SFX makeup begin?
Caro: Halloween used to be the only day of the year when I could actually be myself. I had always planned to be a doctor. I was working on my undergrad degree in biology when I realized that Halloween was the only day of the year that I could actually do something creative. I would plan my Halloween costume throughout the year just so I could make that day count. I would base the character I wanted to create on one particular material (feathers, water bottles, burlap or whatever else caught my attention). From there, I would start planning the makeup. Every year, I would challenge myself to do more complex looks, which is what made SFX makeup so exciting to me. It is one thing to have the idea, but figuring out how to execute it and make it look real is what I'm really passionate about.
Why all the gore and horror?
Caro: I guess it all started with The Walking Dead. Before the TWD, I would focus more on fantasy characters, but then I realized that there was a big audience for gore and horror. One Halloween I dressed up as a zombie and it was a total hit, so I decided to create an Instagram account where I could start showing my work publicly. The creepier and gorier my work was, the more people reacted to it. That's why I love doing this.
How did you learn your craft?
Caro: I learned by doing. I experimented, trying out different materials and working with them in new ways. I would take a picture of a specific look and figure out how to replicate it and I use everything that I learned in school about human anatomy, but in a fun way!
Tell us about Tinder.
Caro: Tinder was a collaboration with fellow Miami Ad School art director Morgan Mcmurty and student film director Diego Vincentini. I wanted to create a video where I could showcase my SFX makeup work in a creative way. We literally had no budget for this film, so I used the materials I had on hand and made magic with them. I didn't use any prosthetics, everything was sculpted by hand, on the spot.
When you watch a horror film, you basically just want to get to the scary-creepy-bloody part. So, for this film, we added all the gore you could ask for right off the bat.  We based our idea on the hastag #tindernightmares—there's even and Instagram account by the name that has 1.4 million followers. Though online dating is very common today, the chances that you may run into some very strange and peculiar people are high. We tried to exaggerate that fear and add a twist to it.
Where can we see more of your makeup work?
Caro: You can find me on Instagram: @Zoe_thezombiefx
So, what will you be this Halloween?
Caro: I can't tell you that! I always keep it a secret until the day of. It's one of my rituals. People try to get hints of my costume but they hardly ever get it right. I usually post a picture to let people know the transformation is about to start and then surprise them with the final result.