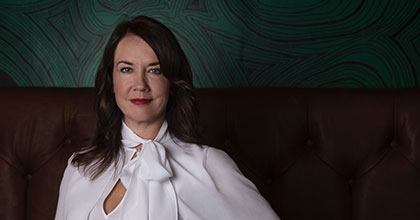 From Journalism Grad to Chief Creative Officer
Once a Newly-Minted Journalism Graduate, She Now Heads One of the World's Creative Powerhouses. Margaret Johnson, Chief Creative Officer at Goodby Silverstein Partners Gives Young Creatives Some Very Valuable Career Advice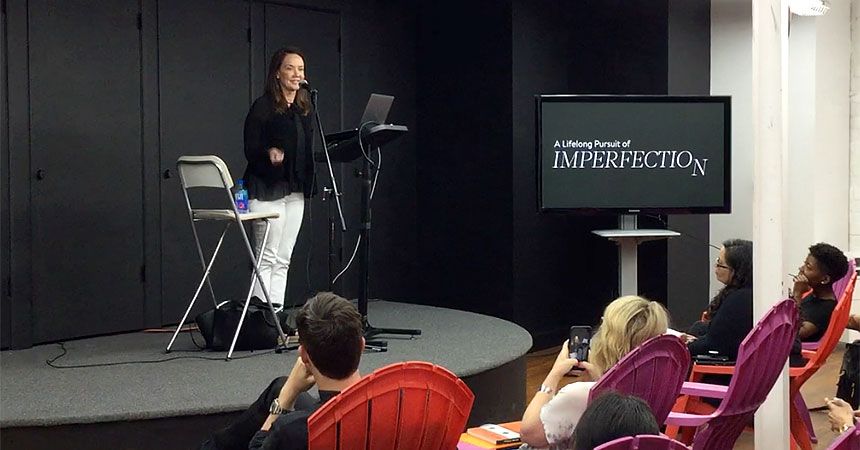 Goodby Silverstein Partners Chief Creative Officer—and Miami Ad School @ Portfolio Center grad—Margaret Johnson
Miami Ad School students in Atlanta were lucky enough to meet Margaret Johnson, Chief Creative Officer at Goodby Silverstein Partners. Margaret has been with GS P for 20 years and has been leading their creative department since 2015. She was named CCO in 2016; the first person to hold that title at the agency. And the best part? Margaret is also a graduate of the  art direction program at Miami Ad School @ Portfolio Center.
A Life-Long Pursuit of Imperfection
So what led Margaret to MAS PC? After earning a degree in journalism and mass communications from the University of North Carolina Chapel Hill, she took a graphic design course in New York City over the summer. This sparked her curiosity, but she didn't know what her next step would be. So she took a chance and did something unorthodox; she ripped a page out of a phone book listing Manhattan's advertising agencies and cold-called 50 of them.
In retrospect, the plan was genius. When a receptionist answered the phone, Margaret asked for anyone in their creative department, then asked that person a simple question: Would they hire a graduate from Portfolio Center or Parsons School of Design? Ninety-nine percent of the time the answer was Portfolio Center.
Armed with this knowledge, she applied to Portfolio Center and was accepted into the art direction program. Margaret was in for quite a ride because she never realized (at the time) how interesting working in advertising was going to be. "Creativity is messy," she says. "There is nothing linear about it. The way you get to ideas is really complicated and it's a messy, messy thing, and you find that you end up being this kind of trapeze artist, jumping off a ledge and taking risks in your day-to-day life as an art director or a copywriter."
Creatives get paid to have fun and inspire people. Here are her biggest insights and some advice for students:
Someone Will Always Pay You More
Taking the highest paying job after graduation might seem like the logical, sensible, and practical thing to do. Naturally when you're suddenly responsible for yourself, the focus becomes on being able to live and pay your bills (and student loans) so going after the job offering more money is very tempting.
Margaret suggests, however, that you instead truly consider where you'd be a better fit. This is how she ended up at her first job with The Richards Group in Dallas, Texas, turning down a higher salary at BBDO in New York City. At The Richards Group she joined the Research and Development Creative Unit and worked on the the campaigns for video games Doom and Quake. Consequently, people in the industry began recognizing her work as she gained experience and stood out, whereas otherwise she might have become lost in a sea of other talented creatives.
The takeaway? Someone will always offer more money to try and persuade you to come and work for them, but you must consider whether or not it will further your career. The money will come a lot quicker when you have a portfolio full of work you believe in and are passionate about.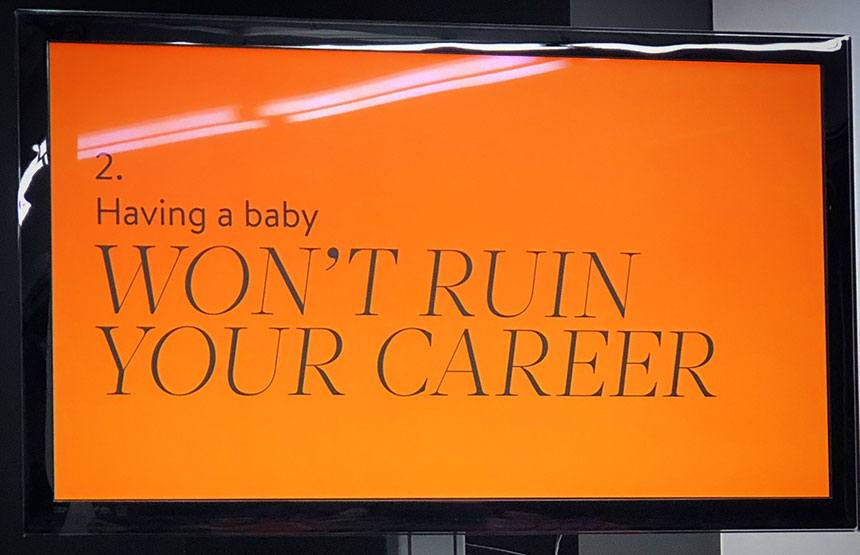 Having A Baby Will Not Ruin Your Career
Margaret had always been a hard worker, never shying away from any task and taking on the hardest projects. She kept her head down, and often arrived early and stayed late. This changed after she became a mother. Unlike what most people would think, her career took off and escalated faster because being a mother forced her to learn to make decisions more effectively, an essential quality for a leader.
Opposites Attract
A big believer in opposites working together, Margaret is convinced the most compelling work comes from teams with opposing views. While it comes with it's challenges, it leads to better work because some of the best ideas are born from that friction and tension. It's also likely that neither person would have come up with them on their own individually.
"The most interesting work comes from teams that have very different perspectives on things."
–Margaret Johnson
The Serious Business of Play
She shared a thought-provoking story, one that Jeff Goodby had told her. David Ogilvy, founder of Ogilvy and Mather, once asked Jeff how many hours he spent writing each day and Jeff answered 10 hours. David told him he needed to spend two hours a day writing, and the rest of the time he needed to be collecting information to write about. Margaret found this fascinating since part of a creative's job is to soak up experiences like a sponge then turn them into something.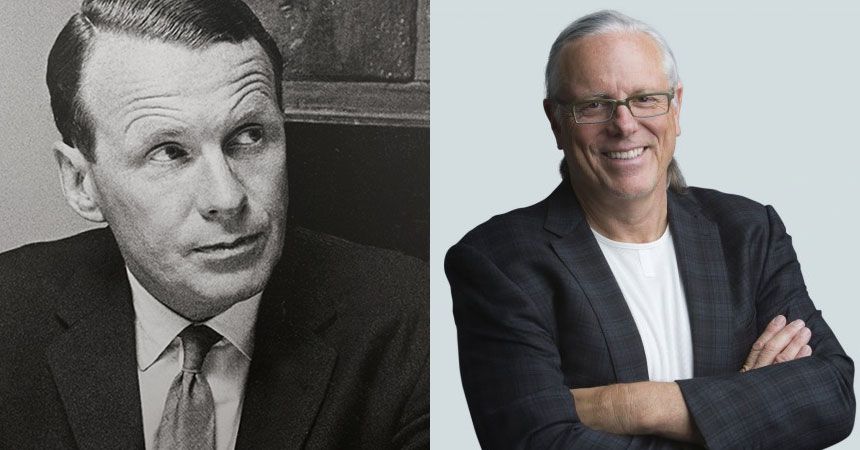 We Have To Lift As We Rise
A funny thing happened to her when she became partner at GS P. Susan Credle and Margaret Keene wrote her letters welcoming her to the club of top female creatives. When Margaret told this story at a women's retreat, another attendee asked her how many of those letters she had written. She says she learned a valuable lesson, "Don't become so consumed with yourself in your own career that you forget everyone else." Margaret realized she would need people who believed in her, and who wanted to support her in creating amazing work.
That night, Margaret wrote 10 letters to people. "You need people with you and you also need to cultivate the next generation of creatives," she says.
Firsts and Labs
GS P talks a lot about firsts, encouraging people to 'fail forward.' They've had a lot of success creating things in-house especially through a group called GSP Labs. Labs is a mix of animators, engineers, artists—most of them coming out of schools like Miami Ad School, or sometimes they've been stand-up comedians or other artists who don't fit in traditional art director or copywriter roles. Labs gives them the opportunity to work in the creative field anyway.
Several projects have come to fruition that began in Labs, such as the virtual reality video for the Dali Museum and Photoshop's 25th Anniversary video, which was done entirely on Photoshop set to Aerosmith's song Dream On. One of the coolest things about the Photoshop video was that they only had a couple of weeks to put something together, and they worked together to create it in-house.
Adobe Photoshop's 25th Anniversary Video
"Some of those constraints are what lead you to the most creative work," she tells us.
The Labs group is also responsible for creating an algorithm where they used Cheetos as pixels and photography, creating Cheeto art out of it with the hashtag #cheetosvision. The photos were put on billboards around Austin, Texas during  SXSW.
Stuff—Shot on Cheetos Vision
Embracing Pop Culture
Shortly thereafter, an idea for a Cheetos Museum arose from Instagram posts, where people had been taking pictures of Cheetos with distinct shapes. Suddenly there were powdery, puffy orange snacks resembling the Statue of Liberty, a duck, a boot, even one claiming to look like George Washington.
Cheetos Museum Case Study
Reimagine Television
"Television needs to be reimagined," Margaret said. People don't like advertising or being sold to, but they like brands especially those they can interact with, so one of GS P's strategies is to make their brands as interactive and entertaining as possible.
Goodby's Killer Doritos Blaze vs. Mountain Dew Ice Super Bowl Commercial
"Run toward the fire."
–Jeff Goodby
Run Toward Fire
Every year, Margaret attends the Sundance Film Festival, and at the suggestion of a friend, she saw The Hunting Ground. The premise of the film is that more college kids are sexually assaulted during the first three weeks of attending college in the U.S. than at any other time. This led her to create the campaign Unacceptable Acceptance Letters.
Letters takes on the "powers that be" fearlessly to protect the vulnerable. To do that, you need to run into the fire.
Unacceptable Acceptance Letters Case Study
Another campaign she worked on was centered around device addiction, where GS P teamed with Common Sense Media and Will Ferrell.
Her final thoughts to Miami Ad School students? "Be a rebel. Be a risk taker. You want to make ideas that change the world. Be the first to make something provocative. Don't worry about being perfect—because perfect is boring."