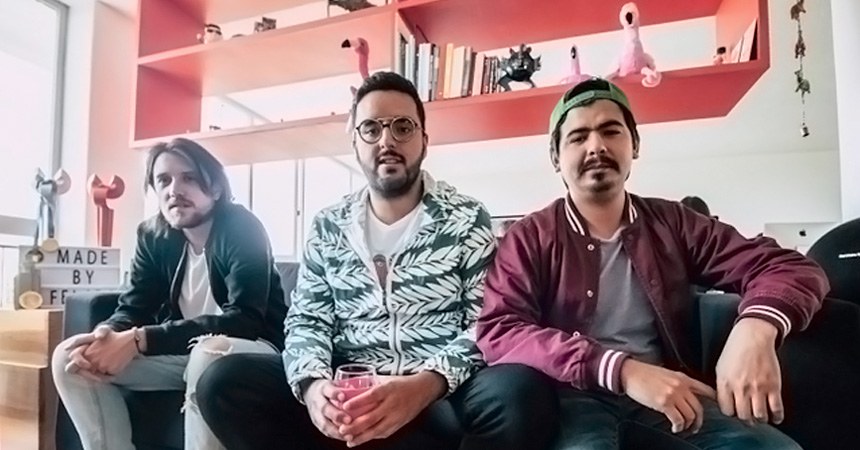 How do you start an advertising agency? Fall in love with a Swedish girl.
These three Miami Ad School grads started a new creative shop, Felipa. Here's how they did it.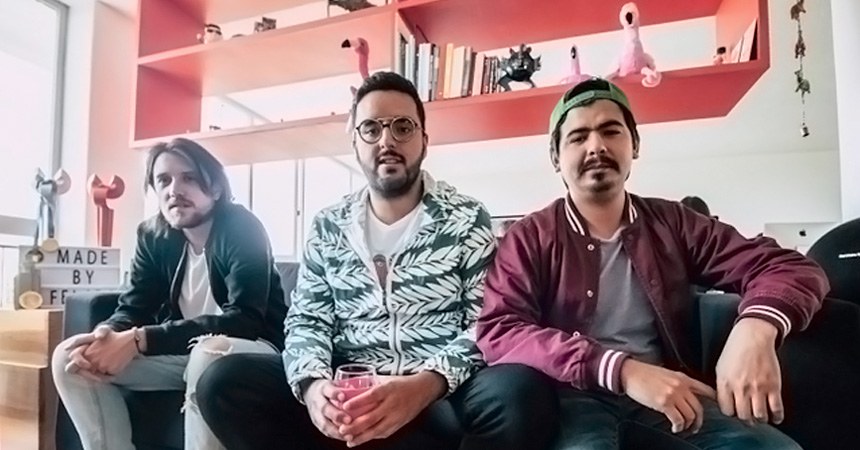 L to R: Gerardo Saavedra (MAS Copywriting Graduate) • Creative Concept Director; Fabrizio Flores (MAS Art Direction Graduate) • Creative Business Director; Emiliano Salmón (MAS Art Direction Graduate) • Creative Visual Director
The three founders of the creative shop Felipa are all graduates of Miami Ad School. Find out how the internships and connections they made in school helped them launch their award-winning company.
Pippa: How did the ad agency get started? Why did you name your creative shop Felipa?
Felipa: The agency was founded three years ago by three graduates from the first generation of Miami Ad School Mexico City: Gerardo Saavedra, Emiliano Salmón, and Fabrizio Flores. Our name (Felipa) is actually related with a Miami Ad School experience. During our quarter away process Emiliano and I (Gerardo) did an internship at Jung Von Matt Hamburg, while Fabrizio was at Le Bureau Stockholm. One day Fabrizio invited both of us to visit him one weekend; the three of us went to a party and met a really beautiful Swedish girl: blonde, tall, and with heterochromia (one blue eye and another one green). The three of us spoke with her for a few hours, the only info we got from her was her name: Felipa.
PS: What are your backgrounds?
F: Emiliano is the Creative Visual Director at Felipa, he studied art direction at Miami Ad School. Before that he studied two years of visual communication at Centro, one of the most prestigious design schools in Mexico. Gerardo is the Creative Conceptual Director, he studied copywriting at MAS. He has a BA in advertising and had experience as a copywriter at agencies such as: Publicis, Euro RSCG (now HAVAS) and TBWA. Fabrizio is the Creative Business Director; he also studied art direction at MAS. Before that he was an entrepreneur and during Miami Ad School he did a couple of agency labs at Le Bureau Stockholm and JWT New York.
"… the three of us went to a party and met a really beautiful Swedish girl: blonde, tall … The three of us spoke with her for a few hours, the only info we got from her was her name: Felipa."
–Gerardo Saavedra
PS: How did you get to Miami Ad School?
F: Each of us got here in our own way: Gerardo won the first 100% scholarship made by Miami Ad School Mexico City in collaboration with sopitas.com. Emiliano saw an ad on Facebook and Fabrizio got a recommendation from a close friend.
PS: How do you get your ideas?
F: We have different processes. From brainstorming together to thinking on our own. It depends on each project. The most important thing is for us is to have full awareness about our skills, team capacities, responsibilities, and to collaborate with the right strategic partners. A lot of stuff we learned at Miami Ad School helps us during our day-by-day. For that reason we always try to fill our team with Miami Ad School talent.
PS: What are some of your favorite projects that you've worked on?
F: Gerardo and Emiliano developed an idea to participate at the 2018 Cannes Young Lions Health Award. The project, #MeToon, was chosen as the undisputed winner of the category. The brief by UNICEF and UN Women was to create a fictional idea to solve a problem. Our differentiator was to carry it out in real life, detonating the project locally, so that, in case of being the winners (which is what actually happened), we could use the festival exposure as a showcase to invite all media outlets around the would to join the project.
#MeToon: The first social movement for cartoons. instead of inviting people to take part, it is the cartoons who participate in the movement. All this with the aim of raising awareness among the new generations about gender equity, where we get cartoons to commit to generate content that educate about the topic. Today several Mexican cartoons, studios and illustrators are part of the movement, and big companies like Cartoon Network are already evaluating being part of it.
Google Remind: The project was created in 2014 by our creative directors Gerardo Saavedra and Emiliano Salmón, in collaboration with Antonio Fragoso, during their last quarter at Miami Ad School. It won many awards: Young Guns Gold, FIAP Young Talent Gold Award, Young Wave Silver Award, Graphis New Talent Silver Award, New York Festivals Finalist, Cannes Future Lions Finalist and—most important all— the Global Art Directors Club Gold Award, where people from the Google Creative Lab in New York invited the team to their offices to evaluate the viability of the project, almost making it happen for real. Alzheimer's is an incurable disease. However, today there are technologies that with a creative input could help people to endure it. That is what Google reMind is all about, a project that sought to take advantage of Google Glasses, (one of Google's most disruptive technologies) to help people suffering from this disease. When they put on the glasses, users would receive all kind of information: whom they are talking to, how to get somewhere, reminders and alarms to take their medications. Everything they need to enjoy a better life.

Yo Taquero: As a Mexican studio, having a "taquería" as a client is something we're quite proud of. That is why we decided to make "Yo Taquero" (yes, this is the name of the client, which is indeed a pun between "I'm a taco vendor" and "I love you") the absolute best taco stand… well, at least in terms of expression. To do so we developed a whole new brand identity with a new color palette, illustration style, photographic structure, and most important of all, a central creative communication concept. Mexicans love tacos, and for that reason a "taquería" should have lovable communication. We started with a central creative concept: "Por amor al taco"; which means: "For the love of the taco". Then we created a new visual style for the brand, from redesigning their oficial "taco vendor" illustration, to creating a new visual concept in a way that has never been done before in the Mexican taco category. Saturated but attractive, colorful but with selected colors. Insightful but easy to understand. The result: After making the perfect combination of ingredients between conceptual and visual development, the order was ready to go.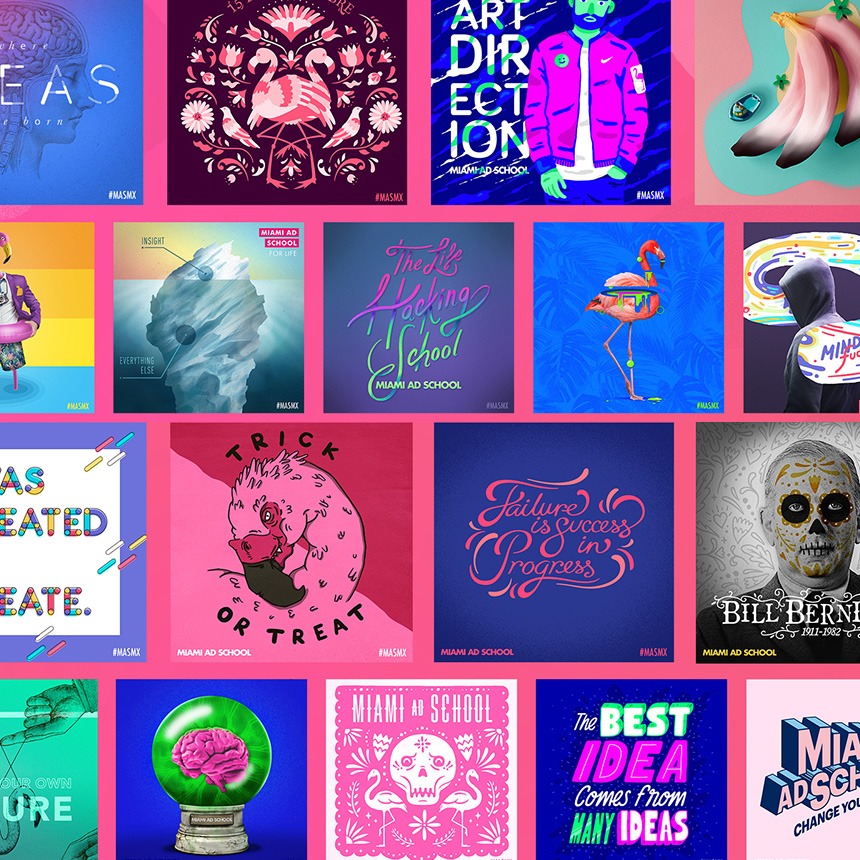 Miami Ad School: Felipa was selected to develop the digital and social media content for Miami Ad School Mexico City. As graduates of the school, we are not just proud to be part of this project, but we also feel responsible to maintain the quality and reputation of the client, who has and needs really high standards related with communication. Every month a pool of creative content filled with illustrations, photographs, designs and lettering compositions are delivered to the school to be part of their constant digital feed. The work developed in this project has not only been part of the Mexican school, since it is constantly published and used by other schools in the network, such as New York, Wynwood, São Paulo and Madrid, just to name a few.
ARVN: Not everything in Felipa is visual, our conceptual delivery is also part of what differentiates us. A perfect example is this radio campaign that has been constantly awarded by different creative and advertising festivals such as: Caracol de Plata, World Independent Advertising Awards and of course, the campaign's reason for being, "El Ángel de la Radio", the Radio Association of the Valley of Mexico advertising award show. Two of the three spots were chosen to be part of the official campaign that aired in all the radio stations that are part of the association. Every year the Radio Association of the Valley of Mexico invites all the Mexican agencies to create a radio spot related with some kind of social brief. Every year Felipa: Creative Studio participates with a spot that solves a different social problem, using just audio to connect with the people in a shocking but creative way. The ideas are related with insights that specially connect with the people that live in Mexico City. From promoting green areas in a city where everything is gray by making an analogy with death, to promoting a healthy citizenship coexistence by using a devastating earthquake that changed the city as a communication resource.
PS: With what kind of clients do you work?
F: Most of our clients are located in Mexico, from big companies Coca-Cola, Riot Games and LEGO, to small local business like San Jocho (a hot dog stand) and YoTaquero. We also have a couple of clients based on Miami, such as: Yazbek USA, InBest Miami and a kids clothes brand called Eckabear.
PS: Can you tell us a bit about how you get clients?
F: At the beginning it was all about friends, family and close contacts. Then, those initial clients started to recommend us with new possible clients. Today, a lot of new business come searching for us because of the awards, exposure and good work we have done. You can contact fabrizio@madebyfelipa.com for any business inquires.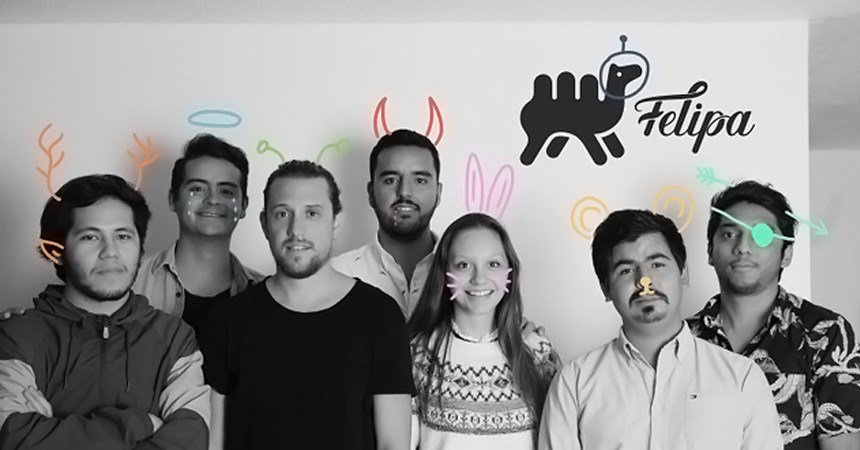 The Felipa gang.
PS: What makes you happy?
F: To win awards, to work with new clients, and to make money because of our ideas. We also like to have puppies at the office, watch kitten videos on YouTube and to have a lot of fun during our creative process.
Ready to start your career as a creative and an entrepreneur?
Find out How to Apply.