From M.AD Grad to Leader at TikTok: An Interview with Antonio Fragoso
How does someone make that jump? We asked ourselves the same question. Then we asked the man himself. Read on for what he said.
But first...
It's worth noting that Antonio's work has been recognized by Cannes, One Show, NY Festivals, Clio, LIA, ADC, D&AD, AICP Next Awards, Webbys, Cresta, Epica, Effies, Awwwards, Graphis, DMA Echo Awards, El Sol de Iberomerica, Circulo de Oro, Wave Festival in Rio, Applied Arts, FIAP and Future Lions. He might just be one of the most exciting young creatives working today. No surprise, then, that his meteoric rise in the past few years would land him a leading gig with today's most exciting creative outlet, TikTok.
Now let's hear from the man himself.
---
What's the story behind your work at TikTok? How did you end up where you are now?
It took me a while to decide I wanted to be creative. I studied business in college and ended up working on the clientside for a while. Marketing, Sales, Strategic Planning and a lot of suits. I wasn't really happy with my life but didn't know better.
One day a teacher from the MBA told me Copywriters existed and it blew up my mind. Cue to me quitting my job, starting ad school at Miami Ad School, and trying to become a creative at 30 years old. I came to NYC for my second quarter and just stayed here.
I got to TikTok in the middle of the pandemic and the quarantine. I saw they had some open positions and just applied. Next thing I know I was having 6 interviews with the Jedi Council — all over Zoom. Now I'm on this side, helping brands and agencies produce great work on TikTok.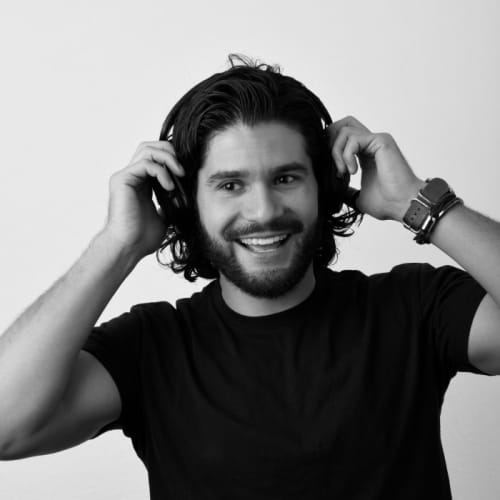 In your mind, what does a Creative Director do?
You have to be a beacon of inspiration for the team. You don't have to be the most creative person in the room, but you have to be able to recognize good ideas and nurture them to become great. Also, you're there to trust your team to create awesome work. Just give them feedback they can work on. Being vague doesn't help anyone.
What's your favorite thing about your job, day-to-day?
That it's totally unpredictable. I love creating and solving problems so the more I'm doing that, the happier I am. I think something that makes me happy is the 1-2 hrs a day I spend on TikTok (I still can't believe that's part of my job now). I am truly humbled by the amount of raw creativity in the platform.
Did M.AD influence your creative process? How so?
Definitely. Before M.AD I didn't think I was creative. Sure, I loved to write stories and episodes of my favorite cartoons back in the day, but I never considered myself a creative artist. Thanks to M.AD I learned how to tap into that and don't be afraid of my crazy ideas.
If you had to describe MAD in just 3 words, what would you say?
Free your creativity (and write better headlines than me).
Who is your dream collaborator? What's your dream project?
Oh boy, there are so many.
I've always wanted to work with my best friends from MAD. We were roommates a few years ago and every time we would go out together, we would start concepting some weird ideas. My dream project would be for Playstation or Nike. I'm a big gamer and I love running so much that I'd love to get my shot at one ad for those brands. One day...
Based on where you are now, what's some advice you'd give to your younger self?
Don't be afraid to think, to express yourself, to be crazy. I am really shy so I wish I had done more self-promotion back in the day.
Where are you headed? What's next in store for Antonio Fragoso?
Wherever the wind takes me...
No for real, I don't really like to think that way. I'm more of a "enjoy the moment" kinda person. Right now I'm working for a brand that's killing it and has some amazing projects in store. I love learning from my teammates, my boss, and TikTok's creative community. Don't really know what's next for me, but I'll enjoy the ride either way.
What should I ask you that I didn't know enough to ask here? Anything I'm missing?
A fun fact about myself is that I'm allergic to celery so I've never had a Bloody Mary in my life... Don't really know what I'm missing.
---
That's Not All...
Our chat with Antonio only skims the surface of what's going on for this rising creative star. Looking for more? Check out some other pieces of his fantastic work on his personal website.