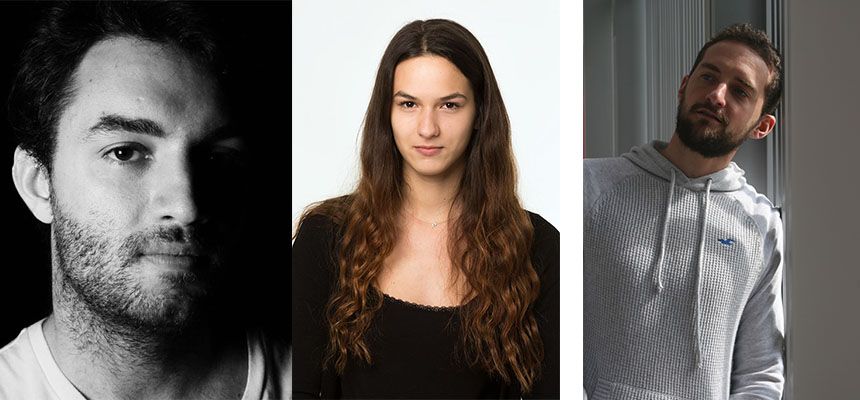 Take Control of Your Career. Become Who You're Meant to Be.
"Be surrounded by people who understand what you're doing"
At Miami Ad School, from the day you start, you learn by doing. This video, created by three, first-quarter students, is an example of that philosophy. The project, part of their Video Storytelling course, was Why Miami Ad School? The finished two-minute video, a collection of interviews of students and staff and footage of the school, tells the reason "why". In the process of telling their story the students learned to shoot, light, direct and edit.
"I knew I had to do it. If I tried to do it any other way, if I tried to do it on my own, I felt I'd be lying to myself that it could happen." Dan Flora, New York, copywriting program
"You're all in this together. You all have your doubts and your fears and insecurities but you also have your talents and your creative ideas. Who better to support you than the people who are going through the same thing you're going through?" Adenike Akinbisehin, Nigeria, digital photography & video program
"It's not just the education you get here. It's the people you meet here. It's a great opportunity to meet people in the business who can offer you a job." Simon Dekoninck, Belgium, art direction program
"There are campuses in great cities all over the world. That's my favorite thing about the school. It's a small school with a tight community that's international as well." Jared Powell, Canada, copywriting program
"I wanted to go abroad and intern. No other program that I looked into offers that. Plus the school is connected with all sorts of WOW agencies." Humberto Bell, Nicaragua, copywriting program
"I want to feel like everyday is an adventure and I feel like I'm on that path." Adenike Akinbisehin, Nigeria, digital photography & video program
First quarter students Jose Eduardo, Mona Boitière and Yann Loussouarn talk about creating their first video.
Collaboration is an important part of our industry. Students work in teams as soon as they start school. The students' different backgrounds bring a unique perspective to a project. Yann and Mona are both from Paris but have very different backgrounds. Yann already finished four years at a graphic design school, traveled and spent a year in Australia. Mona, one of our youngest students, graduated from a professional high school for photography. Before coming to Miami Ad School José was a trainee in a management consulting group in São Paulo, Brazil. A friend, studying art direction, told him about Miami Ad School. He said, "After I saw the video and photography program I just couldn't see myself anywhere else but here."
Q: You did this project in Video Storytelling class. How did that class work? 
Yann: The class was organized with technical exercises and assignments to create our own short-films or videos. I liked the fact that we learned how to edit videos. I've been doing photography for a long time, but I've never done video recording and editing. This class offers exactly what I wanted to learn.
José: I was really surprised by this class. I had never worked on videos before and it was really challenging for me. In the first few classes I thought I wouldn't make it, but now I feel like shooting everything. Every place I go I want to capture the moment and work on it in Adobe Premiere.
Q: What new skills did you learn in the class?
Yann: We learned the essentials of Adobe Premiere, to kick-start editing and recording our videos. The school has a lots of equipment to improve the quality of our videos, including professional microphones to record any type of songs, video drones and professional cameras. And of course our photo/video studio is really well equipped.
Q: What was the hardest thing about this particular video?
Yann: The first issue, that we had to get through, was the sound. There are always a lot of people at the school, which is really cool, but when you have to record an interview, the echo and the noises make the task really hard. Fortunately, the school has microphones we can use, which gave us an almost professional result.
Our second difficult task was the editing, we recorded more than 39 minutes of interviews, that we had to reduce to two minutes. We spent a lot of time choosing the best parts and trying to get a smooth transition between each interview.
Mona: The hardest thing was to edit this video. We had lots of different files (audio, close up, wide angle and several videos of the inside and outside of the school) that we had to synchronize in Premiere. We had to watch all the footage and decide what we were going to keep and what we wanted to say in this video.
Q: What do you want to do when you graduate?
Yann: Like most of the students at Miami Ad School, I would love to be a creative director. I also want to travel and enjoy the fact that advertising is a world in constant movement. I want to discover as many places as possible and extend my creativity. Advertising offers us the chance to move and open our minds, to meet new cultures and work on different projects. This is a career where you always need to stay up-to-date and absorb as much information as you can. That's what I love!
Mona: I'm not sure yet what I want to do after graduate but it will definitely be telling stories in the field of photography and video.
José: I want to take all my creativity and everything that I learned at Miami Ad School to the company that I'll be working for.
Here's How to Apply to Miami Ad School
The place to go to become who you're meant to be.