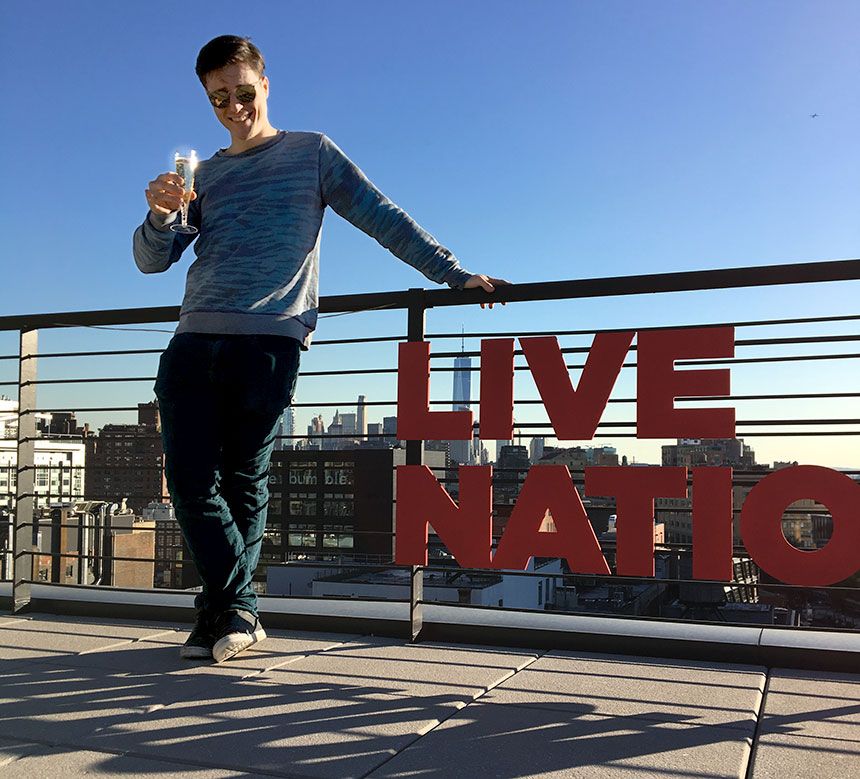 Where Will a Creative Career Take You? Maybe to a Job in Entertainment.
Creative careers are more varied than ever today. Read one art director's story on how he ended up at the global leader in live entertainment.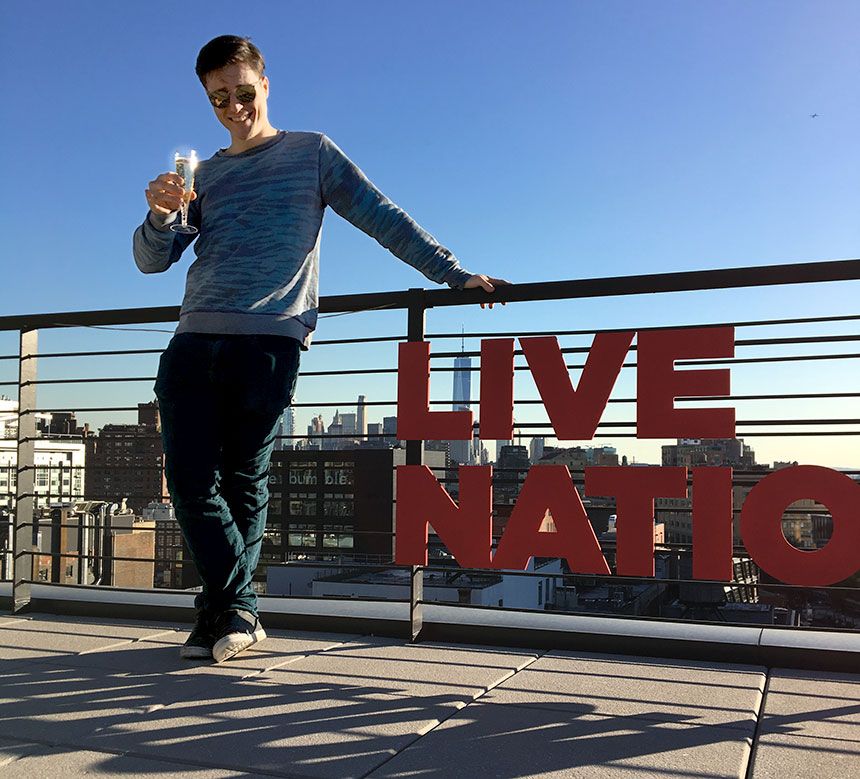 Miami Ad School art direction graduate GT Smith toasts his new career on the rooftop of Live Nation headquarters in New York City.
After earning a degree in film and a series of jobs that were ultimately unfulfilling, GT found Miami Ad School Wynwood by simply driving down the street. That discovery, and a snazzy bomber jacket, set him on a path to a new career, in a new city, doing things he'd never dreamed.
Pippa Seichrist: So, what were you doing before you came to Miami Ad School?
GT Smith: I worked for a catering company in Miami packing trucks and serving events.
PS: How did you hear about the school?
GTS: I would see the new—and very pink—Miami Ad School building in Wynwood, under construction, on my route back to the catering warehouse and said to myself, "People actually go there to learn to produce advertisements?" It seemed like a strange career to have. Then, suddenly, it was what I wanted.
PS: How did you land the job at Live Nation?
GTS: It was all thanks to Miami Ad School's portfolio reviews. I met my future creative director at one in New York in 2016.
PS: Besides having a great portfolio, did you do anything interesting to catch their attention?
GTS: I demonstrated an ability to concisely and clearly speak about my work, and I was able show my aptitude with market research, besides having work that was visually impactful and interesting. It helped my future creative director and I were wearing the exact same bomber jacket.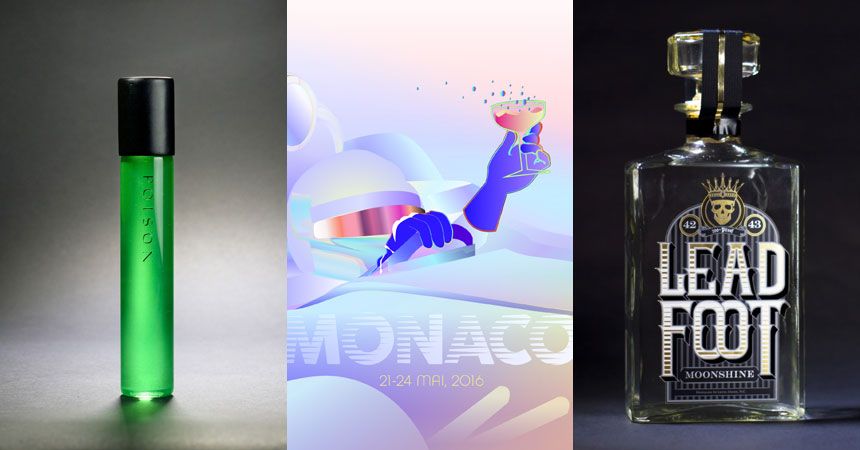 A great portfolio is the first step to landing a career in any creative field, and what we specialize in at Miami Ad School. Here are three pieces from GT's book that set his work apart. You can see the rest of GT's portfolio here.
PS: Tell us an interesting story about one of the pieces that you've worked on at Live Nation?
GTS: My Austin City Limits mural for American Express last year was an incredibly fun thing to work on and was a lesson in pitching. I not only helped concept the activation, but I was also tasked with illustrating a mural for the photo booth portion of it, a crucial part of a very high profile activation. Originally they went with a far less interesting concept, which was essentially just a skyline of Austin with some bats flying around. But, I put all my effort into making the photo booth concept an offer they couldn't refuse. They didn't!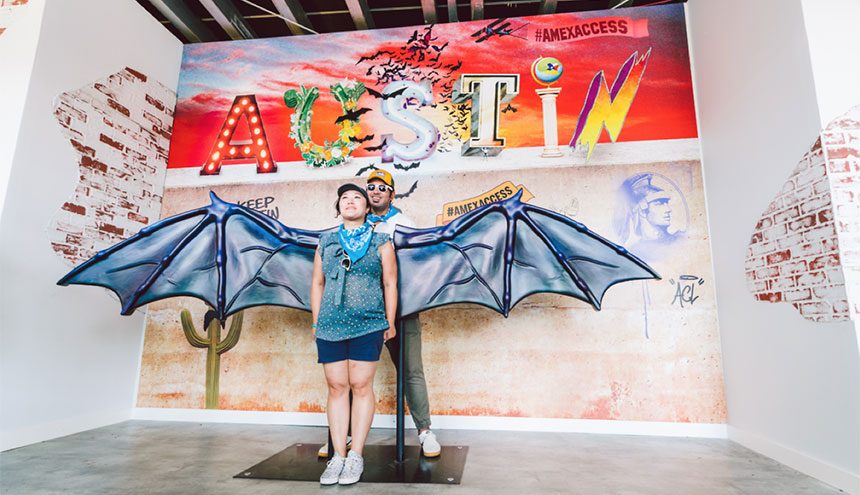 GT's American Express photo booth at the 2017 Austin City Limits Music Festival.
PS: Tell me about a favorite teacher and the influence they had on you.
GTS: Theo Rudnak (Emerging Media Coach, Miami Ad School @ Portfolio Center in Atlanta) was my favorite instructor because he teaches with genuine passion and curiosity for his craft. He is as interested in learning from his students as he is excited to share his knowledge with them. His advice and teachings have improved my speed, aptitude and finish on absolutely everything I design and illustrate. Taking one quarter of his class is as useful as attending art school for an entire year, and every time I finish something I think of how much he helped me in such a short time.
"Thank you GT. We're kindred spirits for sure. It was my good fortune to have GT placed in my class. He never wasted an opportunity. He knew how to argue effectively, he listened to others and responded respectfully. What he did in class mattered. Not just to me but for other students in a way that helped all of us to become better versions of ourselves."
–Theo Rudnak
PS: For those who may not know, what is Live Nation all about? What's your official job title there?
GTS: I am an art director and I work for our internal creative department. We acquire new business to sponsor specific areas of our many concerts and festivals and handle existing business requests. Live Nation puts on some of the biggest festivals and concerts in the world, and is essentially trying to find authentic ways brands can advertise their products. We creatives do everything: write manifestos, concept, design and pitch decks, illustrate concepts, edit video, design in 3D, everything.
PS: Describe what exactly it is you do at Live Nation—what kinds of things do you work on?
GTS: I work on existing business and new business pitches. I illustrate and design a lot of visual concepts and I strategize what ways brands can play with us. We make a lot of decks, but I end up producing a lot of outdoor stuff for concerts as well as video to print media.
PS: What's your favorite thing about having a creative career?
GTS: I like that I am allowed to be strange and eccentric by virtue of my career, but also I am allowed the rare privilege of selling weird ideas to traditional brands. There is no greater pleasure in the world than getting a buttoned up brand to do something exceptionally strange, especially when you have good strategy behind it.
Where will a creative career will take you? Learn how to apply.