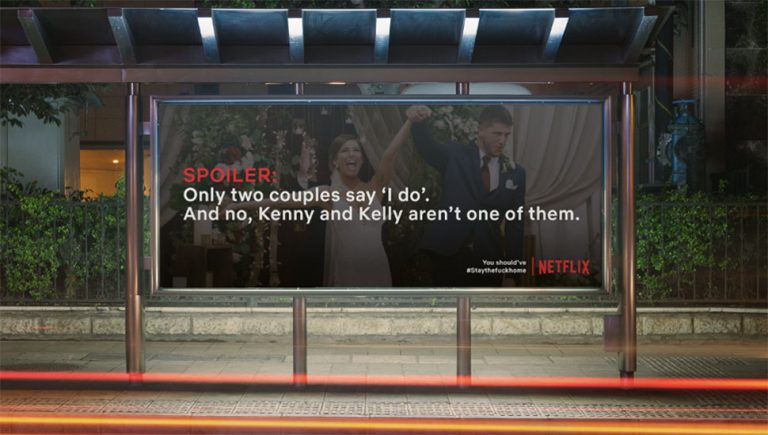 You Should Have Stayed At Home
In uncertain times, we need creative ideas more than ever. A global pandemic doesn't mean creatives are taking a break—if anything, we're going into overdrive.
Our students, in particular, are working hard to harness their creativity to make a change. And in at least one case, their concept was so ingenious, so daring, that it's been picked up by media outlets such as Forbes, Yahoo, Campaign, and Daily Mail among others.
This recent creative outburst came about when Prachuabmoh Cahimoungkalo - a recent graduate from Miami Ad School Germany and Seine Kongruangkit - a current fifth quarter student in the same school, returned to their home country, Thailand, only to find out the government wasn't communicating effective measures to protect citizens from the pandemic.
They saw a problem. Their response? They said, "F THIS" and did what they do best: "Coming up with creative ideas", as they told Forbes in a recent interview.
Cahimoungkalo and Kongruangkit figured that since the government and citizens weren't being sufficiently responsible, they were going to take matters into their own brains. Here's how they described it:
 "We took an extreme measure: we spoil their favourite Netflix shows."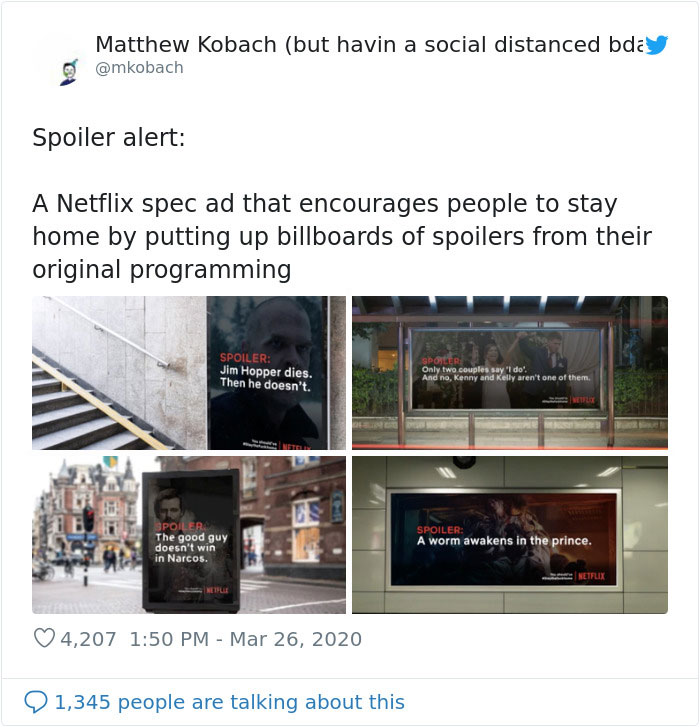 Yes. They went there. Desperate times call for great ideas, don't you think? The final pieces of their fake campaign literally spoiled people's favorite Netflix series and were posted along sidewalks, bus stops, and other high-traffic areas.
If this wasn't going to keep them home, nothing was.  
Prachuabmoh tells Madeline Berg, from Forbes: "Don't get me wrong, we knew it's a beautiful idea from the start and that it should at least get a chance to be presented to an agency or best, the client, but our goal was to help create a piece of communication that could really make a change,"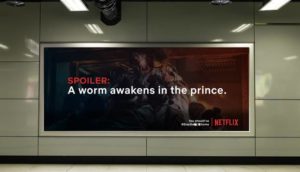 Whoa is right. And even if Netflix didn't pick up the idea( and has yet to comment) we still think this campaign is portfolio-worthy all the way.
A Marvelous Idea from A to Z 
From the creative process to the execution, from the selection of scenes and pieces, and art direction to copywriting, this idea is flawless. It's insightful, strategic...it presses some buttons, and it even got picked up by the press. Not to mention, this wasn't an official campaign or agency brief, it was all about two creatives creating awareness of a very real problem that required an urgent solution- and they had a blast along the way.  
Here's what we call that: Visionary minds creating remarkable advertising.
Throughout the campaign, the insight stays strong, which means that crucial questions were asked in the creative process. Execution-wise, outdoor print was the optimal medium because people needed to "be spoiled" while they were roaming the streets. Lastly, this is a campaign that fits the client perfectly in terms of voice, art-direction, and overall branding. Guys, we're hoping you're showing this off in your portfolios already! 
There's one more thing I'd like to highlight. Its simplicity. Our fellow students' campaign goes to show that great ideas aren't always BIG ideas. Take BBC's recent billboard ad for Dracula, this ad is basically a walking engineering project, not to mention extremely detailed art direction. And sure, this is an extraordinary campaign and the execution is spot-on, but even if these two ideas differ in terms of approach (and other evident factors), they are equally strong. Simplicity is Ok too if the insight is clearly seen.
Your Ideas Could Be In Forbes
For those of you still wondering if a creative career is right for you… If you're still too afraid to come out of your shell and unleash your creative superpowers… If you're still questioning if starting a creative career is the correct path for you... If you feel like your talents are wasted at a 9-5 desk job, and most importantly if stories like this inspire you. If you want to be the creative behind outstanding campaigns more than anything… Let me be the first to tell you that you crave something different - you're unconventional and you know it!
What you're looking for is something you already know: you want to start a successful creative career. You know you have what it takes to produce phenomenal ideas.
For all this and more, there's Miami Ad School. Here, we are dedicated to cultivating the most exceptional and unconventional minds, just like yours. Those with the ability to produce ideas like Cahimoungkalo and Kongruangkit's and can be shaped into world-class creatives that land big clients like Netflix along the way.
You've got the talent and the drive. We've got exactly what you need to encourage your eccentricity. Picture the future: you too could creative incredible campaigns that become viral pieces of pop-culture in their own right.
Let's Cultivate Your Peculiarity at Miami Ad School
Here, we're passionate about building up our students. We're all about ambition. Our students want and do more, every day. We're not just dreamers—we're doers. 
We believe the world needs the absurd, the audacious and the wildly optimistic - just like you.
It is through our programs and hard work that our students are able to attend internships in the world's most famous agencies and companies and enrich their talents.
Come to Miami Ad School and Live the Dream.
You too could be a creative interviewed by Forbes! More and more ambitious idea-makers are succeeding in the world's most important companies. Not only will you have the opportunity to make a living as a creative—you could also get to work for the world's most far-reaching brands to envision a better world.