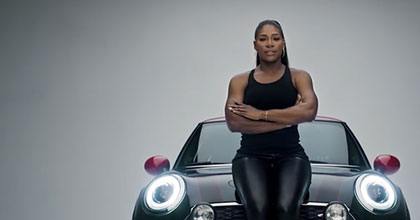 This is Where You'll Find the Best Strategy Jobs
Edward Cotton • Chief Strategy Officer @ Butler, Shine, Stern Partners on the State of Strategic Planning Today.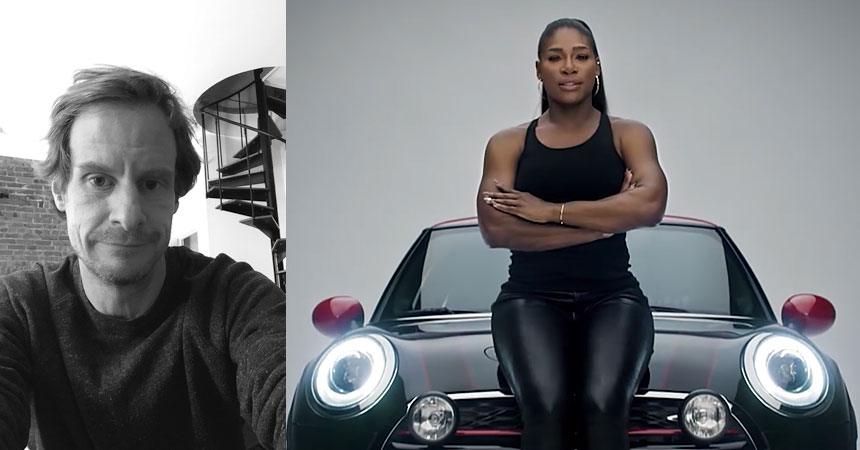 Butler, Shine, Sterns Partners CSO Ed Cotton (L) and tennis superstar Serina Williams in BSSP's "Defy Labels" campaign for Mini.
Pippa Seichrist: You have an extensive background in strategic planning. How did you get your start?
Edward Cotton: I started out in media, working for a company that planned and purchased out of home. My job was to evaluate the performance of client campaigns. After a couple of years of doing this I moved to McCann to work in a research consultancy arm of the agency. This was interesting work that involved helping big clients imagine their futures. I then moved into the account planning side and held various jobs in Europe before for moving to head up strategy in the Seattle office of McCann. I worked for a couple of years in that office and then joined BSSP, where I have stayed for quite a while!
PS: What is the difference in an account planner and an account strategist (if there is one)?
EC: I see no real difference. The discipline has a problem with naming itself—these titles seem interchangeable and they also don't describe the job. I think clients also get confused because they also have planners and strategy people who do very different things to ours.
PS: You've said that there are over 700 different types of planners and that it's hard to define the job as a whole. What would you say are the top five different planning jobs that students should be looking for after graduation.
EC: Classic account planning evolved in the 1960s in the UK as a way to bring the consumer into the process of making advertising. Planners were supposed to help make the work more effective by bringing consumer insights into the agency. The first wave of planners went out of the agency and did their own research. This model still exists today, but added to this model there are now other strains and specialties:
Connections Planning—What are the channels, places and spaces where the brand communication can fit best? This demands an understanding of how the consumer uses different channels and knowing where the right place and moment is to place the message for maximum impact. This is more powerful when the connections planner is directly connected to the agency developing the creative work.
User Experience—The same fundamental skills of consumer listening and understanding are essential in the world of user experience. Here the goal is to understand how to build digital or service experiences that meet consumer needs. This involves iteration and design skills and in many ways is the 21st-century version of the original form of account planning.
Business Strategy—At the other end of the spectrum you have business strategy. This is somewhat akin to what you would see in client-side corporations—big-picture thinkers, probably with MBAs, who know how to read a balance sheet and understand exactly how a business makes money and the vulnerabilities of competitors.
Data Science and Analytics—Another related field, suited to those who are most comfortable with data, spreadsheets and statistical models. This is obviously becoming a much more important role as the volume of data we have access to grows. The demand is for people who don't only report on what happened, but are skilled enough to predict what will happen.
Social—Finally, just to illustrate how specialized things have become, social media has evolved to become a critical channel for many clients and understanding it has become paramount for agencies. There is a demand for planners who understand this space, can keep up-to-date and know how to read and use it in the right way for brands.
PS: In this ever-changing environment, what sort of opportunities are now open to boot camp grads as they set forth to find their first strategic planning jobs?
EC: Since strategic planners are the people who bring powerful insights into organizations, there are multiple avenues open to them—not just in advertising, but there are jobs at media companies, consulting companies, design shops, inside client organizations, research companies, and more. Thinking too narrow limits the breadth of opportunity.
PS: With the move towards data-driven research and using analytics to see what consumers are doing instead of making predictions, do you think that the traditional forms of research are being tossed aside? How does a planner now retain the personal connection with their target audience?
EC: Data is certainly making a big difference. In theory, you can start out without knowing anything about your audience and test and learn your way to success. Everything can be done digitally and you don't really need to plan anything, you just do it.
However, I think a number of people have gotten into trouble with this approach because they haven't instilled the discipline or rigor to ask themselves some fundamental questions about what they are supposed to be doing and for whom.
The role of the planner is to ask the questions that aren't being asked (about the consumer and how the communication is really working) and to build disciplined frameworks that can help keep people at the client and inside the agency stay on track, because today its easier than ever to lose yourself in a series of experiments with shiny objects.
The planner should be the person who asks for a reality check and to force the issue with the client and suggest that some work gets done to understand the consumer beyond the data. Only through doing this will be the client understand if they are on the right track, but also be able to grasp a bigger picture of consumer needs and related emotions.
BSSP's "Never Stop" commercial for Blue Cross and Blue Shield of California.
PS: What are the most sought-after planners, the "strategic unicorns" that everyone is looking for?
EC: I think we are all looking for planners who are passionate about people and culture. They have an innate curiosity that means they have the desire to constantly learn. They are people who are good communicators and know how to get their ideas across to others in the most creative and compelling way possible.
PS: What advice do you have for brands and agencies looking to hire a strategic planner? What type of person should they hire?
EC: They need to really understand themselves first and foremost. What are they expecting this planner to do for them? How do they fit into the existing team? Without first answering these questions of themselves they'll have no idea who they should hire. Given my earlier comments about the multiple species of planners, this is key.
PS: What are the top five things a planner needs to be doing every day?
EC: Here are my personal top 5:
Stay informed with what is going on in the world of their client and consumer.
Each client is in a different phase of their planning cycle—every day the planner moves this cycle forward.
Spend quality time with their team—working as the facilitator and making sure they help get the best out of the individuals in the team.
Be inspired—find something outside of work every day that makes you better at what you do.
Think about what it is you could be doing to help grow the demand for your client's business.
PS: Are companies looking more for "creative planners" that can move from ideas to strategy and back?
EC: I think agencies want their planners to be as creative as possible. The ability to get close to an idea is an important skill. But not everyone can do this effectively and at the end of the day—the planner is not a creative, for good reason. However, there are plenty of places to show your creativity—from bringing the brief to life and in the evaluation of creative ideas—by understanding how they can be made stronger and be taken to different places to tell the story more dynamically or appropriately.
PS: What project that you have worked on most excited you from a strategy perspective?
EC: I think the MINI "Defy Labels" work that we did in 2016 was pretty exciting. We looked at the tension in the culture around stereotyping and applied it to how prospective customers thought about the MINI brand. We launched this at the Super Bowl and followed up with an Olympic effort and a Feed America campaign we conducted in partnership with the Wall Street Journal.
Mini "Defy Labels Case Study" (See a more in-depth case study—featuring the Olympic campaign and the Feed America effort—here: https://clients.bssp.com/miamiadschool)
Launch your strategic planning career now. The next Boot Camp for Creative Planning starts in Atlanta on October 1st. Learn how to apply.