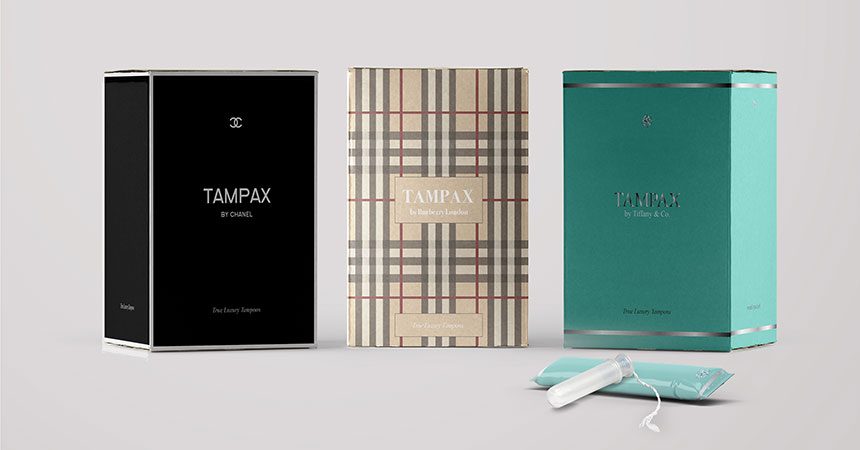 You Won't Believe What Government Considers a Luxury Item
Women Across The United States and Much of the World Are Taxed On the Purchase of Necessary Sanitary Products. Two Students Dramatize the Absurdity with "Necessary Luxuries."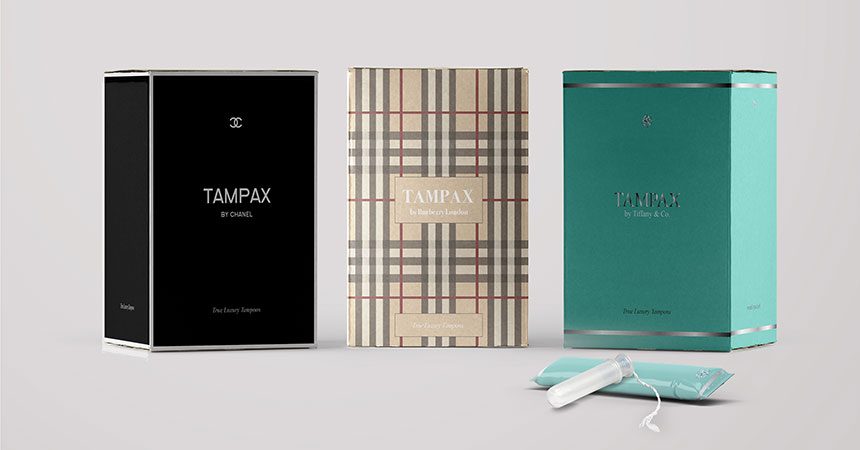 Necessary Luxuries: tampons truly worthy of a luxury tax.
As Women's History Month draws to a close, it's the perfect time to feature this innovative project that shines a bright light on one of the many inequities that women are still subjected to in this day and age.
In 36 states, feminine hygiene products are apparently not considered a necessity. They are therefore subject to sales tax. This makes zero sense when items like soda and candy are often tax exempt and certainly not necessary.
Nechama Muchnik and Jane Kang partnered Tampax with leading luxury brands—Chanel, Burberry and Tiffany—to create "Necessary Luxuries": a line of tampons worthy of a luxury tax. All proceeds would go directly to organizations fighting to have the "tampon tax" removed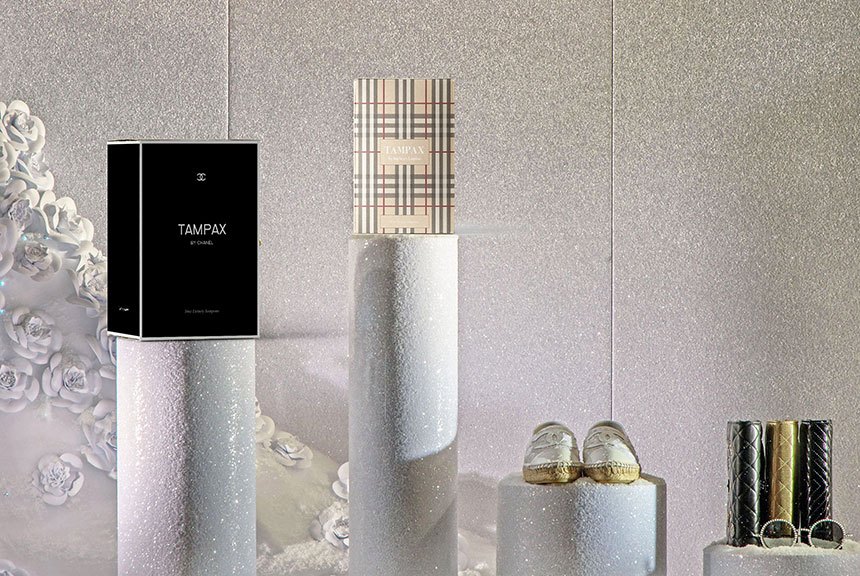 Tampons are usually sold in stores where women shop for necessities. But since they are apparently considered a luxury item, it's more than fitting to put them on display in fancy department store windows.
"The idea was something we came up with in the fall," copywriting student Nechama said. "My art director partner Jane and I did it as a side project. We were working on revamping Jane's project on feminine products and came up with this idea while sitting on my couch. Suddenly, a simple tampon ad became something much more meaningful and worthwhile," she continued. "It was a very big emotional moment for us!"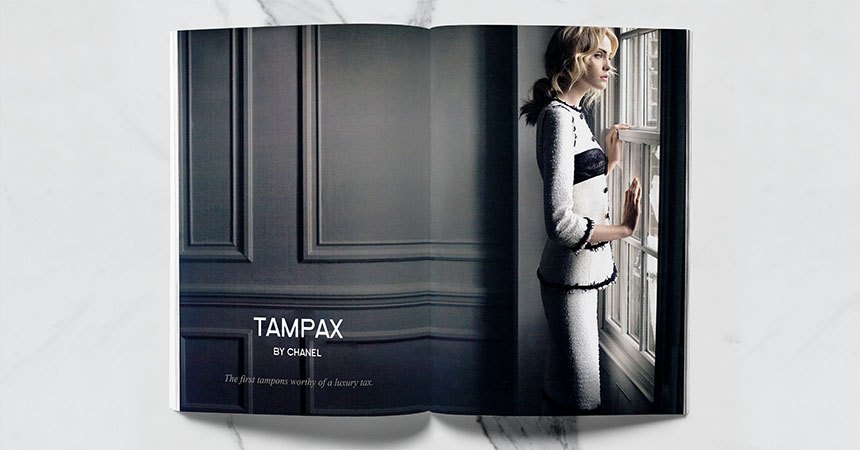 Co-branded ads for the "Necessary Luxuries" line would run in haute couture fashion magazines.
Necessary Luxuries is a great example of the increasing trend towards "cause marketing," in which brands—in many cases partnering with a non-profit organization—advocate for causes that appeal to their target market.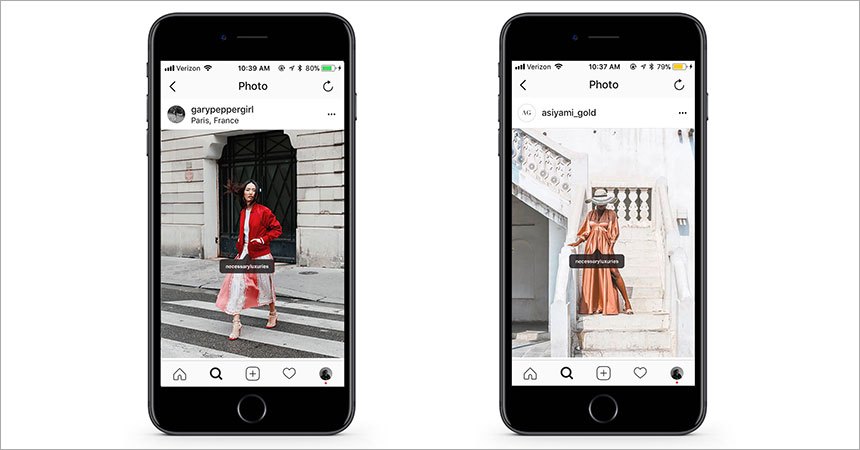 Fashion influencers currently tag iconic brands they wear on Instagram. Partnering with these influencers would help spread the word about their most necessary item with the "#necessaryluxuries" hashtag.
In today's increasingly commodified marketplace, where brand equity seems to be worth less and less everyday, brands that authentically align themselves with relevant worthwhile causes can engender brand loyalty. All while being better corporate citizens and doing some good in the world.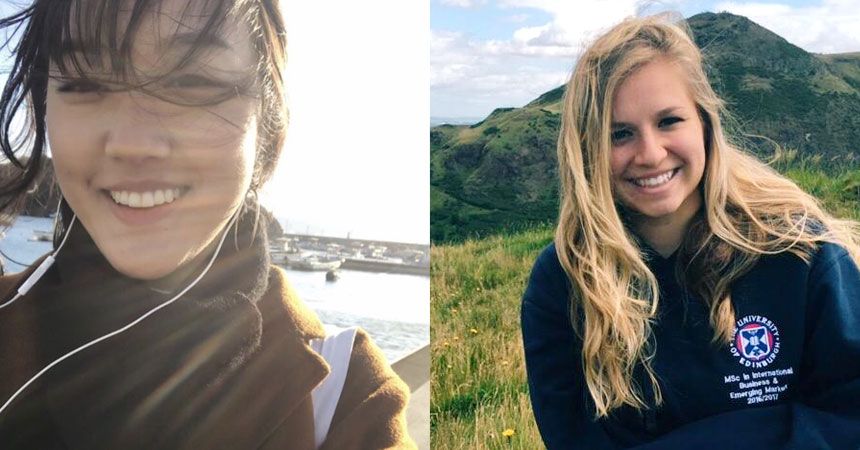 L to R: Art Director Jane Kang and Copywriter/Art Director Nechama Muchnik

Nechama and Jane install their "Truth About Poppy" anti-opioid addiction project (with along with art director Sara Hackett) on the streets of San Francisco. Learn more about "Truth About Poppy."
The creative career you're dreaming of? It can help you change the world. Learn how to apply.