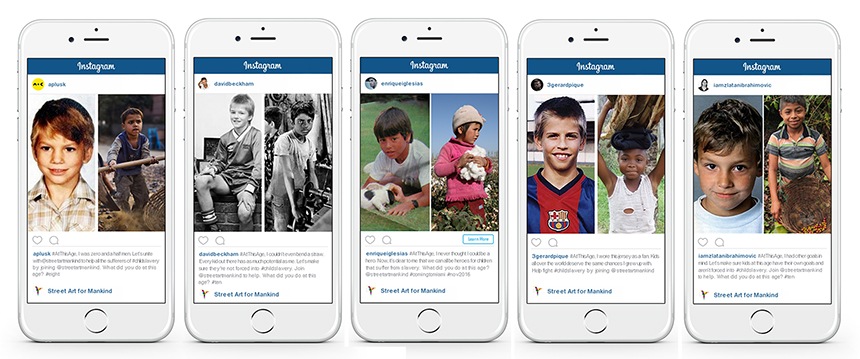 #AtThisAge: Because Some Children Are Not Allowed to Dream
#AtThisAge, a new social media campaign by a team of Miami Ad School students for Street Art for Mankind, sheds light on the suffering of over 200,000 child laborers worldwide.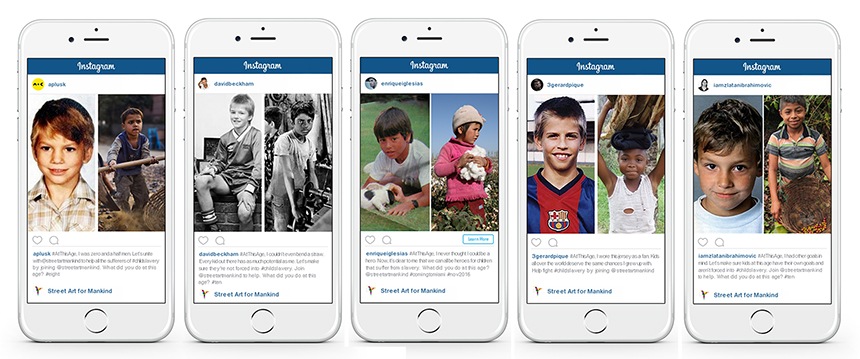 Mock-ups of #AtThisAge in action featuring Ashton Kutcher, David Beckham, Enrique Iglesias, Gerard Piqué and Zlatan Ibrahimovic.
Some people want to be astronauts when they grow up, others want to be baseball players. Even a select few would like to be the President of the United States. Shocking, right? The point is that kids never veto a childhood dream. They pursue it with an innocent curiosity; a simple "why not" sort of attitude.
Well, maybe not all kids.
Today, more than 200 million children under the age of 18 are classified as child laborers. They are modern-day slaves. These kids do not have an opportunity to dream of outer space, baseball, or the oval office. Their intrinsic childhood imagination is stripped from them at such an early age that they lose all creative ambition.
A new social media campaign for Street Art for Mankind (S.A.M.) is looking to change all that. S.A.M. is on a mission to emancipate these captive youths. S.A.M.'s method for success? Street art.
Like many brands on a big mission to solve an even bigger problem, they decided to come to Miami Ad School for help. Three students pitched an idea that piqued the non-profit's interest and that group of "Creative Iguanas" (the group's self-proclaimed name) was brought on board S.A.M. to produce the concept. Those three students were copywriter Dave Adams and art directors Anais Benoudiz and Ariana Pierre.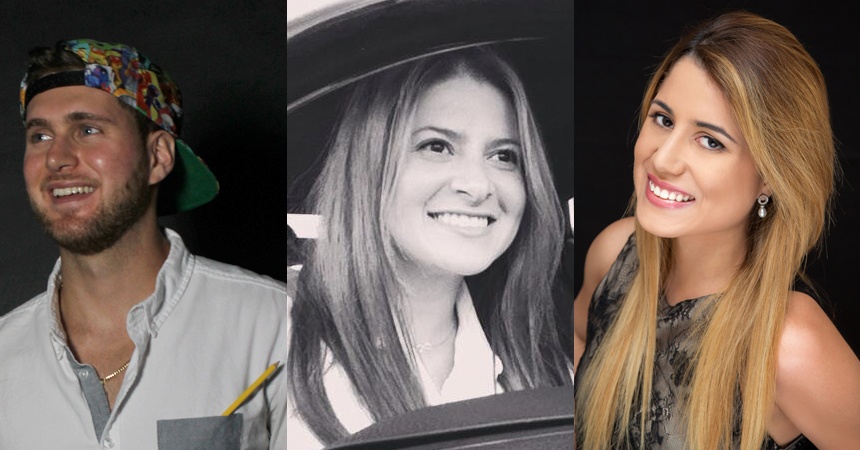 L to R: Dave Adams, Anais Benoudiz and Ariana Pierre.
Their idea was born from a simple question: What were we doing at the same age as these child slaves? Their concept, titled #AtThisAge, was then formed.
Here's how it works. Users begin to see the campaign hitting social media via a long list of influencers. They are directed to the #AtThisAge page on S.A.M.'s website. On this page, they can select from any one of several split screen images. Users then upload a photo of themselves and voila, they are now next to a child laborer. The picture can be shared on social media and the word can begin to spread.
The campaign is built to raise awareness and promote engagement as S.A.M. continues to fight child slavery, one graffiti exhibition at a time. With the organization's prowess of 30 prominent graffiti artists as well as Nobel Peace Prize recipient, Kailash Satyarthi, S.A.M. goes city to city to create bold street art installations.
Next up, Miami. Get your tickets here for the February 10 exhibit where S.A.M. has organized a professional exquisite corpse with their arsenal of graffiti artists.