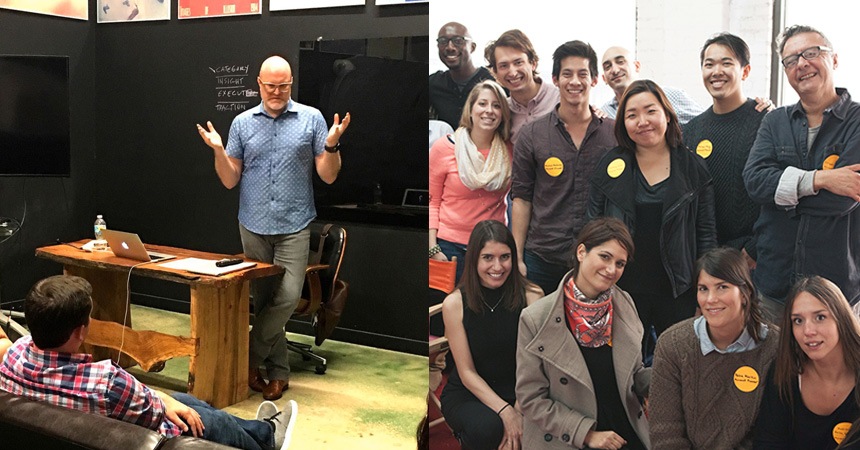 Your Job Placement Process Starts On Your Very First Day of School
Our placement assistance doesn't begin after you have your diploma. At Miami Ad School, placement begins on day one.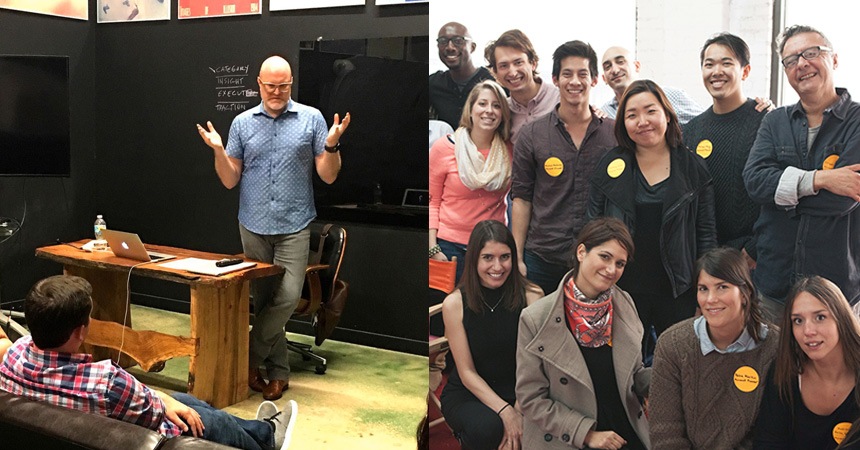 L: Richards Group Brand Planning Group Head, Christopher Owens, teaching class on the first day of the Boot Camp for Account Planning. (Christopher has hired quite a few of his students.) R: Graduates at the Miami Ad School portfolio review in New York City.
"Your First Day of School Is the First Day of Your New Career."
This is one of the first things you'll hear when you walk through the door on your first day of school. Though it may sound like a bit of hyperbole, it's anything but.
In most educational institutions, placement assistance—helping you actually get a job after graduation—is something that happens at the very end of your time there. Miami Ad School always does things a little differently, so it should come as no surprise that their placement process starts on day one.
It begins with the mission of Miami Ad School—to prepare you with the tools and resources you'll need to land a job in one of the creative fields. That's why Miami Ad School instructors are industry professionals. They have the jobs you aspire to and they'll teach you the skills they use every day. You'll learn the fundamentals of the creative process and how to push your work further and begin to develop your skills as an art director, copywriter, designer, photographer, videographer, account planner or social strategist.
Miami Ad School's unique Agency Lab experiences—where you'll get to go to school in an agency and be mentored by a dedicated group of creatives who will take you "under their wing" and "show you the ropes." They will help you further develop your skills and expose you to the current hiring needs in the industry and what your role will be at an ad agency or design firm. (Or at a social platform like Facebook, for example.) By the time you find yourself in an internship, you'll be fully prepared and ready to be an honest-to-goodness creative in a real working environment where you're expected to create work, pitch it to clients and make the website/social campaign/tv commercial/creative brief a reality.
Travis Klausmeier and his partner Shari Bremer interned at Ogilvy Mather São Paulo and got to work on an assignment for the Motorola Xoom tablet launch. They created this spot and the client loved it. Then the client insisted that Travis had to be the rapper. Ogilvy São Paulo hired Travis after graduation and he's now an Associate Creative Director at Leo Burnett in Chicago. Shari was hired by webguerillas GmbH. She's now an Art Director at Serviceplan Campaign X in Munich.
During your time at Miami Ad School you'll have the chance to connect in a meaningful way with over 200 professionals working in the industry. It's an unparalleled opportunity to develop a network that will prove invaluable throughout your career. Your teachers, the guest speakers (we call them Industry Heroes) you'll meet every week, your mentors at Agency Labs and all the creatives you'll work with during your internships, all are people that could hire you in the future. Then there are your classmates. Miami Ad School graduates love to hire Miami Ad School grads. You might end up working with someone who started school on the same day you did. Then again, maybe you'll be working for them. Or they might work for you. Anything can happen. (Indeed, it all has—many, many times.)
After graduation, you can take part in Miami Ad School's portfolio reviews, held four times a year in different locations. It's your chance to have a dozen interviews in a single day and it's one of the ways our grads find jobs quickly. And, with Job Leads for Life, Miami Ad School supports you with new job opportunities throughout your career. You'll receive hundreds of leads every year—from top agencies—at all levels from junior to creative director and even higher.
Here are just some of the recent grads that have been hired in the past couple of months:
Jessica Baer • Brand Strategist @ MUH-TAY-ZIK | HOF-FER, San Francisco
Benjamin Bass • Senior Planner @ BBDO Worldwide
Alejandra Cid • Copywriter @ Geometry Global, New York
Collin Horton • Content Creator/Producer/Editor • DDB, San Francisco
Dione Jensen • Designer @ The Partnership, Atlanta
Selina Khuu • Social Media Strategist @ EVB, Oakland
Nate King • Junior Experience Planner @ Mekanism, San Francisco
Mani Bhargavi Madala • Junior Art Director @ GALLEGOS United, Los Angeles
Unnati Marda • Junior Art Director @ Fuseideas, Boston
Joel Panicker • Junior Art Director @ Pavone Marketing Group, Philadelphia
David Payne • Designer @ The Partnership, Atlanta
Lis Mery Ramirez • Associate Copywriter @ TBWA\Chiat\Day\NY
Will von Schlägel • Research Executive @ BAMM Global, New York
Yvonne Skoczek • Junior Copywriter @ gyro, New York
Kelly Slater • Strategic Planning Coordinator @ RPA, Los Angeles
Gaelen Smith • Creative @ Live Nation, New York
Lauren Tarnofsky @ Associate Strategist @ Carrot—The VICE Digital Agency, Los Angeles
Ryley Thornton @ Associate Strategist @ mcgarrybowen, New York
Prepare for a creative future and a job worth getting out of bed for.  Apply Now!